Navigating through COVID-19
Midland Honda is committed to caring for the health and well-being of our employees and customers and supporting local health officials and government leaders. Below, you'll see details of the support measures we've introduced so far. 
Monday, July 13, 2020
Dear valued customers,
In its continued effort in prioritizing the health and well-being of our customers and employees, we are requiring all employees to wear facial coverings inside and out of our dealership.
Midland Honda is committed to playing a constructive role in supporting health and government officials as they work to mitigate the spread of COVID-19.
Here are the additional safety measures of what we are doing:
Contactless purchase of a new or pre-owned vehicle delivered to your front door
Hand Sanitizing stations at Sales and Service entrances
Shuttles are sanitized after every customer
Service customer vehicles are thoroughly sanitized after every visit
Touch points are sanitized throughout the entire building during the day and at each night
Plexiglass is installed on each desk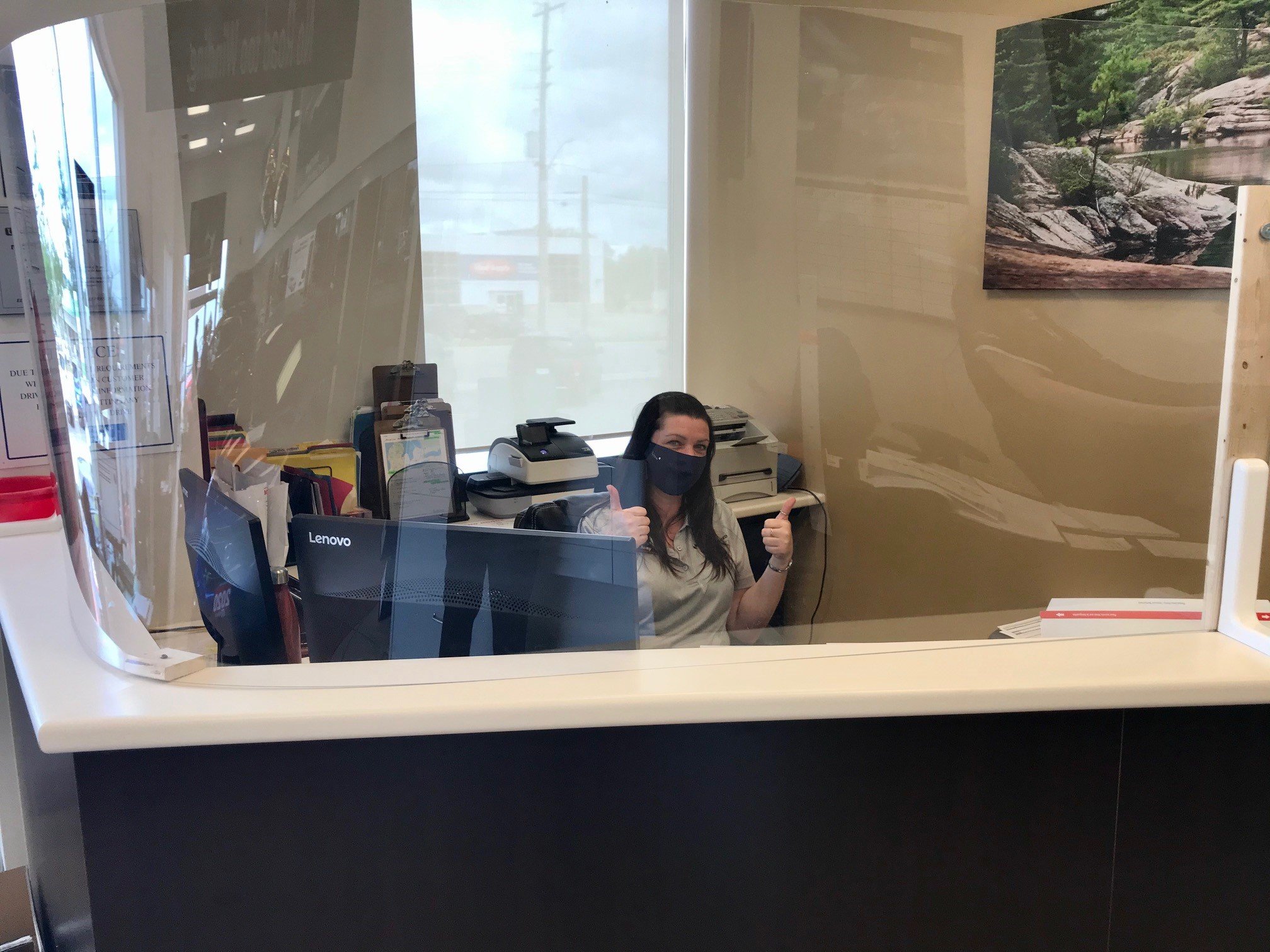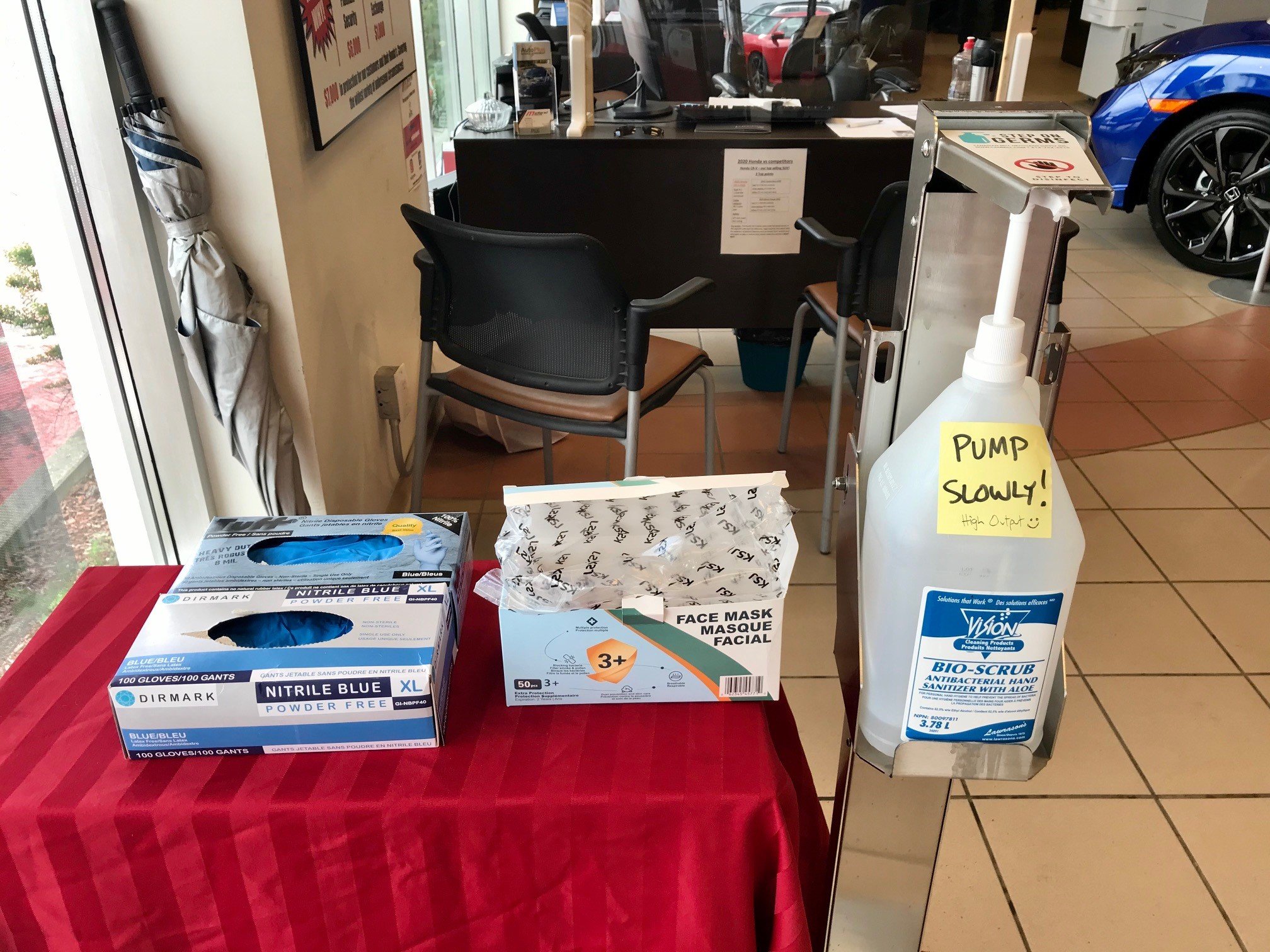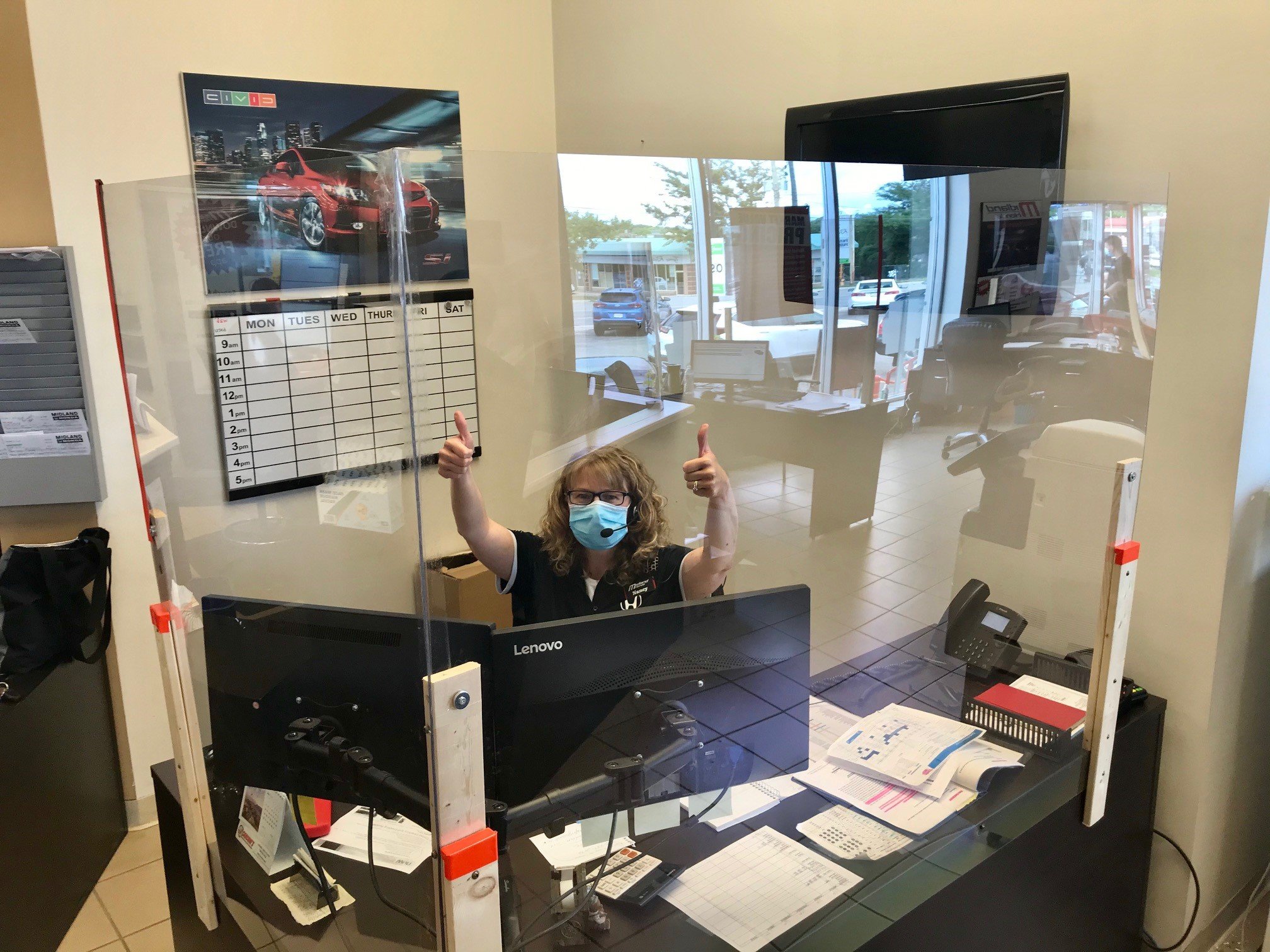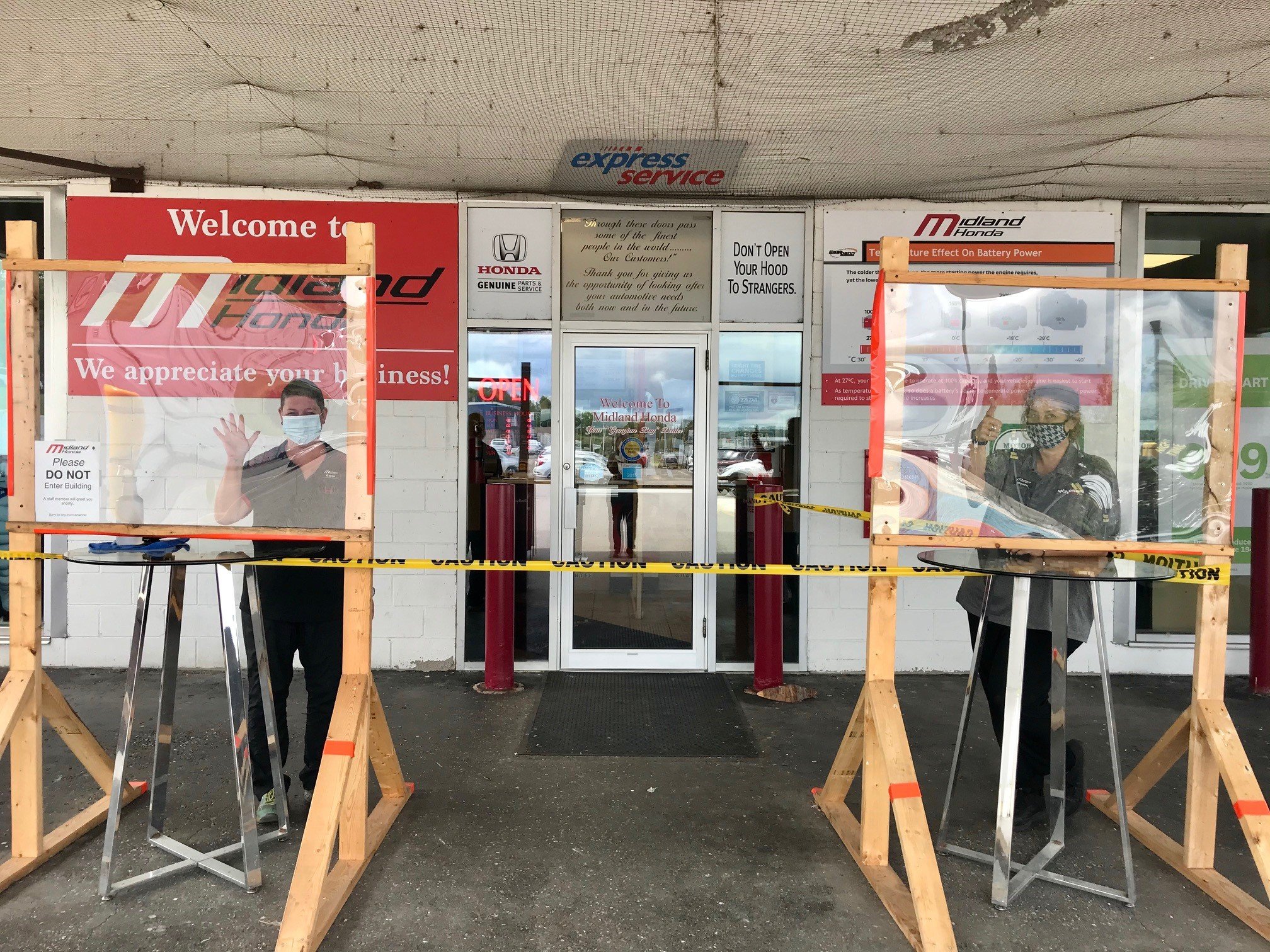 Tuesday, May 19, 2020
Dear valued customers,
We are happy to announce that we are moving beyond the "appointment only", which means we are now OPEN to walk-ins.
The health and safety of our customers is our TOP priority. We continue to practice proper health and safety protocols throughout the dealership and our office spaces. Showroom vehicles are kept disinfected and secured, while vehicles in service are disinfected upon arrival and again after service is complete. Items such as keys are handled using gloves. Keys are also sanitized before returned to you.⠀
.⠀
Questions? Contact us! (705) 526-1344
-The Midland Honda Team
Sunday, April 5, 2020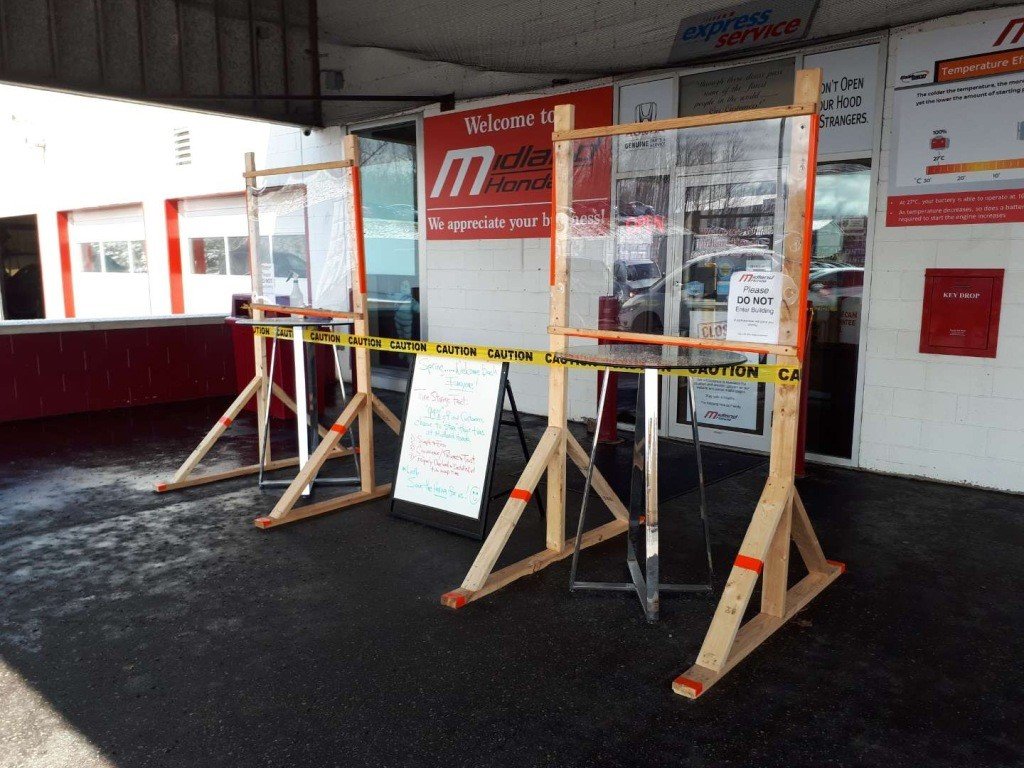 Dear valued customers,
We appreciate your patience as we closed the dealership on March 25th, we have done this to protect our staff and you our valued customer from the COVID -19 virus as the gov't requested we close until April 8th for a 2 week self quarantine.
We have however decided to re-open our Service and Parts Departments "only" this coming Wednesday April 8th and will have our coordinator Nancy Doughty calling customers starting tomorrow "Monday April 6th" at 10:00 am. If you wish to call in to get in queue please call her tomorrow at 705 526 1344
We will "not" be allowing any customers in the building for safety reasons and will be asking you our customer to decide which way you wish to have your service work completed.
Drop off Options:
Drop off vehicle and have your own ride home and when vehicle is complete we will either text, call, or email you for you to pick up before end of day.
We have the ability to have drivers pick up your vehicle, work completed as requested, interior sanitized with commercial grade cleaners before being driven back to your home or office. Price $ 50.00 plus tax
You can drop off vehicle and rent one of our 2020 Honda CRV's for $ 45.00 plus tax or Civic for $ 35.00 plus tax per day and these vehicles have been thoroughly sanitized for safe use.
You can wait but we will not recommend this as an option as the building is closed to the public, if you wish to walk around the dealership's parking area you are welcome to do so but we ask you keep to 6ft social distancing.
When you book your appointment with Nancy please let her know the option so we can make plans to coordinate properly and efficiently and get you taken care of in a professional manner.
We hope you and your family stay safe, and lastly we thank you very much for your business in this challenging time.
Warm regards,
Richard Davies
Vice President / General Manager
Midland Honda
Email: rdavies@midlandhonda.com
Cell / Text # 905-570-9220
March 31, 2020
Dear valued customers,
In the wake of our decision to close until April 8th I thought I would share some thoughts with all of you today.
Please understand that the ownership of Midland Honda did not come to this conclusion without considerable debate and deliberation. As many of you are likely now aware some of our competitors have decided to remain open as the Ontario government has deemed automotive repair facilities and retail franchises an "essential service". And, while the temptation to keep the business going was very real, in all of our conversations our decision came down to a dialogue surrounding our morals and what is most important to us as a business..
Team is at the root of everything we do at Midland Honda. Without it we have no Customer Enthusiasm and certainly have no performance. So, when challenged with remaining open, the Management considered this first and determined the health and safety of our Team here at Midland Honda was the most important factor in our decision.
Community is a huge part of our beliefs and it too plays a roll. We have a responsibility to the greater community of Southern Georgian Bay we serve. To stay open and to "further the spread" would, in our minds, be irresponsible. Will some of our customers be upset that we are not there to serve them over the next few weeks? Do we risk them going elsewhere? I don't pretend to have the answers to these questions but I both hope and suspect that the majority will respect our decision and delay their automotive needs until we are open again
We know the decision impacts all of you in ways you had not imagined.  We are deeply sorry for this. We will come back. We will be stronger as a result.
Stay safe and take care of yourselves and your families.
Sincerely,
Richard Davies
Vice President/General Manager
March 24, 2020
Dear Valued Customers,
We have made the decision to temporarily close our doors in order to help protect our employees, their families and our community. We will be closed until further notice starting end of day on Tuesday, March 24, 2020.
We will continue to reassess the situation and provide updates on our website and social media pages.
If you do have vehicle inquiries, please see our texting feature in the bottom right corner of our website and someone will be in contact with you within 5-20 minutes.
Stay safe & healthy,
The Midland Honda Family
March 17, 2020
Dear valued customers,
As the impact of COVID-19 continues to unfold, we wanted to provide you with an update and how it will affect our dealership.
While our dealership remains open, Midland Honda is closely monitoring the situation and we have made some changes to ensure the well-being of our team, their families and our customers.
Avoid the crowds!  Shop for your vehicle at the comfort of your home.  Call, Text, Email & Live Chat Available!  We encourage you to browse our online inventory and request more information about a vehicle using our online form or by calling us. Credit applications, trade appraisals, and vehicle purchase are now available over the phone.
Our procedures include:
Cleaning of common areas and contact surfaces within the sales and service areas
Incorporating regular employee sanitary practices before any customer interaction (ex. Washing hands)
Readily available hand sanitizers in customer areas (lounge, showroom, service and washrooms)
Establish an enhanced process in the care for customer's vehicles when in service and prior to delivery
Proper preparation of demonstrator vehicles.
We want to thank all of our customers for their support and we look forward to seeing you soon.
Stay safe & healthy,
The Team at Midland Honda