Midland Honda's Sparkling Vehicle Inventory
The new building's interior walls will soon be finished along with the installation of the electrical and HVAC components. Shortly thereafter the service area shell will be filled with some fantastic new gear, some of which will be devoted to vehicle presentation.
Two design features in the Midland Honda store will assist staff to efficiently clean and prepare new and used vehicles for after service use, showroom display and online sales throughout the year. Last winter, parked cars being prepped for photos would be cleared of snow, taken into the service area for a hand wash and dry then driven back outdoors for the shoot. It was a time consuming process where the finished results would be subject to cold weather conditions. Hooray for no more outdoor shoots!
The new building will encapsulate this entire process. All vehicles will be driven into the car wash entrance on the side of the building where the MarkVII Soft Wash DF machine will transform dirty into gleaming, in minutes. https://www.youtube.com/watch?v=EiTsL1d-6nk The SofTec foam used in the rotating brushes gently cleans and polishes efficiently.  SofTec rollers are safe for new cars and recently painted vehicles and they leave no residue even on dark finishes. The Mark VII cleaning system will also have a positive impact on the local environment by using less water and chemicals per car compared to cars washed by hand. Once the AquaDri dryers shed the water alter washing, the vehicle is wheeled into the service area where it will be readied for the 360Booth.
The 360Booth photo environment will allow staff to create a comprehensive package of great images for the Midland Honda website even when it is ten below and snowing outside.  Car buyers will enjoy seeing professional-quality photos with a constant background clear of other cars, light poles and building exteriors. Midland Honda's new 360Booth studio will make the pre-owned vehicle web page a favorite destination.
https://www.youtube.com/watch?v=BDYQj37t7GE&list=RDBDYQj37t7GE&index=1
The MarkVII car wash and the 360Booth photo studio are two of the building's new assets that will improve customer satisfaction and Midland Honda is always looking to do just that!
Until Next Time,
Macky
Turn Signal Apathy, What Gives?
One has to wonder if half the driving public has developed a reckless devotion to the belief that the nirvana of autonomous driving is right around the corner, even without the technology in hand. How can you explain why more drivers have stopped using their turn signals? Relinquishing this responsibility now, before your car has autonomous turn signal capability, is curious to say the least. One U.S. insurance company study concluded in 2006 that 57 percent of drivers admitted not using their turn signals often.  Most said they didn't have enough time to initiate the indicator before their maneuver. Others claimed that they changed lanes too frequently to bother. Some were oblivious to others on the road and found the exercise not important while those that did notice others not signaling joined their bandwagon because of selfish reasoning. The worst avoidance rational came from drivers who just wanted to add some 'excitement' to the driving experience. I have seen this attitude play out most often with the hot shot motorcyclists who bob and weave through moving highway traffic without any signaling at all. This is not to say that motorcyclists are lazy, which is the default position for most auto drivers. I can believe it is mentally too time consuming to signal your intentions to other drivers when you are burning past them at 160 km per hour!
Other studies have found that alert drivers of particular foreign and domestic vehicles, who signal properly for turning, changing lanes or parking, still have a higher potential rear crash risk due to their brand's reliance on the red turn signal. A 2008 U.S. National Highway Traffic Safety Administration study concluded that cars with red turn signals are on average 22% more likely to be hit from behind than cars with amber rear indicator signal lights.  For consumers who have purchased vehicles with red turn signal lenses consider moving over to Honda. The Civic and SUV line up at Midland Honda have amber turn signals.  I'm very confident that people following my CRV not only see my intent to turn one way or another but the LED amber turn signal registers in their minds as well. Next time you're on the road check out what brands use red and what brands uses amber. One of the most striking bolts of amber on the road resides on the Honda CRV.
Hope you are having a great summer,
Macky
Half Way To Our New Home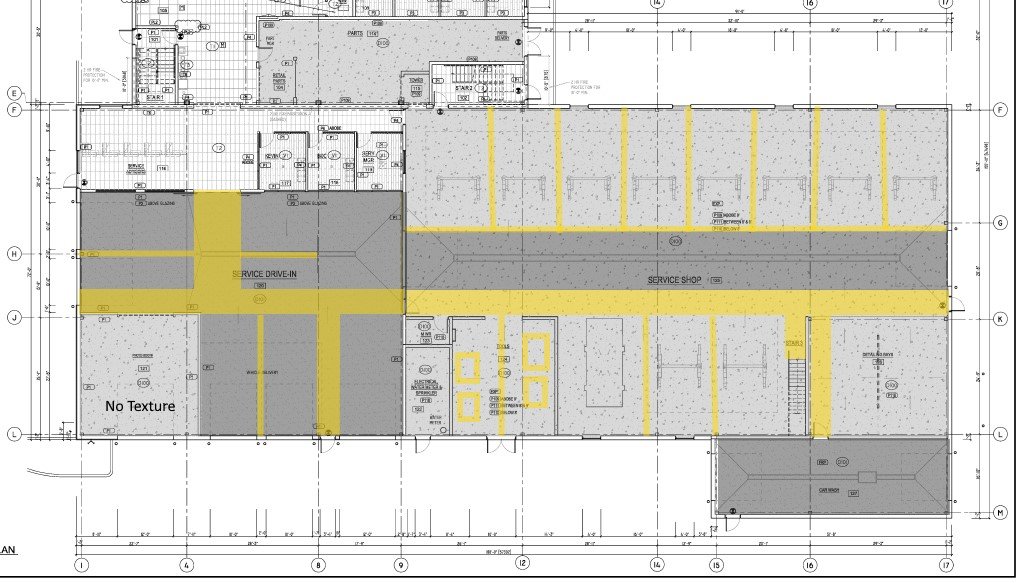 Over a month ago when the Ontario Government closed all construction sites due to Covid-19 a cold shiver went up the collective spines of Peter, Richard and the project managers tasked with completing construction of the new Midland Honda dealership by October 2020. Thankfully, construction resumed two weeks later and the time table was re-balanced in short order. Today the building is fifty percent completed and work is about to commence on the interior space.
One of the most important parts of construction is about to happen in late May, early June. Many concrete trucks will be arriving on site to pour the floors in the Showroom, the Service Drive-in and the Service Shop. This phase of construction will be a little different than what normally occurs. The initial pour is handled by seasoned craftsmen that will level and finish sections of the concrete floors for proper drainage. Many car dealerships have floors created like this. It is functional and usable but it is not hardened with a sealant. What is truly outstanding about the new service floors is that they will be hardened and colored with a liquid product expertly applied by the company Stonhard. The Drive-in Service area will be coated with Stonshield HRI Mortar and the Service Shop floor will have the bullet proof Stonclad GS Mortar applied. Both service areas will use two tones of grey to identify work areas and a bold yellow pathway will be laid out to define where customers can walk safely while visiting the work area to inspect their vehicles.
Customers will be very impressed with the clean finished look of the drive in greeting zone and the technicians' work area. The red tool storage bays and hoists surrounded by the grey colored floor accented with vibrant yellow will be eye popping for sure!
This meticulous attention to detail is what you will find throughout the new Midland Honda building. I will inform you very soon about the amazing car photo booth and car wash that will be part of the building's success story.
Until next time
 Macky
 Honda and Furry Friends
Midland Honda owners enjoy traveling with their pets.  I think most Honda people have dogs and cats as the prime beneficiaries of their affections but who knows maybe there are some outliers with ferrets and pot belly pigs, driving them around as they go about their daily activities. Midland Honda would love to see a photo of your pet with your Honda vehicle during the month of May in order to help support the Midland SPCA.  Midland Honda will be donating $1.00 to the Midland SPCA for every tagged photo published on Facebook and Instagram. Midland SPCA will be rewarding a pet owner with a "Dog Car Package" for the most creative photo. More detailed information about this fundraiser will be announced shortly online by Megan Brooks.
The Honda line-up of SUVs, Minivans and trucks have pets, particularly dogs, in mind. One can look back to the 2009 Honda Element concept SUV to see some styling cues and dog friendly accessories that definitely mark this vehicle as best car in show. The rear compartment has a cushioned pet bed with easy-wash covers, pet restraint systems, a rear ventilation fan and a spill resistant bowl for long trips. Honda even included a dog ramp for your pal's easy entrance and exit from the vehicle. I'm not sure if this concept ever made it to market. Maybe our Element fans can chime in with some feedback on this pooch friendly Honda.
Today's models certainly accommodate the many needs of pet owners. The Ridgeline's dog wash zone is just behind the truck's dual action tailgate. The lockable in-bed trunk, which is great for cooler duty or keeping things out of sight, can also double as a dog wash station.  Once your pet is shiny and clean you just need to pull the plug to release the bath water to the ground. A clean dog where ever your adventure takes you. The Honda Odyssey with the optional Honda Vac is a great tool to keep up with the shedders in your life. Kids shedding fruit loops and the Husky shedding their coats. No need to turn your head to bark at your pets while you drive the Odyssey or the three row Pilot with the cabin talk and cabin watch entertainment option. Speak towards the windshield while you focus on the road ahead and glance at the dash screen to see if your furry friend is listening! The hands-free lift gate on the CR-V is a nice bonus when you have an armful of grocers or your favorite fluffy animal. With the HR-V's second row of magic seats set up in the 'Up and Away' tall cargo mode your unconventional Great Dane or Mastiff can stand quite comfortably behind you with a great view of the proceedings. Need extra room quickly as your dog's hop in the back of your Passport, just press the one touch buttons in the cargo area and anyone, including a trained pooch can drop the back of the rear seats for ample room. Making mobility more enjoyable for families is at the core of every Honda SUV, Minivan or Truck because when it comes to family friendly features every member of your family counts!
Looking forward to seeing many humorous and cute pictures of pets next to their Honda vehicles in May.
Until Next Time….
Macky
New Drone for the New Building
This past January Midland Honda unveiled online the steel frame construction of the new building by showing a drone camera fly by which started in the present-day store parking lot.  It was interesting to rise vertically to a bird's eye view over the lot, then travel across towards the construction site. The hired drone operator was able to survey the site from about two hundred feet, circle around for some good looks then head back to the store for a soft landing near Megan and Jon. A thrilling perspective for Midland Honda's customers.
Richard Davies liked the results so much he decided to purchase a drone for future enhanced views of the dealership's construction. The result of this effort can be seen in the March 20th New Construction update. This time the drone footage has you zoom through the building's different levels for a more intimate tour of the current building progress.  Pretty exciting views that show the scale of the building to come. Who was the Luke Skywalker drone pilot you may well ask? It was none other than Matthew Elmer, one of Midland Honda's super car technicians. You may have seen him explain brake pad wear and servicing on an episode of Tech Talk Thursday.  Matt has definitely felt the Force! With little experience and flight time he guided little 'Sparky' through and around the new build like a pro. Just take a look at that custom landing right next to the two Midland Honda construction hard hats.  Just outstanding! We can expect some crazy angles and flying as Matt becomes more familiar with what this little drone can do.  Check out the specs on Midland Honda's new drone.  https://www.dji.com/ca/spark.
Once Matt downloads the video to a computer Megan does a great job editing the video project for Instagram with Adobe Premier. Megan's music selections from a Google royalty free library have really fit well with the edited visuals. Based on my experience cutting 30 second promos for the CBC making a short entertaining promo is exacting work but very satisfying once you have nailed it. The quality of Midland Honda's construction updates will continue to amaze viewers as the building progresses to completion in October. Look forward to more video updates on other topics from the Midland Honda team in the near future.
Until next time
Macky
2020 Auto Show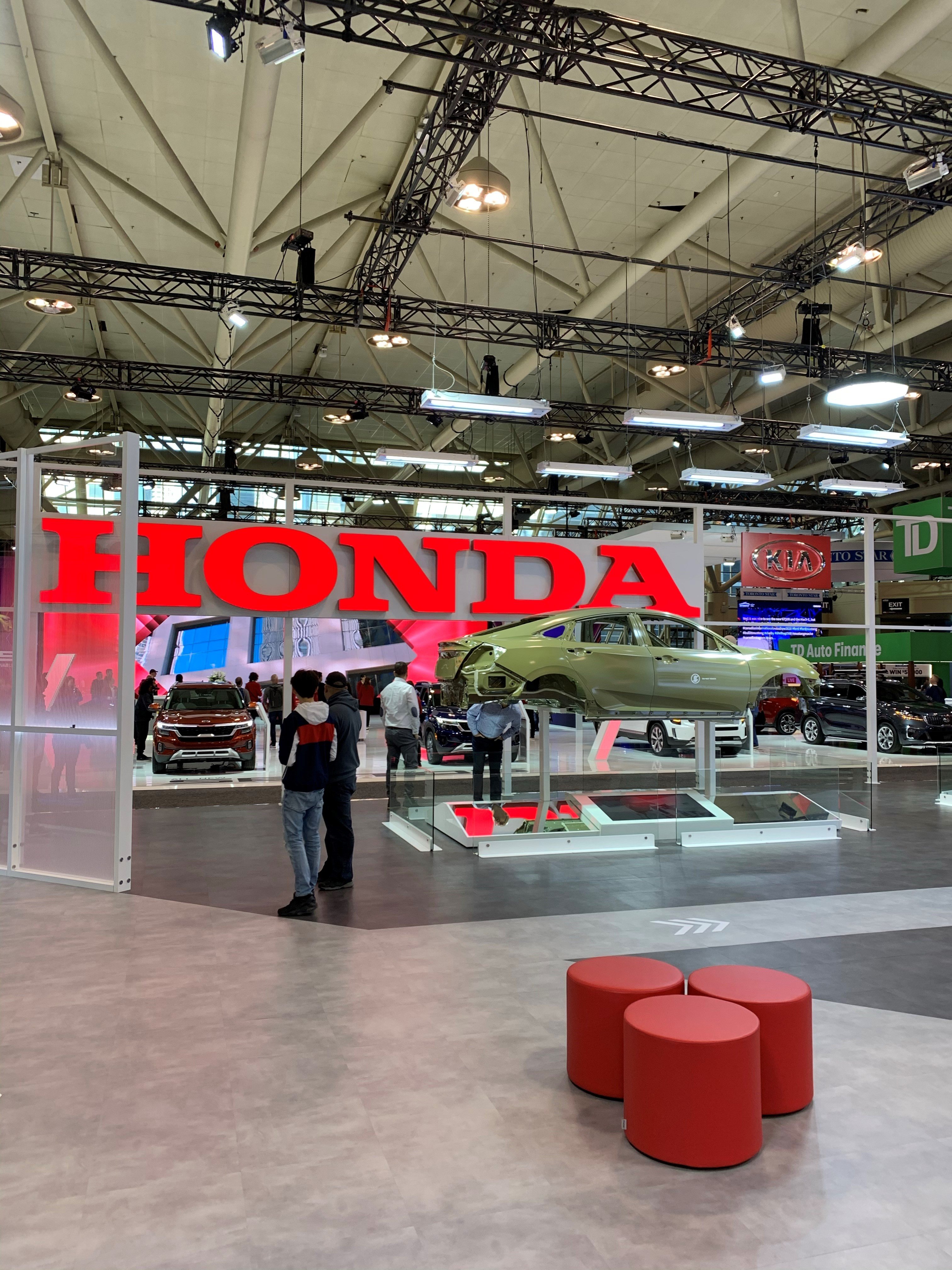 The theme of this year's show was 'Transformative Times'.  Transform into what you may well ask?  Well, for many of the manufacturers it was an opportunity to showcase their new and improved electric car models and technologies.  It's more than just a toe in the water now. Foreign and domestic luxury brands are now committed to offering heavy electric power solutions in their SUVs. Ford spared no expense to roll out and show the new Mustang Mach-E SUV, another high speed battle tank that will be considerably less expensive than the Audi E-tron SUV.
Honda's main floor exhibition space had far less 'electric' gravitas than most other brands and this suggested to me that the company is still trying to determine its footing in the electric vehicle landscape. This is not to say that Honda has not committed resources to this technology. The newly designed Honda e one compact car, which will take advantage of the robust charging infrastructure in Europe, is an example of their electric vehicle tech.  Unfortunately, it wasn't a show stopper at this event. Instead the audience was encouraged to gaze at the Honda Clarity, Honda's plug in Hybrid solution.  Honda's introduction of fully electric cars in the N.A. market could be seen to lag behind their competitors but I think they have their timing dialed in just right.
Honda's 'Blue Skies for our Children' (reduced tail pipe emissions) displays were a real mix of corporate assets. Civic bodies, robotic arms, a black edition Pilot, a crushed Civic and Honda staff riding around on several  Uni-cub  personal mobility chairs were eye catching. This presentation also highlighted the theme of mobility for everyone.  A circular platform display recalled the history of Honda on the outside and inside guests standing on a moving platter could see examples of future vehicles, motorcycles, and robotics and mobility assist devices. Honda is a technology company focused on personal mobility solutions.
I finished my day with a test drive in a Hyundai Kona EV. It's a bit larger than the compact Chevy Bolt EV. Impressive acceleration from a stop, like all EVs and the high frequency whir of the engine was different to say the least.  My co-pilot indicated that all EVs have difficulty keeping a full charge in cold weather.  Losing up to 30% of your car's range due to winter weather is not a winning feature for customers who live in central Ontario. Couple this problem with the higher costs of leasing new EV technology, the cost of installing a charging unit at your home, the lack of public charging infrastructure and the meager  provincial incentives for EVs and you have a situation where EVs  can't measure up to Honda's Hybrid gas-electric power plant.  Honda presently has the right solution that is more economically friendly and convenient.  I'm ready and waiting to transition into a 2021-2022 CRV gas-electric Hybrid.
Until next time,
Macky
Strategies for Retiring Right: A planning session with Rick Atkinson
On January 15th, Midland Honda provided a retirement planning meeting for interested customers at the dealership with Rick Atkinson who is also known as 'Mr. Retirement'. Rick is a retirement coach, an adviser and author of several books on the subject.  Richard Davies enlisted Rick to provide the community with some insights into planning their best retirement.  The evening's maxim might well have been, "Your self-worth in retirement is not wholly tied to your net worth".
Some folks dread the thought of mentally preparing for retirement. Their present job is what drives them and for the most part it makes them happy. Retirement is often considered a concept associated with aging and death. Others think that unhealthy habits can creep in to your life when there is less or no work structure. Rick suggests that instead of viewing retirement as being synonymous with death, one should decide that retirement can mean that you can do what you want, when you want and with whom you want.  This transformative process really becomes a personal declaration of freedom that should allow you to shape the rest of your life.  Who wouldn't want a zestful life, travelling, volunteering and enjoying the company of family and friends?
Initiating the benefits of a fulsome retirement does take some effort however. It's not as easy as dropping off your vehicle at Midland Honda's service desk then expecting and getting by the end of the day a car in tip-top condition ready for another season. Rick's holistic approach to retirement planning asks for your commitment to detail a written overview of your vision for retirement, a review of your savings strategy and a pledge to get your personal affairs in order with a will. Rick states the following: "Successful retirees recognize the need to plan for happiness and productivity. They evaluate what's important to them and construct actions to satisfy their needs and wants. By creating a vision of a realistic retirement and building an action plan to achieve it, they are proactively and energetically seeking results."
The Midland Honda workshop with 'Mr. Retirement' was well received by those who attended the event.  I think it is fair to say that people could see the benefits of establishing some of the building blocks for a sound retirement plan. We are living longer!  Help make your retirement worthwhile by embarking on a visioning exercise soon.
Until next time
Macky
Emergency Kit Preparedness
Midland Honda's Emergency Kit giveaway contest focuses nicely on the need to have you vehicle ready for the unexpected during winter and summer driving. You probably have heard a few stories about stranded motorists – everything from a six-hour standstill on Highway 69 to a driver who survived eating mints and Swiss Chalet sauce after getting stuck in the snow on a country lane with no cell service.  Why would anyone want to suffer the indignity of consuming a mint chicken sauce for dinner? Let's just spend a little time gathering provisions from home and gear from the store of your choice to outfit the front and back of your vehicle for the unlikely event that you become stuck waiting for help.
Motoring Association surveys indicate 45% of drivers without a kit plan to get one but "haven't gotten around to it".
22% say they'll just call for help if needed
12% think they don't need one because they only drive in-town
So maybe twenty percent of drivers have suitable food, water and gear in their vehicles when they embark on their winter excursions.  This is hardly enough preparedness for drivers living in Midland's snow belt. One should consider the following list to remain on the safe side of winter driving.
Roadside Emergency Kit Contents
Booster cables
Phone charger
Hand/foot warmers
Reflective armbands
Ice scraper
Folding shovel
Sand / kitty litter
Fire extinguisher
Multi-tool (pliers, knife etc.)
Candles for light & heat
Waterproof matches, lighter
Tin can (to hold the candle)
Small first aid kit
Self-powered flashlight
Work gloves
Paper towel / rags
Warm clothing
A jug of water
Protein bars (rotate regularly)
Caution triangle for visibility
A warm blanket
A local map
Duct tape
You may be amused by some of the YouTube videos posted by survivalists who have scaled up their approach to outfitting their vehicles with emergency gear. There is hardly enough room in the spare tire wheel well or the trunk to accommodate the crowbars, saws, rope, sleeping bags, torches and extra fuel just in case.  These dudes are either on a serious bug-out bag mission or they are ready to be the best Good Samaritan on the road ready to help those in need.  I do like their three-zone approach to gearing up a vehicle. The first zone, the driver's seat, has a few things within easy reach in case of delay or calamity.  In the center console box you have your glass breaking/seat belt-cutting tool, some energy bars or nuts, flashlight and water in the door or cup holders. Have your handy heat, light candle and medical mini pack near by in the front cabin. Also, have your engine starting battery pack behind one of the seats. This small pack has a variety of charging wires that you can use to keep your phone battery operational if and when you can't use the vehicle's battery. The second zone is found in the trunk or back bed of your SUV. Easily accessible gear such as windshield washer liquid, another more powerful flashlight, more food and water, a wool blanket and most likely your collapsible shovel. The last zone would be the wheel well or floor compartment that would house flares, tools like pliers and bungee cords and your duct tape. Got to have a roll of duct tape in your car at all times winter and summer!
One survivalist had a great idea for stowing extra water in any zone. Buy and store small prepared packets of water for greater convenience. These packets can be easily thawed in your hands or by hand warming products.
I have procrastinated long enough. Thanks to Megan's emergency kit contest and awareness campaign I'm cleaning my CRV of old ketchup packets and bringing in some quality trail mix and a nifty collapsible shovel.
Until next time
Macky.
2019 Honda World Skills Contest and Midland Honda
Midland Honda service technicians are a big part of the foundation of the dealership and for the most part these talented people work in the back without much notice or praise, until recently.  Tech Talk Thursdays has opened the garage door to spotlight important vehicle issues that are resolved by service staff with solutions based on their superior training. What you don't see is the dedication to improve their diagnostic and repair abilities through constant training over time. You may start as an apprentice, like Brandon Westerlaken in 2015, and then five years later you become a licensed technic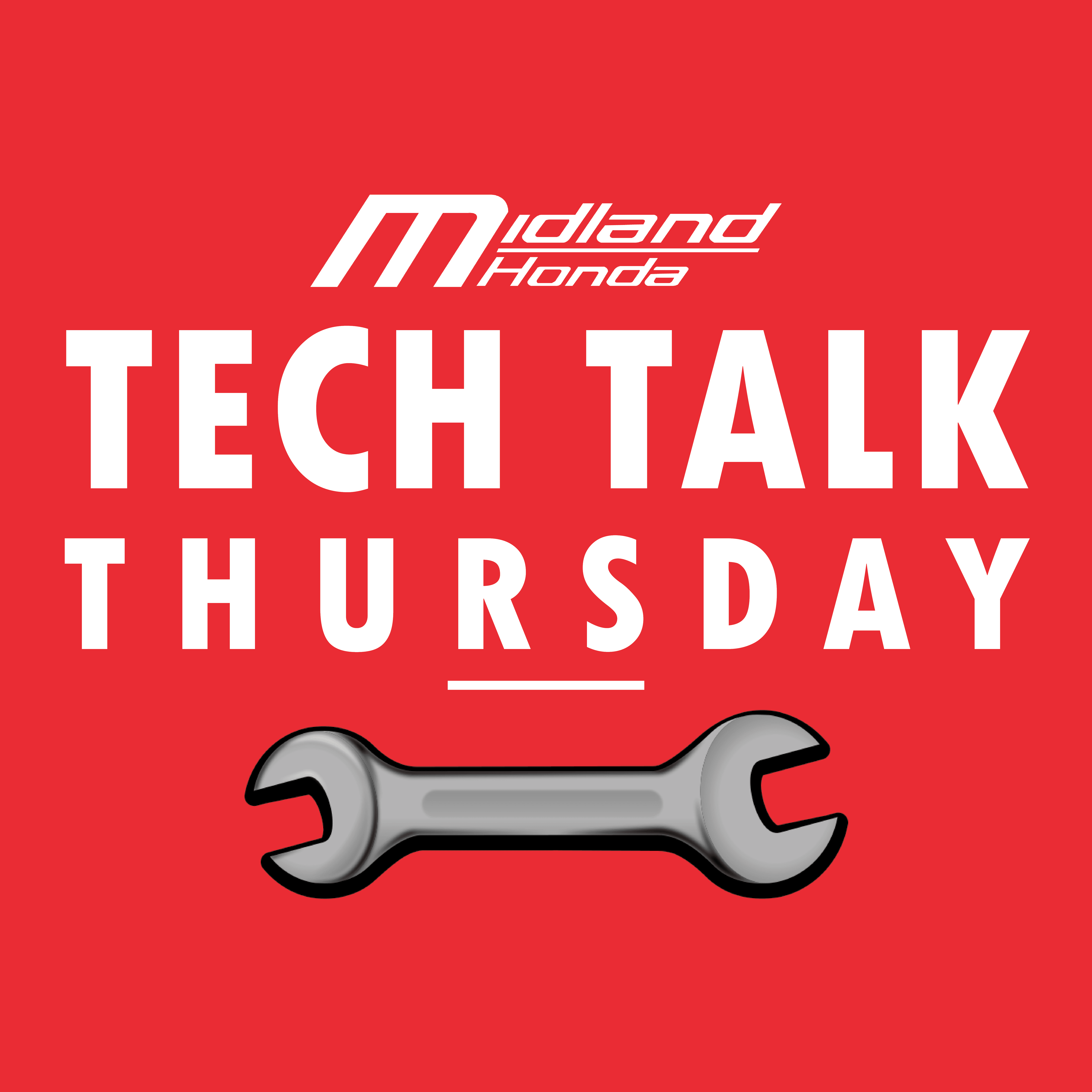 ian. Midland Honda's Gold certified techs, Matt Elmer and Dakota Plante have decades of combined experience maintaining and repairing Honda vehicles. I'm not certain what amount of training you need to achieve the Platinum designation but its got to be huge. Both Nick Chute and Peter Reginella have this level to offer the Midland Honda service team and Peter was recently awarded the Top Technician in Ontario. Midland Honda has developed a great team of service technicians to support their customers' needs.
Honda intends to elevate team moral and expertise even higher. Their motto is 'Be the engine of Honda' and to further this dream in 2019 Honda inaugurated the first World Skills Contest held in Japan. Twenty-six finalists, from a pool of seventy-five thousand techs, chosen from seventeen countries tested their knowledge and problem-solving abilities in service bay challenges that were on the clock.  The two Canadian participants, from Honda and Acura dealerships, were chosen as Canada's best techs at the Honda Headquarters in Markham.  Here, during mid-May, techs were asked to identify four complex faults, mainly electrical, in a two hour, eight service bay competition. One of the goals of this new competition in Canada is to showcase the opportunities that exist in the field of automotive service. Competitors also have the opportunity to meet others who have similar goals in professional improvement.  These friendly competitions keep Honda moving forward by facilitating self-improvement through examples of excellence. Midland Honda has some of the best Honda technicians working on your vehicles every day. This fact will always lead to your satisfaction!
Until next time
Macky
2020 Honda CR-V Hybrid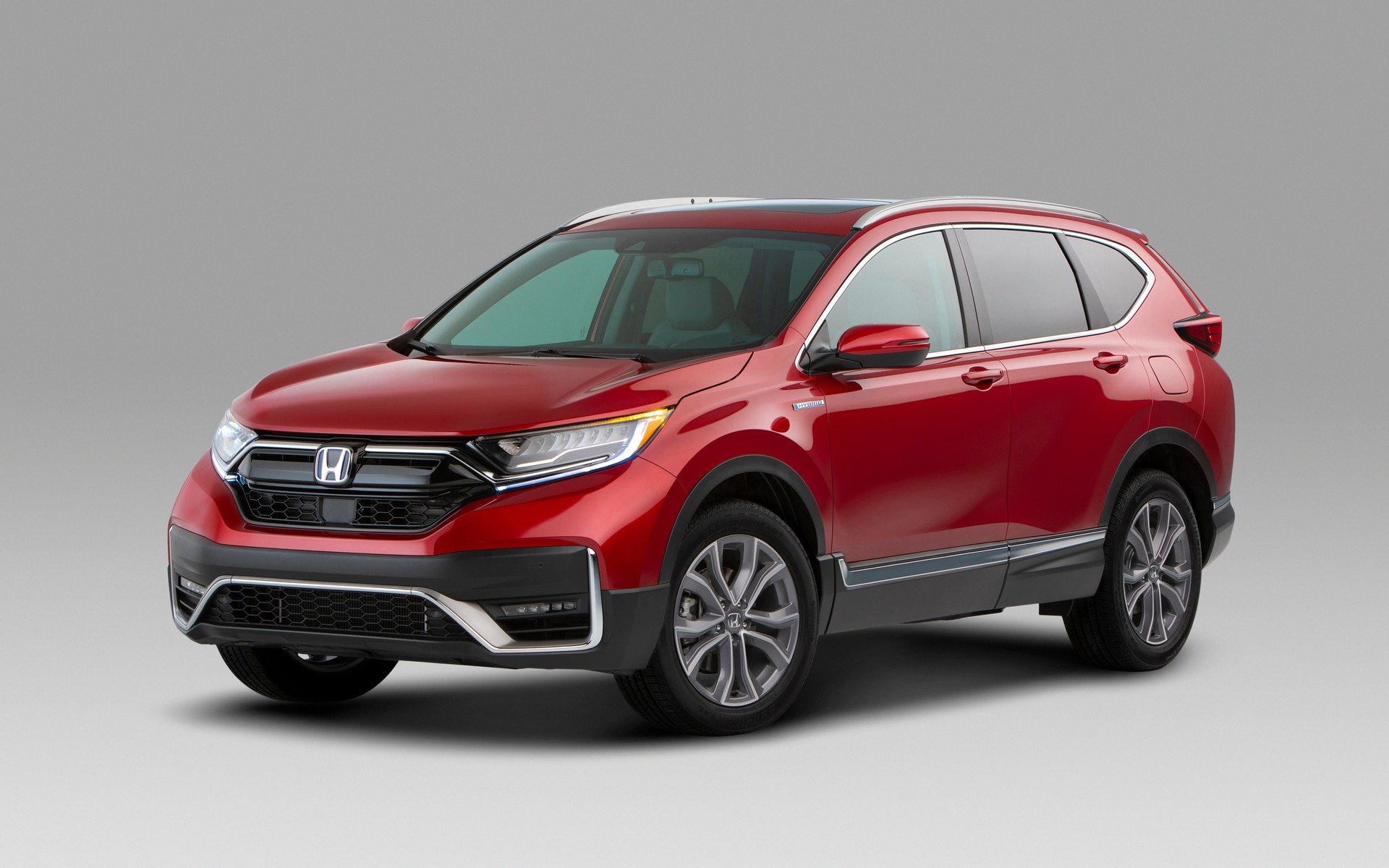 A very interesting addition to the CR-V model lineup that will be arriving in the Midland Honda showroom very soon.  We have become accustom to the CR-V being the complete package…comfortable, refined, spacious and practical. Now add 'super economical' to complete the list of fine vehicle attributes. The CR-V Hybrid is a vehicle with complex motor technologies but you wouldn't know it when you get behind the wheel and start driving. Everything works seamlessly together to provide you a new driving experience that can be fun and worry free.
The concept for this CR-V is an electric vehicle powered by a combustion engine to maximize fuel economy. There are three engine modes that help achieve up to a thirty percent fuel savings, which is about 10 mpg more that the CR-V gas engine model.  The CR-V Hybrid has an EV drive where electricity from the small 2kWh battery pack powers the electric motor near the front wheels. The EV drive can use the energy from the buffer battery for a maximum of 8 km before internal recharging is necessary. The magic of the car's programming has the internal combustion engine (ICE) come on shortly after you start rolling the car in EV mode. This is the Hybrid drive and it operates the vehicle most of the time. Here we have the 2-liter ICE powering an electric generator that in turn sends power to the electric motor for the drive train.  Any excess energy created by the generator is diverted to top up the buffer battery. Honda engineers determined that there is a sweet spot for the ICE's fuel efficiency when a driver needs to increase their speed between 80 km and 120 km. At this point the gas engine takes over completely and supplies all the power to the drive train. The car's computer will adjust back to EV or Hybrid mode and shut the ICE down to conserve fuel consumption when conditions warrant the change. There is some new dashboard instrumentation that shows how this engine mode hand off happens in real time. The dash will also show you how well you are doing with regenerative braking. This is very cool and for those who like to monitor what is going on it can be a nice challenge to improve your car's efficiency with your own inputs.
The Hybrid CR-V generates electrical energy for the battery while you brake and you can also preset the car to generate extra energy while your rolling at any speed by using two paddles on the underside of the steering wheel. Hit the left paddle for more rolling regeneration and the right paddle for less rolling regeneration. The brake lights are not applied with this type of regeneration.
Once again when you start your CR-V Hybrid in EV mode the ICE will kick in only to keep the car in an optimum running cycle. The engine will not stop and start at full stops like some vehicles you have seen and heard recently. The quiet start adds to a more relaxed comfortable feeling when you're moving at low speeds in an urban environment. The beauty of silence is enhanced at higher speeds with Honda's noise cancellation technology. Your car's headliner microphone detects loud noises entering the cabin then sends out an audio frequency through the speaker system to offset the noise. Pretty amazing!The new Honda CR-V Hybrid arriving soon at Midland Honda has many trim levels in either two wheel or AWD. I encourage you to arrange a test drive and check out something different in one of your favourite Honda vehicles.
Until next time,
Macky
Midland Honda 4th Annual Customer Appreciation Movie Night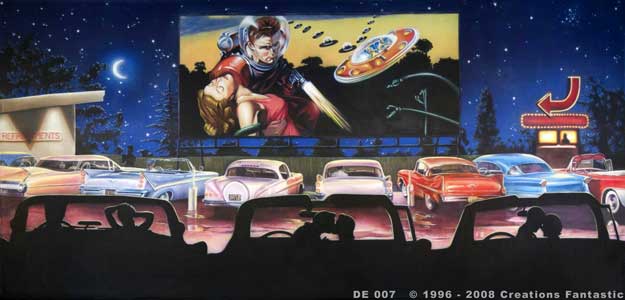 Richard Davis and the Midland Honda staff have again raised the bar for customer service and the larger than ever crowd attending this year's movie night would agree. Events like this begin as a novel idea that should represent the best of the Midland Honda brand but there is no guarantee that it will capture the interest of Honda customers or the general public. Steadily, over the past four years the end of summer Honda drive-in movie night has built a great deal of momentum.
I really don't think the entrance way staff greeting can get any more genuine, friendly and generous, although I would like to see Josh Townsend and Nick Gagliardi on mini tramps doing the Midland Honda high five just before you turn into the park. I suppose this scenario is a little over the top for next year; however, the Midland Honda sales team never ceases to amaze me with their enthusiasm and hidden talents. By the way, I really enjoyed the chocolate candies this year!
Kids who enjoyed a small face painting stool the first year now line up for elaborate face painting under a tent while watching the balloon man create lively creatures out of thin air. A little glitter goes a long way!  I'm not sure if I saw some Smurfs engaging in a Frisbee toss with the kids near the big screen. Experiences are refined, enhanced and improved. Doesn't this sound like the Honda motto?
The announcement of this year's amazing door prize, the platinum car-detailing voucher, was something to behold.  I had the privilege of watching Richard take the projection room's old fashion microphone and with the help of brand ambassador, Megan Brooks and sales representative Becca Emery, spin the drum of tickets, select the number and call out the winner. Minutes later it was great seeing the joy on the face of the winner in the projection room!  Richard ramped up the excitement with the grand announcement of the start of construction for the new Midland Honda store at their new location on Heritage Drive. I can't tell you how hard Peter and Richard have been working to make this dream a reality. The new Midland Honda store will be exceptional in every way. The momentum is literally building down the street and it will usher in a superior level of client care for Honda customers.
Midland Honda appreciates giving Honda customers their choice of movies and they continue to offer customers the best choice of vehicles and quality service in Midland.
Until next time,
Macky
2019 Midland Honda Fest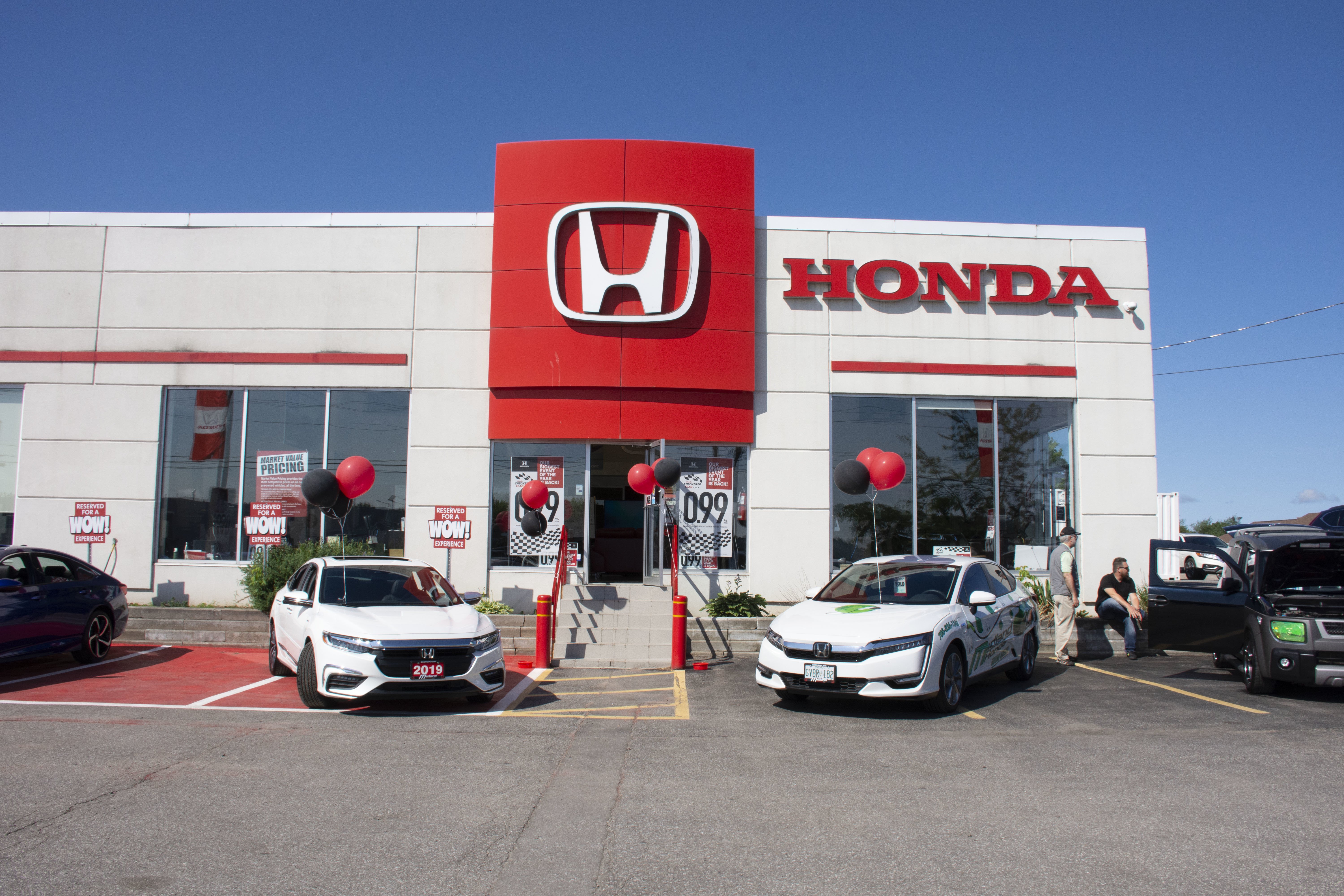 The call went out to owners of modified Honda vehicles to attend the first annual Midland Honda Fest on July 14th. For those who attended it was a perfect summer Sunday to break out the lawn chairs, talk about their vehicles and enjoy the super BBQ offered by Richard Davies and the motivated sales staff of Midland Honda.
The faithful and happy Honda Element owners who congregated their boxy utility vehicles together at one end of the Midland Honda parking lot first struck me as devoted owners who knew they had a good thing going. Luke and Tara were pleased to show me the mods on their 2004 daily driver, which had 444K on the odometer. This was a common theme. Vince had 288k on his 2005 Element. The Element club that gathered at Midland Honda showcased front aero add-ons, lowered suspensions, chubby tires and great rims. The Element had fun built in and these owners excelled in sustaining the Honda mission.
One family arrived with Mom and daughter driving an Element while her son Exequiel Caringal and wife Emma arrived in a pearl white 2000 S-2000 convertible sports roadster. You don't see many S-2000 around.  Father and Son purchased the Arizona car in Ottawa and together are having a blast restoring this sports car.  It was a total Honda family outing in Midland.
The Civic R group of owners link up regularly for club activities. Midland was a great summer driving destination for the afternoon. Mario owner of a 2018 Civic R was fully engaged in setting his car up for onlookers. He placed two vehicle mascots in the driver and passenger seats and I must say they looked terrific.  The outstanding sheen on his paint job was achieved with a 3M ceramic wrap. Mario improved the look of his front air dam and front hood with carbon fiber. His sound system was very beefy. The Alpine X system had one massive mid-range speaker in the back and later that afternoon he was pumping out the tunes! This Civic R had the racing chops too. Stronger engine mounts for stability and a host of engine bay enhancements allows Mario to turn 140 km per hour corners at Cayuga and Shannonville.
Three friends, Thusee, Jay and Hindu were up from the GTA with two hot Civic Si cars and Hindu had a special 1998 Prelude Type SH that he was working on. I especially liked Jay's detailed treatment of his Si dash. Red Carbon vinyl wrap accentuated the interior's speed racer feel. His treatment of the car's rims was also noteworthy. Nice gold Avid 1 rims.  Thusee had Red Gold rims as well on his Si. Matte gold looks pretty good on the Honda Si!
There were three Honda owners that were somewhat untraditional with the modifications to their Honda rides. Cale and Ashley presented their colourfully painted 94 Civic turbo hatchback with matching chopped Civic trailer.  The package had an innovative design and it was one of my show favourites. Adam brought his award winning 1988 Honda CRX with Lambo scissor style doors. It was tricked out with a super sound system and a large TV monitor in the back. A former race-car that had been modified to entertain the crowds.  Shawn on the other hand offered Honda Fest the show's sleeper. An unassuming black 1999 Acura Integra turbo with only 500 HP. Special forged gear under the hood allows him to get going in a hurry on the 400!
The Honda cuteness award could have gone to Cale's psychedelic Civic hatch and trailer but I think the Honda mini delivery truck, owned by Krystal's grandfather, was the standout here. This little workhorse was unique and it was a great addition to the Midland Honda Fest.
The burgers and sausages that Richard and staff offered to the entrants and spectators were outstanding. I believe he made a special trip to Hamilton for this great food. It was a very enjoyable and casual day meeting and speaking with Honda owners who loved sharing their passion for Honda vehicles with me.  The Midland Honda crew is planning to make next year's Honda Fest even more enjoyable. Keep July 14, 2020 open for the second annual Midland Honda Fest. Should be very interesting!
Until next time.
Macky
2019 Midland Butter Tart Festival

Midland had great summer weather on June 8th for this year's Butter Tart festival. A bright blue sky greeted Richard Davies, V.P. of Midland Honda, and me as we headed to the dealership to rendezvous with fellow Midland Honda volunteers. The early morning plan had the team drive a new Passport, a Ridgeline, a CRV, the electric Honda Clarity and a new Red Civic down to the Lake Front Park to set up the Midland Honda vehicle display and the tart sales tent. Our goal was to generate as much money through the sale of tarts for the Big Brothers and Big Sisters of Simcoe County. We squeezed a few vehicles around the Midland Honda car trailer and then waited for festivities to officially begin with the March of the Butter Tart. Rene led the local pipe band past our area while holding the ceremonial tart proudly on high. A fine traditional to behold!
The key to a successful tart sale is the free sample, which confirms that you are indeed offering the hungry crowd one of the best tarts available. Couple the cutting board tart slices with the carnival barker banter of Richard, Tom, Krystal, Laura, Joshua, Dawn, Matt, Claudette, Michelle and Colin and you just can't resist sampling Grandmother's Bakery Shoppe's plain, raisin or walnut butter tarts. Many people slowly drifting by were snagged by Richard's tantalizing list of mouth- watering ingredients. How could you resist real butter and maple syrup without any hint of margarine or preservatives? I saw no one frown after the first bite. Later in the day, either Krystal or Matt added the most consequential invitation line to the day's tart sale. "Come on in folks and test drive a butter tart!" Test drive 6 for 12 dollars and all the proceeds go to the kids who are getting help, guidance and comfort from the Big Brothers and Big Sisters of Simcoe County.
How successful were we? The sales team was mighty good! 414 six pack butter tart trays or 2,484 individual tarts were sold and probably 20 trays at least were carved up as samplers. The profit from the sales and a round up donation from Midland Honda totaled $1500.00. Midland Honda is pleased to provide this amount to Big Brothers and Sisters of Simcoe Country!
Everyone from Midland Honda was happy and exhausted after participating in another successful butter tart festival.
Until next Time
Macky
Dollars to Donuts it's a Honda Accord
On November 3, 1986 Honda of Canada Mfg (HCM) became the first Japanese auto manufacturer to establish a production facility in Canada. The launch of the Alliston plant to produce Accords was part of Honda's global commitment to build vehicles close to where they were sold. The plant capacity was 50,000 vehicles when they started and now Plants 1 and Plant 2 produce in excess of 390,000 vehicles annually.  The sleepy Alliston settlement on Highway 89 was an ideal location that provided Honda close access to Hwy 400 and a railway line.  Before Honda came to town Alliston and the surrounding area had a population of 7,000, most residents shopped downtown on Victoria St. (Hwy 89) and road congestion was something that happened in Toronto. Citizens enjoyed two nifty donut shops that probably were close to Baxter Labs, the largest employer (700) in the area. Now the amalgamated community of New Tecumseth, which includes Alliston, has a population of over 14,000. Big-box malls lure most shoppers and the area boasts twenty donut and coffee shops.  The biggest employer, Honda of Canada, has a workforce of 4,300 that runs on a steady diet of sticky dough and caffeine, unless they get stuck in traffic on Victoria street during a plant shift change.  Honda powers New Tecumseth!
The 1986 generation Accord, with the pop up headlights, that rolled off the Plant 1 line continued the successful legacy of the 1976 Accord, which made such a large impact on the N.A. car market. The first Civics and Accords took full advantage of tail end of the OPEC oil embargo and the consumer awareness of fuel efficiency. Honda debuted the Accord as an economical, fuel-efficient, roomy and Honda-reliable. This model year had a 1.6 litre, 4-cylinder engine that produced a whopping 68 hp, while still achieving 30 mpg.  Hard to believe that this 2000 lb hatchback, smaller than today's Fit, evolved into a full sized sedan, but back then it was designed to make American midsized cars look stodgy and old fashion. The domestic big three failed to see the competition hit the shores with a better product.
The 1976 Accord set the standard for all its future successors to come, by creating a platform that provide a high level of build quality that was comfortable and reliable yet had a measure of responsiveness from the engine and the steering that exceeded the performance of the sloppy N.A. made mid-sized cars.  It wasn't a rash, exciting, undependable foreign import. The first Accord exuded a modest expression of competence of design, technological innovation and the Accord began to convince consumers quickly that it was a valid mid-sized luxury car choice. Creating a car that was pleasant and efficient drew many customers away from the old guard and solidified the Accord as one of the top mid to full sized cars of the past 25 years. After watching the Honda Accord enlarge its market share for four years the big three were forced to react to Honda's stylish front wheel drive revolution. Some auto pundits have pointed out that the big three were never able to draw even or surpass the success of the Accord.
I think we might take a road trip to Alliston this summer to see where my CRV was built and sit for a while to enjoy a coffee and apple fritter.
Until Next Time…
Macky
Winter Tire Swap, Balance and Alignment

I thought I might need to see the dentist a week ago. My fillings were loosened after my CRV hit three potholes in a row. My steel winter rims took on the rapid fire road depressions but the wheel shutter and the BAM! sound of the shock absorber compressing all the way made me feel that I might now be down to three wheels. Hmm, where is that Honda roadside assistance number? No need, it is a Honda after all. Looking from the side I could see no damage to the rim. If it's a normal pothole and you have the proper air pressure, your Midland Honda vehicle should be able to absorb it.
When a tire hits the inside of a pothole, it is pushed both backward and upward, transmitting the force of impact to the wheel, the suspension and the steering mechanism. The most likely types of potential damage are the loss of a hubcap, a damaged tire sidewall, a bent or broken wheel; wheels knocked out of alignment, damaged suspension components, bent steering parts and damaged shock absorbers.
A driver may well detect something is amiss while driving when the steering wheel is straight but the vehicle pulls to one side or when the steering wheel is not centered when driving in a straight line.  A wheel misalignment may also cause vibrations to move up through to the steering wheel.  After a big jolt to the suspension during the winter it is worth having your vehicle's suspension checked over as you replace the winter tires with balanced summer tires.
Wheel balancing, also known as tire balancing, is the process of equalizing the weight of the combined tire and wheel assembly so that it spins smoothly at high speed. Balancing involves putting the wheel/tire assembly on a balancer, which centers the wheel and spins it to determine where the weight should go.  Your tires will wear down prematurely when the wheel assembly isn't balanced. Even a quarter of an ounce of imbalance can put uneven pressure on the treads, causing uneven tread wear and excess heat that will shorten the life of the tire. Keep your wheels balanced and your tires should last as long as advertised!
Though a wheel alignment does incur a small short-term cost, it can lead to long term savings. With a proper wheel alignment your pocket book will also benefit from better fuel efficiency.  Correct alignment has a positive effect on the efficiency of your engine.  Additional long term savings will be achieved with regular wheel balancing and alignment. When the components of your vehicle's steering and suspension systems are put under excess stress through wheel misalignment it causes them to break down faster necessitating replacement and costly repairs. Preventive maintenance will insure that you will enjoy your vehicle in tip top shape longer.
I have locked in my Easter Monday tire swap and balancing with the service desk at Midland Honda and I can't wait to shed the steel for the alloy wheels. I hope to soon see a Midland public works asphalt truck and the workers filling in some of the great road divots left by another hard winter season!
Until next time,
Macky
The beginning of a 50-year history in Canada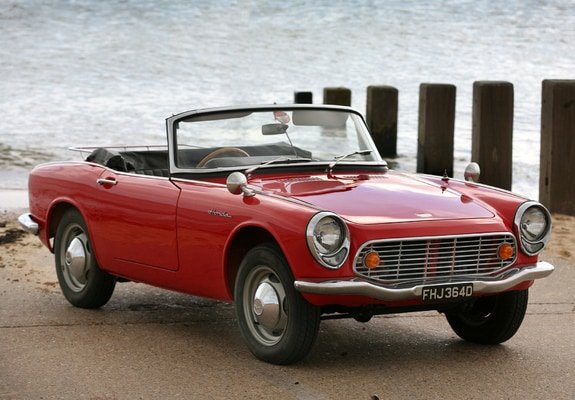 2019 is the 50th corporate anniversary of Honda in Canada. They note in their web time line that, "In 1969 when Honda came to Canada, we came as a small company with a dream. We began with motorcycles and power equipment and it took a lot of work to gain the confidence and trust of Canadians. But we worked hard and over time our products earned the respect of the marketplace." It is a tidy benchmark that fits neatly into the present day anniversary but in reality Honda began selling products earlier in Canada and they laid the groundwork for success in the late fifties. Like the Apollo moon landing on July 20, 1969, Honda's Canadian landing just didn't occur out of thin air. Apollo's success rested on the shoulders of the Mercury and Gemini space flight programs and Honda's early Canadian success was largely built on motorcycle sales and the S600 sports car. The initial star in Honda's car legacy!
The first Honda motorcycle sold in Canada was from Fred/Trev Deeley Motorcycles in Vancouver in 1957 and Deeley was also the first to import Hondas to the West. Trev Deeley was the exclusive Canadian distributor well before Honda established corporate headquarters in Canada. In Don Mills Ontario, F.W. Manley and Sons started their business importing Toro and Cushman lawn-care machines, but at some point became the distributors for Honda motorcycles. By 1963 the timing was just right. Honda had decided to counter the outlaw image of motor biking with the CA 100 Super Cub and with a catchy ad campaign around the slogan, "You meet the nicest people on a Honda". It was priced at $299.00, included turn signals and twin rear view mirrors. Young men and women were encouraged to enhance their lifestyle on a Honda.
When business picked up during the mid-sixties Manley & Sons hired Tom Faulds, a motorcycle racer and enthusiast, as their service manager. He was soon handed the task of creating a mechanics-training program, a new concept within the well-established Manley organization. A year later Honda launched the tiny S600 sports car and Tom was pressed into the car business and tasked with organizing mechanics training schools. After leaving Manley Motorcycles Faulds was invited in 1968 to join a new operation called Canadian Honda Motor Ltd., which was the factory's first office in Canada. He used the technical training received in his native Scotland to help build customer satisfaction and develop the expertise of Honda dealers across Canada. In 1969 he became the first Canadian on the payroll, and went on to fill vital roles across the organization until his retirement in 1993 from what now is known as Honda Canada Inc.
The first Honda S600 sports car came to Canada in May 1965 when six vehicles were delivered to Toronto. They went on sale in July and another 100 convertibles were delivered in August and by November Manley had the hard top version for sale. It is interesting that Elon Musk seems to have copied the sixties Honda brand development strategy when he introduced his first Tesla electric vehicle to the American market. One thing is for certain customers of the Tesla sports car roadster were asked to pay comparatively much more to drive their brand for the first time.
The diminutive, beautifully designed S600 had a four cylinder DOHC, four carb 57 hp engine that was 600cc and you could rev the engine to high rpms. Running through the standard gearing you would be treated to sporty sound at a modest top speed. Honda advertised that the car offered a two speed windshield wiper, with washer fluid, easy to read dash board, with tachometer, steering wheel lock, comfortable driving position, roll up side windows, lockable fuel cap, spacious trunk and a one push convertible top.
Honda's new entry into the Canadian market was eye-catching and it would have stacked up pretty well visually with many of the sports cars of the day i.e. - the Sunbeam Tiger and Austin Mini and the MG models. It was a little taste of Honda excitement and fun before the corporate decision was made to settle down with the more practical Honda Civic offering in 1973.
<span lang="EN-US" style="font-family: Cambria, serif;