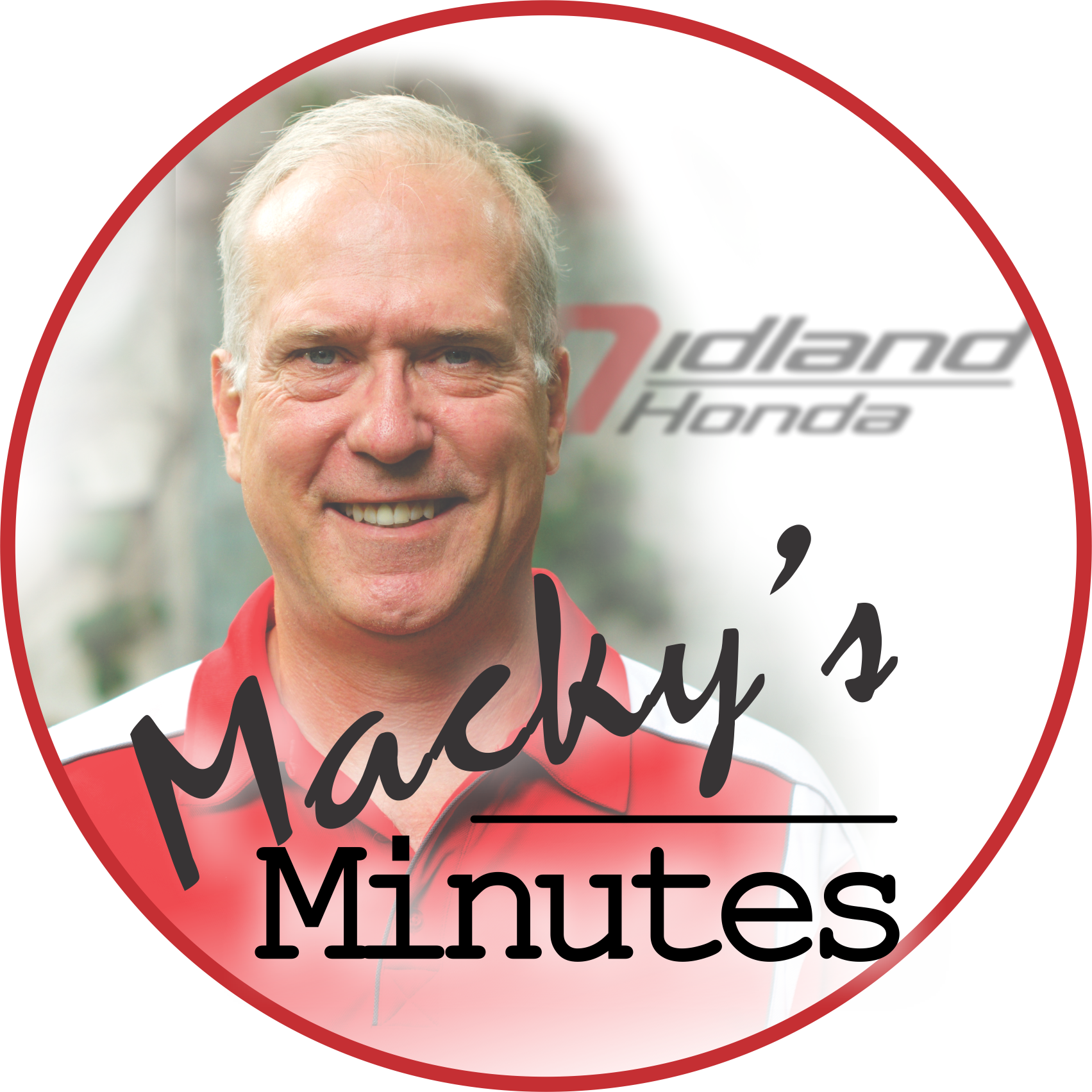 New Drone for the New Building
This past January Midland Honda unveiled online the steel frame construction of the new building by showing a drone camera fly by which started in the present-day store parking lot.  It was interesting to rise vertically to a bird's eye view over the lot, then travel across towards the construction site. The hired drone operator was able to survey the site from about two hundred feet, circle around for some good looks then head back to the store for a soft landing near Megan and Jon. A thrilling perspective for Midland Honda's customers.
Richard Davies liked the results so much he decided to purchase a drone for future enhanced views of the dealership's construction. The result of this effort can be seen in the March 20th New Construction update. This time the drone footage has you zoom through the building's different levels for a more intimate tour of the current building progress.  Pretty exciting views that show the scale of the building to come. Who was the Luke Skywalker drone pilot you may well ask? It was none other than Matthew Elmer, one of Midland Honda's super car technicians. You may have seen him explain brake pad wear and servicing on an episode of Tech Talk Thursday.  Matt has definitely felt the Force! With little experience and flight time he guided little 'Sparky' through and around the new build like a pro. Just take a look at that custom landing right next to the two Midland Honda construction hard hats.  Just outstanding! We can expect some crazy angles and flying as Matt becomes more familiar with what this little drone can do.  Check out the specs on Midland Honda's new drone.  https://www.dji.com/ca/spark.
Once Matt downloads the video to a computer Megan does a great job editing the video project for Instagram with Adobe Premier. Megan's music selections from a Google royalty free library have really fit well with the edited visuals. Based on my experience cutting 30 second promos for the CBC making a short entertaining promo is exacting work but very satisfying once you have nailed it. The quality of Midland Honda's construction updates will continue to amaze viewers as the building progresses to completion in October. Look forward to more video updates on other topics from the Midland Honda team in the near future.
Until next time
Macky
2020 Auto Show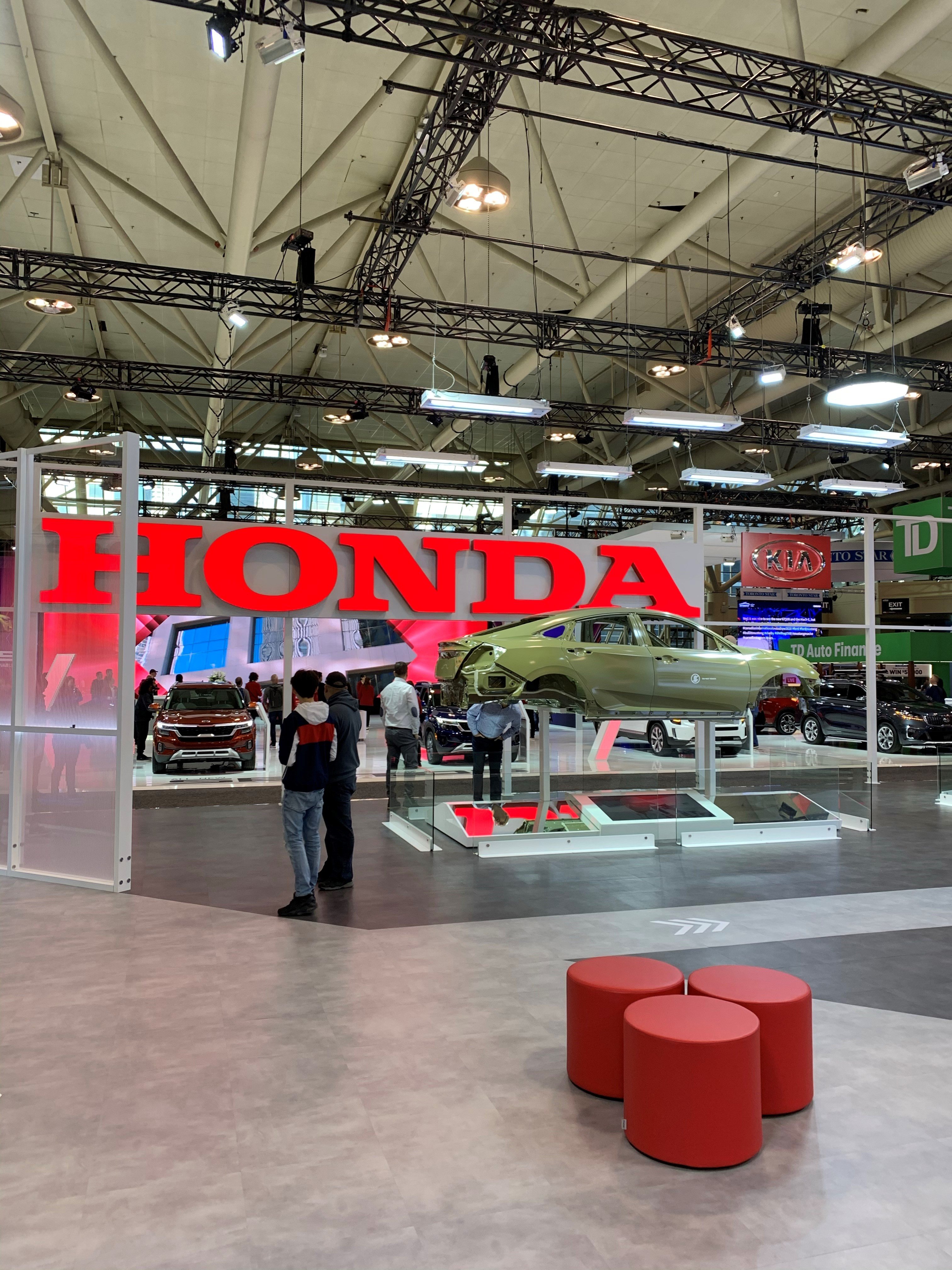 The theme of this year's show was 'Transformative Times'.  Transform into what you may well ask?  Well, for many of the manufacturers it was an opportunity to showcase their new and improved electric car models and technologies.  It's more than just a toe in the water now. Foreign and domestic luxury brands are now committed to offering heavy electric power solutions in their SUVs. Ford spared no expense to roll out and show the new Mustang Mach-E SUV, another high speed battle tank that will be considerably less expensive than the Audi E-tron SUV.
Honda's main floor exhibition space had far less 'electric' gravitas than most other brands and this suggested to me that the company is still trying to determine its footing in the electric vehicle landscape. This is not to say that Honda has not committed resources to this technology. The newly designed Honda e one compact car, which will take advantage of the robust charging infrastructure in Europe, is an example of their electric vehicle tech.  Unfortunately, it wasn't a show stopper at this event. Instead the audience was encouraged to gaze at the Honda Clarity, Honda's plug in Hybrid solution.  Honda's introduction of fully electric cars in the N.A. market could be seen to lag behind their competitors but I think they have their timing dialed in just right.
Honda's 'Blue Skies for our Children' (reduced tail pipe emissions) displays were a real mix of corporate assets. Civic bodies, robotic arms, a black edition Pilot, a crushed Civic and Honda staff riding around on several  Uni-cub  personal mobility chairs were eye catching. This presentation also highlighted the theme of mobility for everyone.  A circular platform display recalled the history of Honda on the outside and inside guests standing on a moving platter could see examples of future vehicles, motorcycles, and robotics and mobility assist devices. Honda is a technology company focused on personal mobility solutions.
I finished my day with a test drive in a Hyundai Kona EV. It's a bit larger than the compact Chevy Bolt EV. Impressive acceleration from a stop, like all EVs and the high frequency whir of the engine was different to say the least.  My co-pilot indicated that all EVs have difficulty keeping a full charge in cold weather.  Losing up to 30% of your car's range due to winter weather is not a winning feature for customers who live in central Ontario. Couple this problem with the higher costs of leasing new EV technology, the cost of installing a charging unit at your home, the lack of public charging infrastructure and the meager  provincial incentives for EVs and you have a situation where EVs  can't measure up to Honda's Hybrid gas-electric power plant.  Honda presently has the right solution that is more economically friendly and convenient.  I'm ready and waiting to transition into a 2021-2022 CRV gas-electric Hybrid.
Until next time,
Macky
Strategies for Retiring Right: A planning session with Rick Atkinson
On January 15th, Midland Honda provided a retirement planning meeting for interested customers at the dealership with Rick Atkinson who is also known as 'Mr. Retirement'. Rick is a retirement coach, an adviser and author of several books on the subject.  Richard Davies enlisted Rick to provide the community with some insights into planning their best retirement.  The evening's maxim might well have been, "Your self-worth in retirement is not wholly tied to your net worth".
Some folks dread the thought of mentally preparing for retirement. Their present job is what drives them and for the most part it makes them happy. Retirement is often considered a concept associated with aging and death. Others think that unhealthy habits can creep in to your life when there is less or no work structure. Rick suggests that instead of viewing retirement as being synonymous with death, one should decide that retirement can mean that you can do what you want, when you want and with whom you want.  This transformative process really becomes a personal declaration of freedom that should allow you to shape the rest of your life.  Who wouldn't want a zestful life, travelling, volunteering and enjoying the company of family and friends?
Initiating the benefits of a fulsome retirement does take some effort however. It's not as easy as dropping off your vehicle at Midland Honda's service desk then expecting and getting by the end of the day a car in tip-top condition ready for another season. Rick's holistic approach to retirement planning asks for your commitment to detail a written overview of your vision for retirement, a review of your savings strategy and a pledge to get your personal affairs in order with a will. Rick states the following: "Successful retirees recognize the need to plan for happiness and productivity. They evaluate what's important to them and construct actions to satisfy their needs and wants. By creating a vision of a realistic retirement and building an action plan to achieve it, they are proactively and energetically seeking results."
The Midland Honda workshop with 'Mr. Retirement' was well received by those who attended the event.  I think it is fair to say that people could see the benefits of establishing some of the building blocks for a sound retirement plan. We are living longer!  Help make your retirement worthwhile by embarking on a visioning exercise soon.
Until next time
Macky
Emergency Kit Preparedness
Midland Honda's Emergency Kit giveaway contest focuses nicely on the need to have you vehicle ready for the unexpected during winter and summer driving. You probably have heard a few stories about stranded motorists – everything from a six-hour standstill on Highway 69 to a driver who survived eating mints and Swiss Chalet sauce after getting stuck in the snow on a country lane with no cell service.  Why would anyone want to suffer the indignity of consuming a mint chicken sauce for dinner? Let's just spend a little time gathering provisions from home and gear from the store of your choice to outfit the front and back of your vehicle for the unlikely event that you become stuck waiting for help.
Motoring Association surveys indicate 45% of drivers without a kit plan to get one but "haven't gotten around to it".
22% say they'll just call for help if needed
12% think they don't need one because they only drive in-town
So maybe twenty percent of drivers have suitable food, water and gear in their vehicles when they embark on their winter excursions.  This is hardly enough preparedness for drivers living in Midland's snow belt. One should consider the following list to remain on the safe side of winter driving.
Roadside Emergency Kit Contents
Booster cables
Phone charger
Hand/foot warmers
Reflective armbands
Ice scraper
Folding shovel
Sand / kitty litter
Fire extinguisher
Multi-tool (pliers, knife etc.)
Candles for light & heat
Waterproof matches, lighter
Tin can (to hold the candle)
Small first aid kit
Self-powered flashlight
Work gloves
Paper towel / rags
Warm clothing
A jug of water
Protein bars (rotate regularly)
Caution triangle for visibility
A warm blanket
A local map
Duct tape
You may be amused by some of the YouTube videos posted by survivalists who have scaled up their approach to outfitting their vehicles with emergency gear. There is hardly enough room in the spare tire wheel well or the trunk to accommodate the crowbars, saws, rope, sleeping bags, torches and extra fuel just in case.  These dudes are either on a serious bug-out bag mission or they are ready to be the best Good Samaritan on the road ready to help those in need.  I do like their three-zone approach to gearing up a vehicle. The first zone, the driver's seat, has a few things within easy reach in case of delay or calamity.  In the center console box you have your glass breaking/seat belt-cutting tool, some energy bars or nuts, flashlight and water in the door or cup holders. Have your handy heat, light candle and medical mini pack near by in the front cabin. Also, have your engine starting battery pack behind one of the seats. This small pack has a variety of charging wires that you can use to keep your phone battery operational if and when you can't use the vehicle's battery. The second zone is found in the trunk or back bed of your SUV. Easily accessible gear such as windshield washer liquid, another more powerful flashlight, more food and water, a wool blanket and most likely your collapsible shovel. The last zone would be the wheel well or floor compartment that would house flares, tools like pliers and bungee cords and your duct tape. Got to have a roll of duct tape in your car at all times winter and summer!
One survivalist had a great idea for stowing extra water in any zone. Buy and store small prepared packets of water for greater convenience. These packets can be easily thawed in your hands or by hand warming products.
I have procrastinated long enough. Thanks to Megan's emergency kit contest and awareness campaign I'm cleaning my CRV of old ketchup packets and bringing in some quality trail mix and a nifty collapsible shovel.
Until next time
Macky.
2019 Honda World Skills Contest and Midland Honda
Midland Honda service technicians are a big part of the foundation of the dealership and for the most part these talented people work in the back without much notice or praise, until recently.  Tech Talk Thursdays has opened the garage door to spotlight important vehicle issues that are resolved by service staff with solutions based on their superior training. What you don't see is the dedication to improve their diagnostic and repair abilities through constant training over time. You may start as an apprentice, like Brandon Westerlaken in 2015, and then five years later you become a licensed technic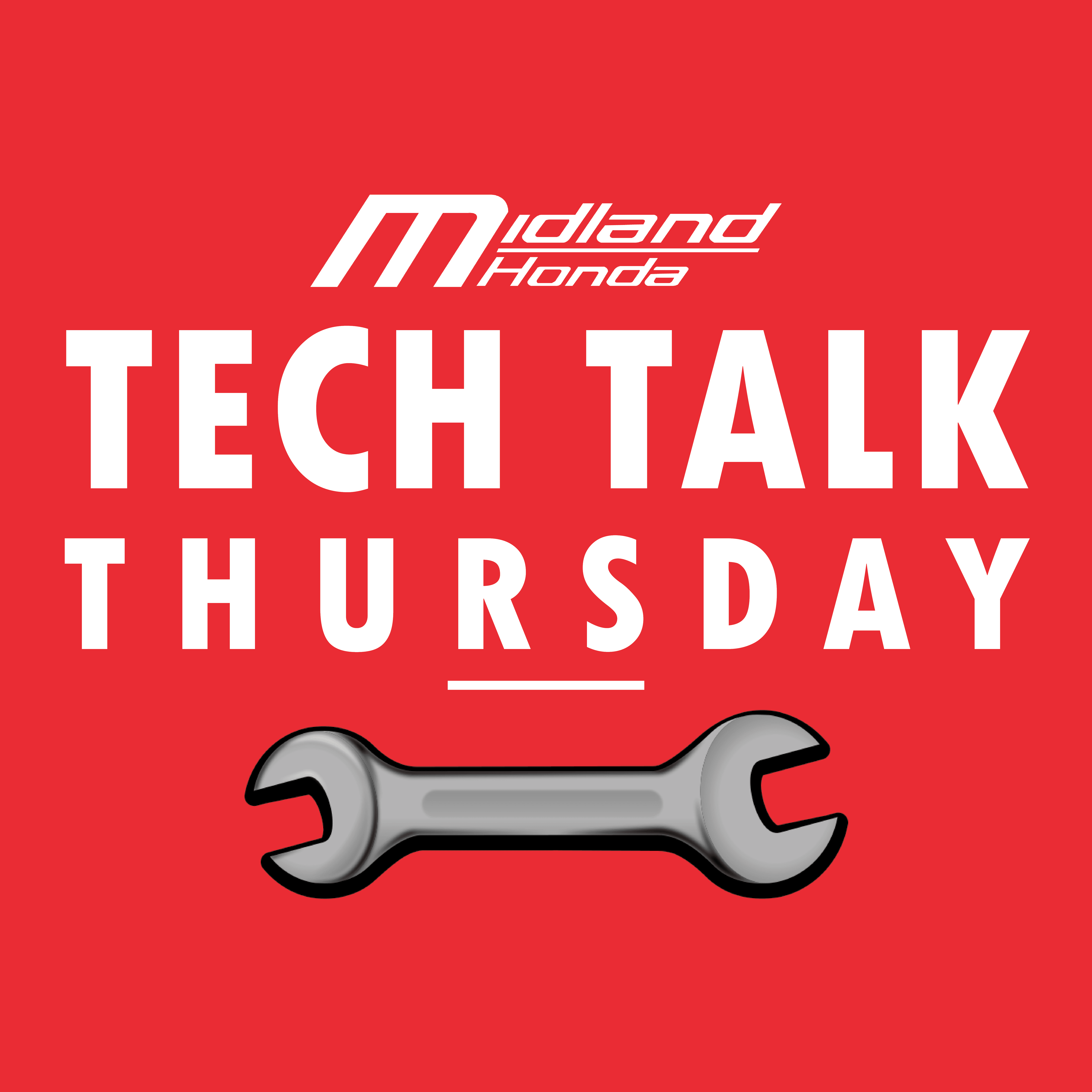 ian. Midland Honda's Gold certified techs, Matt Elmer and Dakota Plante have decades of combined experience maintaining and repairing Honda vehicles. I'm not certain what amount of training you need to achieve the Platinum designation but its got to be huge. Both Nick Chute and Peter Reginella have this level to offer the Midland Honda service team and Peter was recently awarded the Top Technician in Ontario. Midland Honda has developed a great team of service technicians to support their customers' needs.
Honda intends to elevate team moral and expertise even higher. Their motto is 'Be the engine of Honda' and to further this dream in 2019 Honda inaugurated the first World Skills Contest held in Japan. Twenty-six finalists, from a pool of seventy-five thousand techs, chosen from seventeen countries tested their knowledge and problem-solving abilities in service bay challenges that were on the clock.  The two Canadian participants, from Honda and Acura dealerships, were chosen as Canada's best techs at the Honda Headquarters in Markham.  Here, during mid-May, techs were asked to identify four complex faults, mainly electrical, in a two hour, eight service bay competition. One of the goals of this new competition in Canada is to showcase the opportunities that exist in the field of automotive service. Competitors also have the opportunity to meet others who have similar goals in professional improvement.  These friendly competitions keep Honda moving forward by facilitating self-improvement through examples of excellence. Midland Honda has some of the best Honda technicians working on your vehicles every day. This fact will always lead to your satisfaction!
Until next time
Macky
2020 Honda CR-V Hybrid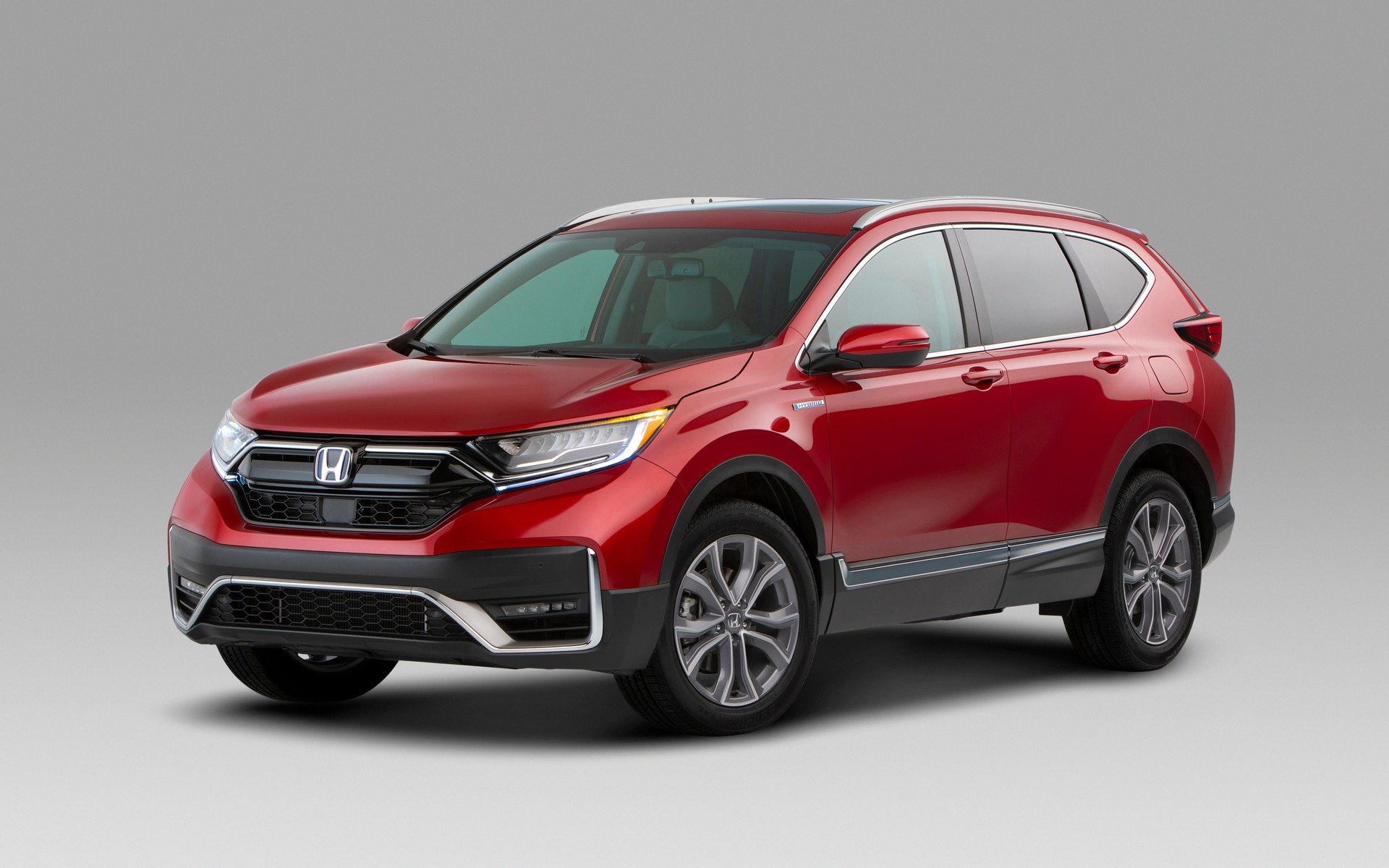 A very interesting addition to the CR-V model lineup that will be arriving in the Midland Honda showroom very soon.  We have become accustom to the CR-V being the complete package…comfortable, refined, spacious and practical. Now add 'super economical' to complete the list of fine vehicle attributes. The CR-V Hybrid is a vehicle with complex motor technologies but you wouldn't know it when you get behind the wheel and start driving. Everything works seamlessly together to provide you a new driving experience that can be fun and worry free.
The concept for this CR-V is an electric vehicle powered by a combustion engine to maximize fuel economy. There are three engine modes that help achieve up to a thirty percent fuel savings, which is about 10 mpg more that the CR-V gas engine model.  The CR-V Hybrid has an EV drive where electricity from the small 2kWh battery pack powers the electric motor near the front wheels. The EV drive can use the energy from the buffer battery for a maximum of 8 km before internal recharging is necessary. The magic of the car's programming has the internal combustion engine (ICE) come on shortly after you start rolling the car in EV mode. This is the Hybrid drive and it operates the vehicle most of the time. Here we have the 2-liter ICE powering an electric generator that in turn sends power to the electric motor for the drive train.  Any excess energy created by the generator is diverted to top up the buffer battery. Honda engineers determined that there is a sweet spot for the ICE's fuel efficiency when a driver needs to increase their speed between 80 km and 120 km. At this point the gas engine takes over completely and supplies all the power to the drive train. The car's computer will adjust back to EV or Hybrid mode and shut the ICE down to conserve fuel consumption when conditions warrant the change. There is some new dashboard instrumentation that shows how this engine mode hand off happens in real time. The dash will also show you how well you are doing with regenerative braking. This is very cool and for those who like to monitor what is going on it can be a nice challenge to improve your car's efficiency with your own inputs.
The Hybrid CR-V generates electrical energy for the battery while you brake and you can also preset the car to generate extra energy while your rolling at any speed by using two paddles on the underside of the steering wheel. Hit the left paddle for more rolling regeneration and the right paddle for less rolling regeneration. The brake lights are not applied with this type of regeneration.
Once again when you start your CR-V Hybrid in EV mode the ICE will kick in only to keep the car in an optimum running cycle. The engine will not stop and start at full stops like some vehicles you have seen and heard recently. The quiet start adds to a more relaxed comfortable feeling when you're moving at low speeds in an urban environment. The beauty of silence is enhanced at higher speeds with Honda's noise cancellation technology. Your car's headliner microphone detects loud noises entering the cabin then sends out an audio frequency through the speaker system to offset the noise. Pretty amazing!The new Honda CR-V Hybrid arriving soon at Midland Honda has many trim levels in either two wheel or AWD. I encourage you to arrange a test drive and check out something different in one of your favourite Honda vehicles.
Until next time,
Macky
Midland Honda 4th Annual Customer Appreciation Movie Night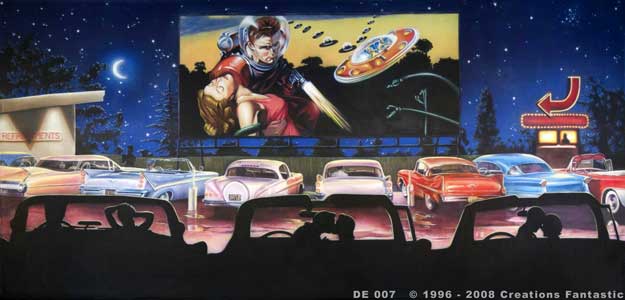 Richard Davis and the Midland Honda staff have again raised the bar for customer service and the larger than ever crowd attending this year's movie night would agree. Events like this begin as a novel idea that should represent the best of the Midland Honda brand but there is no guarantee that it will capture the interest of Honda customers or the general public. Steadily, over the past four years the end of summer Honda drive-in movie night has built a great deal of momentum.
I really don't think the entrance way staff greeting can get any more genuine, friendly and generous, although I would like to see Josh Townsend and Nick Gagliardi on mini tramps doing the Midland Honda high five just before you turn into the park. I suppose this scenario is a little over the top for next year; however, the Midland Honda sales team never ceases to amaze me with their enthusiasm and hidden talents. By the way, I really enjoyed the chocolate candies this year!
Kids who enjoyed a small face painting stool the first year now line up for elaborate face painting under a tent while watching the balloon man create lively creatures out of thin air. A little glitter goes a long way!  I'm not sure if I saw some Smurfs engaging in a Frisbee toss with the kids near the big screen. Experiences are refined, enhanced and improved. Doesn't this sound like the Honda motto?
The announcement of this year's amazing door prize, the platinum car-detailing voucher, was something to behold.  I had the privilege of watching Richard take the projection room's old fashion microphone and with the help of brand ambassador, Megan Brooks and sales representative Becca Emery, spin the drum of tickets, select the number and call out the winner. Minutes later it was great seeing the joy on the face of the winner in the projection room!  Richard ramped up the excitement with the grand announcement of the start of construction for the new Midland Honda store at their new location on Heritage Drive. I can't tell you how hard Peter and Richard have been working to make this dream a reality. The new Midland Honda store will be exceptional in every way. The momentum is literally building down the street and it will usher in a superior level of client care for Honda customers.
Midland Honda appreciates giving Honda customers their choice of movies and they continue to offer customers the best choice of vehicles and quality service in Midland.
Until next time,
Macky
2019 Midland Honda Fest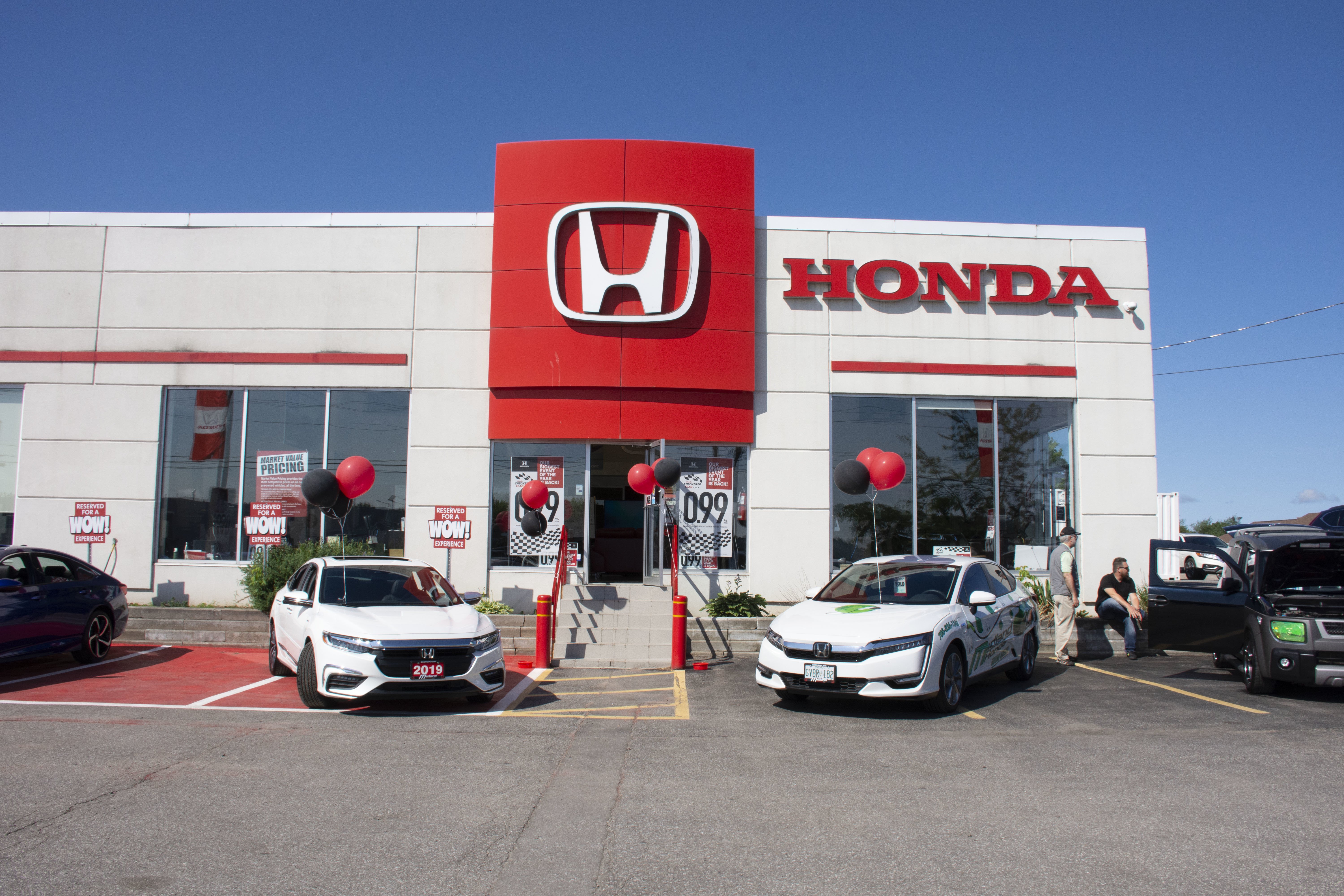 The call went out to owners of modified Honda vehicles to attend the first annual Midland Honda Fest on July 14th. For those who attended it was a perfect summer Sunday to break out the lawn chairs, talk about their vehicles and enjoy the super BBQ offered by Richard Davies and the motivated sales staff of Midland Honda.
The faithful and happy Honda Element owners who congregated their boxy utility vehicles together at one end of the Midland Honda parking lot first struck me as devoted owners who knew they had a good thing going. Luke and Tara were pleased to show me the mods on their 2004 daily driver, which had 444K on the odometer. This was a common theme. Vince had 288k on his 2005 Element. The Element club that gathered at Midland Honda showcased front aero add-ons, lowered suspensions, chubby tires and great rims. The Element had fun built in and these owners excelled in sustaining the Honda mission.
One family arrived with Mom and daughter driving an Element while her son Exequiel Caringal and wife Emma arrived in a pearl white 2000 S-2000 convertible sports roadster. You don't see many S-2000 around.  Father and Son purchased the Arizona car in Ottawa and together are having a blast restoring this sports car.  It was a total Honda family outing in Midland.
The Civic R group of owners link up regularly for club activities. Midland was a great summer driving destination for the afternoon. Mario owner of a 2018 Civic R was fully engaged in setting his car up for onlookers. He placed two vehicle mascots in the driver and passenger seats and I must say they looked terrific.  The outstanding sheen on his paint job was achieved with a 3M ceramic wrap. Mario improved the look of his front air dam and front hood with carbon fiber. His sound system was very beefy. The Alpine X system had one massive mid-range speaker in the back and later that afternoon he was pumping out the tunes! This Civic R had the racing chops too. Stronger engine mounts for stability and a host of engine bay enhancements allows Mario to turn 140 km per hour corners at Cayuga and Shannonville.
Three friends, Thusee, Jay and Hindu were up from the GTA with two hot Civic Si cars and Hindu had a special 1998 Prelude Type SH that he was working on. I especially liked Jay's detailed treatment of his Si dash. Red Carbon vinyl wrap accentuated the interior's speed racer feel. His treatment of the car's rims was also noteworthy. Nice gold Avid 1 rims.  Thusee had Red Gold rims as well on his Si. Matte gold looks pretty good on the Honda Si!
There were three Honda owners that were somewhat untraditional with the modifications to their Honda rides. Cale and Ashley presented their colourfully painted 94 Civic turbo hatchback with matching chopped Civic trailer.  The package had an innovative design and it was one of my show favourites. Adam brought his award winning 1988 Honda CRX with Lambo scissor style doors. It was tricked out with a super sound system and a large TV monitor in the back. A former race-car that had been modified to entertain the crowds.  Shawn on the other hand offered Honda Fest the show's sleeper. An unassuming black 1999 Acura Integra turbo with only 500 HP. Special forged gear under the hood allows him to get going in a hurry on the 400!
The Honda cuteness award could have gone to Cale's psychedelic Civic hatch and trailer but I think the Honda mini delivery truck, owned by Krystal's grandfather, was the standout here. This little workhorse was unique and it was a great addition to the Midland Honda Fest.
The burgers and sausages that Richard and staff offered to the entrants and spectators were outstanding. I believe he made a special trip to Hamilton for this great food. It was a very enjoyable and casual day meeting and speaking with Honda owners who loved sharing their passion for Honda vehicles with me.  The Midland Honda crew is planning to make next year's Honda Fest even more enjoyable. Keep July 14, 2020 open for the second annual Midland Honda Fest. Should be very interesting!
Until next time.
Macky
2019 Midland Butter Tart Festival

Midland had great summer weather on June 8th for this year's Butter Tart festival. A bright blue sky greeted Richard Davies, V.P. of Midland Honda, and me as we headed to the dealership to rendezvous with fellow Midland Honda volunteers. The early morning plan had the team drive a new Passport, a Ridgeline, a CRV, the electric Honda Clarity and a new Red Civic down to the Lake Front Park to set up the Midland Honda vehicle display and the tart sales tent. Our goal was to generate as much money through the sale of tarts for the Big Brothers and Big Sisters of Simcoe County. We squeezed a few vehicles around the Midland Honda car trailer and then waited for festivities to officially begin with the March of the Butter Tart. Rene led the local pipe band past our area while holding the ceremonial tart proudly on high. A fine traditional to behold!
The key to a successful tart sale is the free sample, which confirms that you are indeed offering the hungry crowd one of the best tarts available. Couple the cutting board tart slices with the carnival barker banter of Richard, Tom, Krystal, Laura, Joshua, Dawn, Matt, Claudette, Michelle and Colin and you just can't resist sampling Grandmother's Bakery Shoppe's plain, raisin or walnut butter tarts. Many people slowly drifting by were snagged by Richard's tantalizing list of mouth- watering ingredients. How could you resist real butter and maple syrup without any hint of margarine or preservatives? I saw no one frown after the first bite. Later in the day, either Krystal or Matt added the most consequential invitation line to the day's tart sale. "Come on in folks and test drive a butter tart!" Test drive 6 for 12 dollars and all the proceeds go to the kids who are getting help, guidance and comfort from the Big Brothers and Big Sisters of Simcoe County.
How successful were we? The sales team was mighty good! 414 six pack butter tart trays or 2,484 individual tarts were sold and probably 20 trays at least were carved up as samplers. The profit from the sales and a round up donation from Midland Honda totaled $1500.00. Midland Honda is pleased to provide this amount to Big Brothers and Sisters of Simcoe Country!
Everyone from Midland Honda was happy and exhausted after participating in another successful butter tart festival.
Until next Time
Macky
Dollars to Donuts it's a Honda Accord
On November 3, 1986 Honda of Canada Mfg (HCM) became the first Japanese auto manufacturer to establish a production facility in Canada. The launch of the Alliston plant to produce Accords was part of Honda's global commitment to build vehicles close to where they were sold. The plant capacity was 50,000 vehicles when they started and now Plants 1 and Plant 2 produce in excess of 390,000 vehicles annually.  The sleepy Alliston settlement on Highway 89 was an ideal location that provided Honda close access to Hwy 400 and a railway line.  Before Honda came to town Alliston and the surrounding area had a population of 7,000, most residents shopped downtown on Victoria St. (Hwy 89) and road congestion was something that happened in Toronto. Citizens enjoyed two nifty donut shops that probably were close to Baxter Labs, the largest employer (700) in the area. Now the amalgamated community of New Tecumseth, which includes Alliston, has a population of over 14,000. Big-box malls lure most shoppers and the area boasts twenty donut and coffee shops.  The biggest employer, Honda of Canada, has a workforce of 4,300 that runs on a steady diet of sticky dough and caffeine, unless they get stuck in traffic on Victoria street during a plant shift change.  Honda powers New Tecumseth!
The 1986 generation Accord, with the pop up headlights, that rolled off the Plant 1 line continued the successful legacy of the 1976 Accord, which made such a large impact on the N.A. car market. The first Civics and Accords took full advantage of tail end of the OPEC oil embargo and the consumer awareness of fuel efficiency. Honda debuted the Accord as an economical, fuel-efficient, roomy and Honda-reliable. This model year had a 1.6 litre, 4-cylinder engine that produced a whopping 68 hp, while still achieving 30 mpg.  Hard to believe that this 2000 lb hatchback, smaller than today's Fit, evolved into a full sized sedan, but back then it was designed to make American midsized cars look stodgy and old fashion. The domestic big three failed to see the competition hit the shores with a better product.
The 1976 Accord set the standard for all its future successors to come, by creating a platform that provide a high level of build quality that was comfortable and reliable yet had a measure of responsiveness from the engine and the steering that exceeded the performance of the sloppy N.A. made mid-sized cars.  It wasn't a rash, exciting, undependable foreign import. The first Accord exuded a modest expression of competence of design, technological innovation and the Accord began to convince consumers quickly that it was a valid mid-sized luxury car choice. Creating a car that was pleasant and efficient drew many customers away from the old guard and solidified the Accord as one of the top mid to full sized cars of the past 25 years. After watching the Honda Accord enlarge its market share for four years the big three were forced to react to Honda's stylish front wheel drive revolution. Some auto pundits have pointed out that the big three were never able to draw even or surpass the success of the Accord.
I think we might take a road trip to Alliston this summer to see where my CRV was built and sit for a while to enjoy a coffee and apple fritter.
Until Next Time…
Macky
Winter Tire Swap, Balance and Alignment

I thought I might need to see the dentist a week ago. My fillings were loosened after my CRV hit three potholes in a row. My steel winter rims took on the rapid fire road depressions but the wheel shutter and the BAM! sound of the shock absorber compressing all the way made me feel that I might now be down to three wheels. Hmm, where is that Honda roadside assistance number? No need, it is a Honda after all. Looking from the side I could see no damage to the rim. If it's a normal pothole and you have the proper air pressure, your Midland Honda vehicle should be able to absorb it.
When a tire hits the inside of a pothole, it is pushed both backward and upward, transmitting the force of impact to the wheel, the suspension and the steering mechanism. The most likely types of potential damage are the loss of a hubcap, a damaged tire sidewall, a bent or broken wheel; wheels knocked out of alignment, damaged suspension components, bent steering parts and damaged shock absorbers.
A driver may well detect something is amiss while driving when the steering wheel is straight but the vehicle pulls to one side or when the steering wheel is not centered when driving in a straight line.  A wheel misalignment may also cause vibrations to move up through to the steering wheel.  After a big jolt to the suspension during the winter it is worth having your vehicle's suspension checked over as you replace the winter tires with balanced summer tires.
Wheel balancing, also known as tire balancing, is the process of equalizing the weight of the combined tire and wheel assembly so that it spins smoothly at high speed. Balancing involves putting the wheel/tire assembly on a balancer, which centers the wheel and spins it to determine where the weight should go.  Your tires will wear down prematurely when the wheel assembly isn't balanced. Even a quarter of an ounce of imbalance can put uneven pressure on the treads, causing uneven tread wear and excess heat that will shorten the life of the tire. Keep your wheels balanced and your tires should last as long as advertised!
Though a wheel alignment does incur a small short-term cost, it can lead to long term savings. With a proper wheel alignment your pocket book will also benefit from better fuel efficiency.  Correct alignment has a positive effect on the efficiency of your engine.  Additional long term savings will be achieved with regular wheel balancing and alignment. When the components of your vehicle's steering and suspension systems are put under excess stress through wheel misalignment it causes them to break down faster necessitating replacement and costly repairs. Preventive maintenance will insure that you will enjoy your vehicle in tip top shape longer.
I have locked in my Easter Monday tire swap and balancing with the service desk at Midland Honda and I can't wait to shed the steel for the alloy wheels. I hope to soon see a Midland public works asphalt truck and the workers filling in some of the great road divots left by another hard winter season!
Until next time,
Macky
The beginning of a 50-year history in Canada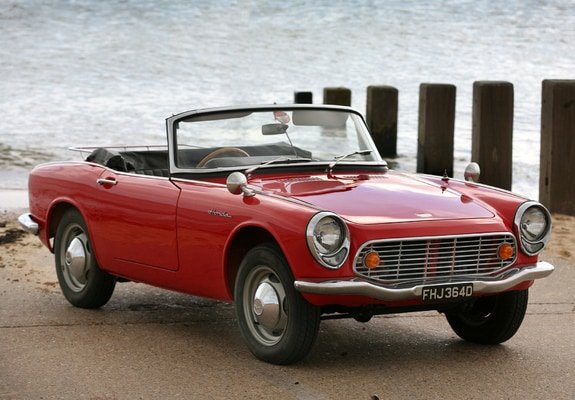 2019 is the 50th corporate anniversary of Honda in Canada. They note in their web time line that, "In 1969 when Honda came to Canada, we came as a small company with a dream. We began with motorcycles and power equipment and it took a lot of work to gain the confidence and trust of Canadians. But we worked hard and over time our products earned the respect of the marketplace." It is a tidy benchmark that fits neatly into the present day anniversary but in reality Honda began selling products earlier in Canada and they laid the groundwork for success in the late fifties. Like the Apollo moon landing on July 20, 1969, Honda's Canadian landing just didn't occur out of thin air. Apollo's success rested on the shoulders of the Mercury and Gemini space flight programs and Honda's early Canadian success was largely built on motorcycle sales and the S600 sports car. The initial star in Honda's car legacy!
The first Honda motorcycle sold in Canada was from Fred/Trev Deeley Motorcycles in Vancouver in 1957 and Deeley was also the first to import Hondas to the West. Trev Deeley was the exclusive Canadian distributor well before Honda established corporate headquarters in Canada. In Don Mills Ontario, F.W. Manley and Sons started their business importing Toro and Cushman lawn-care machines, but at some point became the distributors for Honda motorcycles. By 1963 the timing was just right. Honda had decided to counter the outlaw image of motor biking with the CA 100 Super Cub and with a catchy ad campaign around the slogan, "You meet the nicest people on a Honda". It was priced at $299.00, included turn signals and twin rear view mirrors. Young men and women were encouraged to enhance their lifestyle on a Honda.
When business picked up during the mid-sixties Manley & Sons hired Tom Faulds, a motorcycle racer and enthusiast, as their service manager. He was soon handed the task of creating a mechanics-training program, a new concept within the well-established Manley organization. A year later Honda launched the tiny S600 sports car and Tom was pressed into the car business and tasked with organizing mechanics training schools. After leaving Manley Motorcycles Faulds was invited in 1968 to join a new operation called Canadian Honda Motor Ltd., which was the factory's first office in Canada. He used the technical training received in his native Scotland to help build customer satisfaction and develop the expertise of Honda dealers across Canada. In 1969 he became the first Canadian on the payroll, and went on to fill vital roles across the organization until his retirement in 1993 from what now is known as Honda Canada Inc.
The first Honda S600 sports car came to Canada in May 1965 when six vehicles were delivered to Toronto. They went on sale in July and another 100 convertibles were delivered in August and by November Manley had the hard top version for sale. It is interesting that Elon Musk seems to have copied the sixties Honda brand development strategy when he introduced his first Tesla electric vehicle to the American market. One thing is for certain customers of the Tesla sports car roadster were asked to pay comparatively much more to drive their brand for the first time.
The diminutive, beautifully designed S600 had a four cylinder DOHC, four carb 57 hp engine that was 600cc and you could rev the engine to high rpms. Running through the standard gearing you would be treated to sporty sound at a modest top speed. Honda advertised that the car offered a two speed windshield wiper, with washer fluid, easy to read dash board, with tachometer, steering wheel lock, comfortable driving position, roll up side windows, lockable fuel cap, spacious trunk and a one push convertible top.
Honda's new entry into the Canadian market was eye-catching and it would have stacked up pretty well visually with many of the sports cars of the day i.e. - the Sunbeam Tiger and Austin Mini and the MG models. It was a little taste of Honda excitement and fun before the corporate decision was made to settle down with the more practical Honda Civic offering in 1973.
During Honda's 50th anniversary year I'm looking forward to sharing with you more details and interesting stories that surround Honda's historical milestones.
Until next time!Macky
---
2019 Honda Passport - Let the Adventure Begin!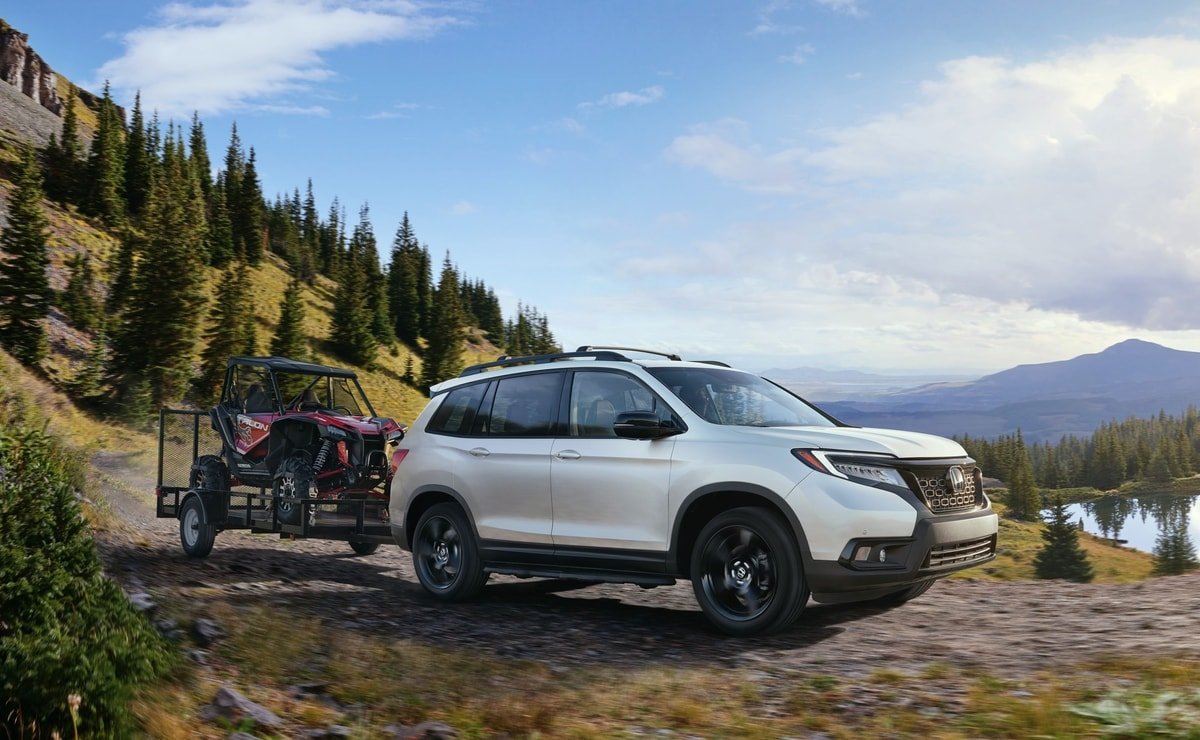 Honda has taken a field of dreams approach to building the 2019 Passport, their mid-sized SUV. If you build it they will come! Indeed, Honda manufacturing in Alabama, that builds the Ridgeline, the Odyssey and the Pilot are now assembling the missing link in the Honda light truck lineup that will be the right vehicle at the right time.
It will be the most rugged of Honda's SUV offerings slotted between the Comfortable Runabout Vehicle (CR-V) and the Honda Pilot. It's bigger and taller than the CR-V but more personal and sporty than the family focused Pilot, with even better off road performance. Passport was developed to deliver the space, versatility and premium features and tech that today's mid-sized SUV customers seek. Passport customers want the confidence of off road and all weather capability but with the style, comfort and refinement to handle their daily commute effortlessly. The Passport is in a great position to capture buyers not only looking for a powerful SUV with much better on road dynamics than the off road centric vehicles but one that still tackles the tough terrain normally reserved for less refined body on frame off-road focused SUVs.
Apparently, the target buyer will be younger than the Pilot shopper and less likely to have kids, with a greater household income than a typical CR-V buyer. It is an adventure ready vehicle for people who love to hike, kayak, mountain bike, ski and generally its geared for those who prefer to get just beyond the paved parking lot at the trailhead. I think my sixty-year-old frame could easily slide into the Passport cockpit and then discover a gateway to adventure in Ontario! Midland Honda will have plenty of silver hair Passport customers there is no doubt.
Is it really just a Pilot? The look is similar to Pilot but key styling cues and unique stance and proportions, including a six-inch shorter rear overhang and a faster rear window angle communicate Passport's more rugged mission. Visual cues like the blackout treatment for the grille, the scratch resistant front bumper and the wheel arches that make room for the standard black twenty-inch rims and tires signify a much tougher vehicle.
The Passport's shorter overall length offers improved approach, departure and break-over angles when the terrain becomes more demanding. The AWD Passport's ground clearance is over one inch higher than the Pilot, which makes it more capable on uneven ground. There are many similarities between the two vehicles as well. The Passport shares much of its underlying structure with Pilot and Ridgeline including a fully boxed floor structure for strength and rigidity as well as retaining all the advantages of the uni-body construction and four-wheel independent suspension that is incorporated into Honda's light truck platform.
Both the Pilot and Passport share the 3.5l I-VTEC V6 engine that puts out two hundred and eighty horsepower although the Passport engine has been mated to the latest version of Honda's nine speed transmission with improved overall performance and shift refinement due to a number of hardware and software enhancements in 2019. To put the power down AWD models use the i-VTM4 torque vectoring system which actively sends torque to the wheel or wheels that can put it to use without waiting for wheel slip. Add to that Honda's traction management system that allows the driver to select different engine transmission and AWD performance setting for terrain and road conditions - including Snow, Sand and Mud modes. Passport has morphed into a very formidable package.
Inside the Passport cabin the driver will recognize many of Pilot's quality styling cues. The vehicle instrumentation, infotainment controls and displays are similar. Passport delivers the packaging magic customer's expect of Honda starting with the largest passenger volume and the largest combined passenger and cargo space in its class. Second row forward sliding seats create easy access to the cargo area from the side. Designers have borrowed a storage idea from the Ridgeline. Instead of an in bed trunk or ice-chest, the Passport has a hidden basement cargo hold that is perfect for stashing dirty, wet gear or valuable items. The cover for this hold doubles as the cover for the spare wheel and can be brought forward to cover and protect the back of the second row seats as well. Meaningful standard design extends to other features that run throughout all trim levels.
The four trim levels, Sport, EX-L, Touring and the fully equipped Elite all feature twenty inch wheels and tires, the Honda Sensing Suite of advanced safety and driver assist technology, LED headlights, fog lights, tail lights, smart start and smart entry and three zone auto climate control. Making your Passport distinctive on the road can be achieved by purchasing one of two accessory packages. The Urban package has underbody spoilers, a colour graphics scheme, different cargo bins, roof racks, under carriage welcome lights and lighted door-sills. The adventure package boasts running boards, a roof luggage rack, a trailer hitch and towing package and fender flares. The basic Passport is great looking and finding the best personal finishing touches makes it even better.
I'm looking forward to sharing with you the first road test results and some of my driving impressions of the 2019 Honda Passport for Midland Honda. Where is the nearest corduroy road?
Until next time
Macky
---
2019 Honda Insight Hybrid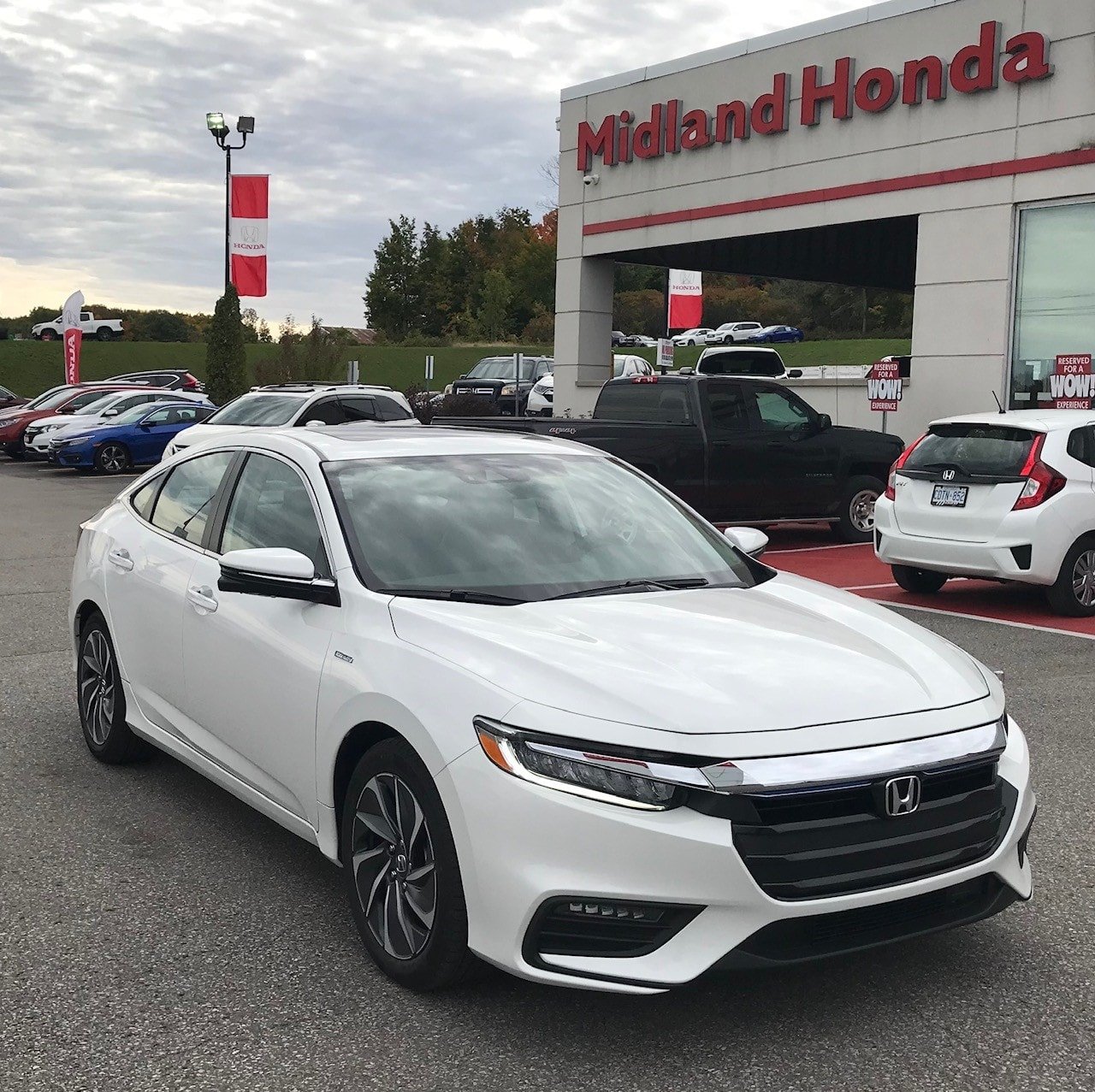 While travelling south on the 400 at night, Lynn, my co-pilot said to me, "Look over there, to the right, what the heck is that?" I glanced over to spot a vehicle that looked like a recognizable thing on wheels. No, it couldn't be, it's just a non-Honda Japanese hybrid car travelling in the slow lane, earnestly doing the speed limit! Is it possible to drive cleaner today for a better tomorrow without appearing to look like George Jetson put-putting down the road? Who says you need to sacrifice style for efficiency. Honda believes that eco-sense can meet fashion sense with the 2019 Insight Hybrid.
It is true that Honda's design ethos for their first and second generation Insight Hybrids seemed to have followed the pack by making their tear drop cars somewhat ugly on purpose either to draw attention to the fact that the cars were technically different or to show some aero efficiency for fuel economy. Thankfully Honda's designers have taken the lead and created a new recipe based on the traditional four-door sedan that is more attractive than the Civic on which it is based. Slightly longer in length, the 2019 Insight's lines are graceful with a grown up style that is less exuberant than the Civic's design spirit which is forged from Honda's racing DNA.
Still, the sweeping coupe-like roofline, the wide powerful stance, the signature flying wing grille and the bold fascia do make for a sporty appearance. The 17" wheel rim design also enhances this feeling. LED headlights, brake lights, running lights and fog lamps accent the upscale sophistication that the Honda Insight projects. Inside you will find a comfortably appointed cabin with soft touch side panels and dash on all trim models. This mid sized car is fairly roomy in the back with ergonomically sculpted seating with firm support for your thighs and descent leg space for your 6' friends. The trunk space is generous and with the 60/40-split fold-down rear seatback, the Insight boasts an available 428 litres of cargo volume that you will love to fill.
Personal comfort is complemented with Honda's goal of personal safety. The 2019 Insight is built with Honda's advanced compatibility engineering. The body structure is designed to help disperse frontal impact energy to enhance occupant protection. It achieved a top safety plus pick from the Insurance Institute of Highway Safety. Of course the Insight has foresight. All Insight trim models have the Honda Sensing suite of technologies that are designed to help make your drive safer. Whether you're driving or sitting in the passenger seat, you can feel confident in being covered by the latest in safety innovation from Honda.
Looking good in the fast lane while skipping the gas lane is the result of Honda's electric/gas balancing act under the hood. The same hybrid technology found in the Accord Hybrid sedan has been shoehorned into the Insight. The electric traction motors are similar but the Insight's gas engine is 1.5 l compared to the 2.0 l in the Accord. It really is a partnership between the two types of motive power, each chipping in when the driver inputs change. Without a conventional transmission the electric traction motor is geared directly to the drive wheels and draws all energy from the lithium ion battery at low speeds. Perky acceleration around town for a couple of Km before the gas engine kicks in to power the electric generator that helps power the traction motor. A little more throttle and the gas engine is geared to the drive wheels primarily. During a strong acceleration the traction motor and the charge in the battery assist the gas engine. By selecting the sport mode the driver can pep up the throttle response by having more power come from the electric motor. Honda engineers continue to relish the perfection of the dual motor concept.
Maximizing fuel economy in a likeable package is one way that Honda will achieve its goal of making two thirds of its vehicle lineup electric by 2030. Consumers looking for an affordable, attractive and efficient vehicle should consider the 2019 Insight Hybrid, now showing at Midland Honda.
Until next time
Macky
Winter Tires for 2018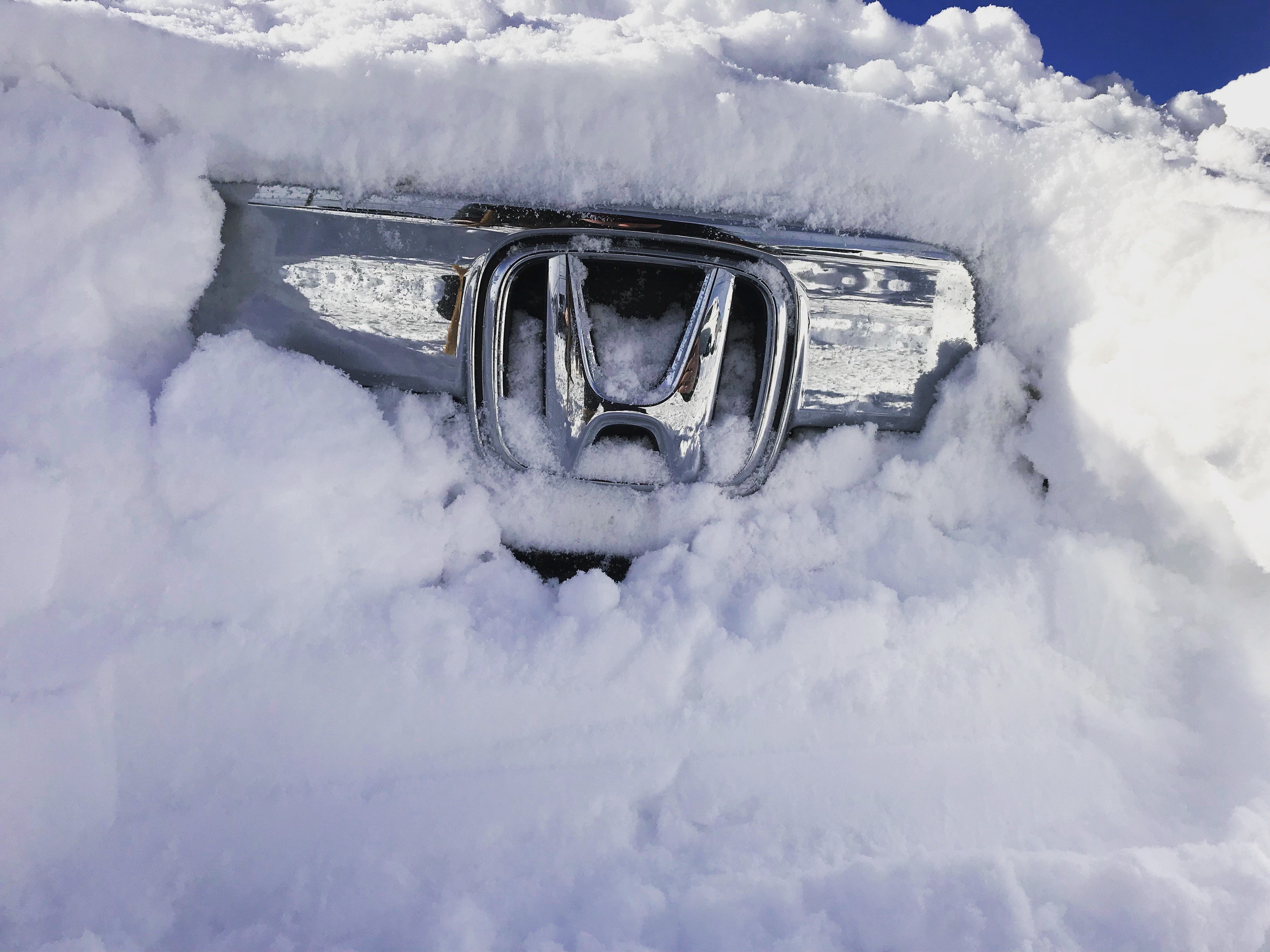 Here we are again late in October, contemplating the right set of tires for the upcoming season of foul weather. It's starts off with cold rain, snowflakes, soggy leaves and then blam-o we're hit with five cm of snow, and it's only November the 17th. A mixed bag of uh-oh before the real snow settles in for a long spell. One thing is for sure, the slippery factor will begin to notch steadily upwards even before winter becomes that fourth season. We don't need snow tires in December we need winter tires right now to help us deal with the changing road conditions!
If you're a Honda vehicle owner with AWD that believes their car's traction control system can get the job done with all season tires until December please consider swapping your three season tires for a set of Midland Honda winter tires as soon as possible. It is true that your AWD will assist in accelerating your vehicle on seven degree Celsius pavement but it won't help when trying to stop. Four-wheel drive helps control the tires, but that doesn't mean much if the tires aren't flexible enough or don't have a channeled tread design to handle aquaplaning on cold asphalt.
Some of you might like watching hockey or maybe some prefer curling this time of year from the comfort of your living rooms. The way the puck slides and the stone curls over the ice is engaging for the spectator. I think we can all agree that being the puck or the curling stone on a city street or highway is not very much fun at all, in fact it is unnerving and somewhat terrifying! Let the service people at Midland Honda erase that image of lack of control by installing the right winter tires for your vehicle soon.
New tire designs improve a car's ability to accelerate, brake and steer, even when the weather is cold and dry. The goal of winter or cold weather tires is to expand the range of conditions in which the tires retain grip, providing traction when regular tires would be sliding. The more supple rubber compounds stick better to frosty road surfaces. Your investment in the car's handling will make the early morning drives safer and more satisfying.
We know this will be the great snowy Midland soon enough. Midlanders are proud of being able to survive some of the most miserable winters anywhere and in so doing they realize that winter preparation at home and on the road is the right approach for everyone's safety. Please seek the friendly advice from the knowledgeable team of tire experts at Midland Honda. Your driving safety and your family's well being is their concern as well.
Until next time
Macky
Midland Honda's 3rd Annual Customer Appreciation Movie Night!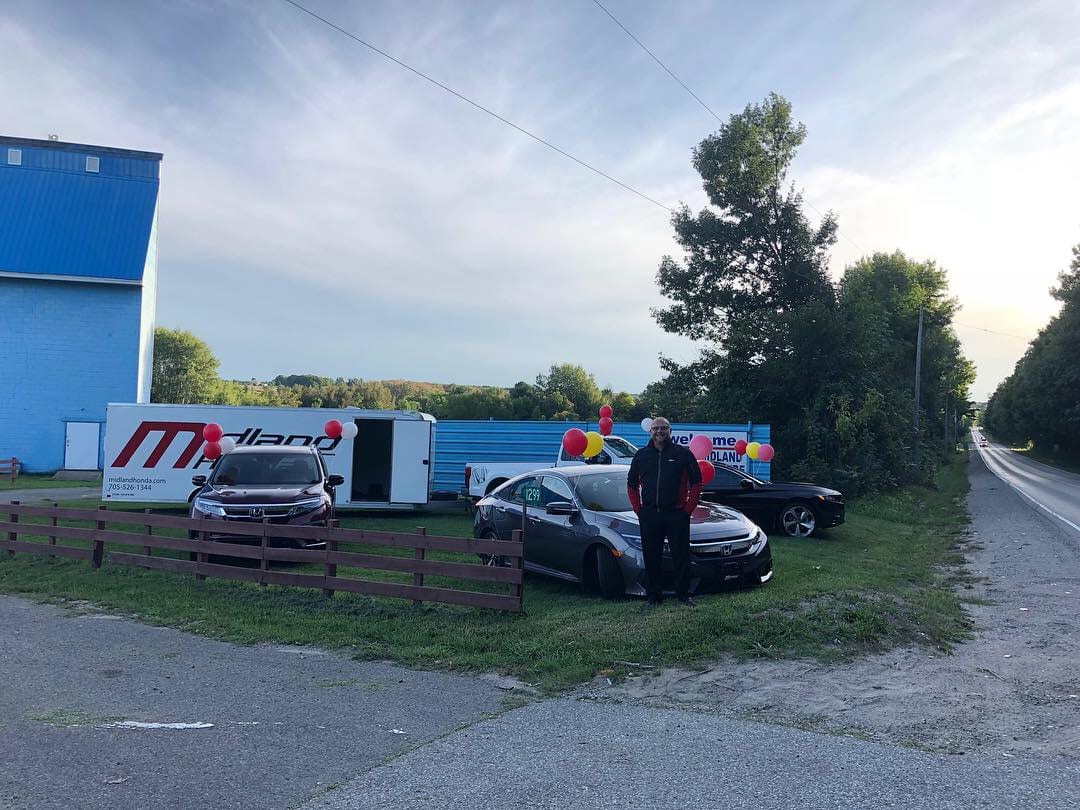 On September 3rd customers and their families once again enjoyed Midland Honda's Movie Night at the Midland Drive In Theatre. This year, the kids' bill showed Hotel Transylvania 3 and the parents witnessed Tom Cruise running continuously at full speed in Mission Impossible: Fallout. The large assembled crowd of Honda and, ahem….some fine Toyota and Dodge owners witnessed another stellar big screen digital film projection.
While driving into Midland that night with my wife Lynn I came to realize that Heritage Drive from King St. to the theatre just past Highway 93 is definitely turning into Honda Heritage Drive every September. The new Midland Honda lot showing several gleaming cars at one end is bookended by more Civics and Accords parked at the theatre entrance. Almost time to break out the street banners!
Always pleasant to see Michelle Allan, Midland Honda's Brand Ambassador and her assistant Lisa Booth at the gate. It was a nice surprise to receive a large package of Cherry Nibs with an interesting affixed card offering to pay patrons a Midland Honda finder's fee for new clients who purchase a Honda at the store.
I'm fond of driving around the entrance bend to your special spot in front of the screen. A summer night ritual that is somewhat nostalgic yet old is made new with better sound piped through car speakers and better picture quality for your viewing pleasure. I did a double take at the screen when I saw Midland Honda's screen graphic welcoming all guests before the kids' film started. Nicely done!
Kids Kids Kids, all ages, dodging, darting rolling around on the grass having fun with the face painting and the Trolls. It all added up to great memories for the whole family. Indeed, one family was doing it right just before dusk. They backed their 2019 Odyssey into position then opened the tailgate. This allowed a few pajama-clad youngsters a great viewing platform for the animation to come. The only thing missing was one of their Labrador dogs drooling, just waiting in the back for one of the kids to drop some more popcorn.
The customer appreciation night is pure fun and that is just what Midland Honda aspires to convey to its customers. It is in part a thank you for your business relationship with Midland Honda and this annual cinematic event helps nurture one of Honda's goals, which is that everyone should have a little fun with their Honda vehicle!
Until next time,
Macky
The 2018 Accord - Honda hits another home run!

I can't imagine a better time for Honda automotive design and engineering than right now. For the past couple of years they have been rolling out exciting model designs that combine a keen appreciation for their racing heritage with the practical awareness of what customers need for their transportation needs. An increasingly inspired blend of mindfulness and daring that is not only evident with the body and interior design but with new engines that are powerful and efficient and suspensions that are modern and responsive.
The super comfortable 2017 Ridgeline truck, the hi-tech family mover Odyssey, the SUV segment leader 2018 CRV, and the multi-faceted Civic family of cars have set the stage for what will become one of the great Honda success stories of 2018.  The new Honda Accord is the beneficiary of all the design and technology decisions that have given these Honda vehicles plenty of positive press over the past year. This sedan is the culmination of efforts from across Honda platforms that will place it at the pinnacle of this market segment for 2018 and beyond.
One of the first Accord mission statements went something like this:  to be an affordable, spacious and comfortable conveyance for people and stuff. O.K. this says we want to be the sensible choice that doesn't attract too much attention. Over time the Accord mission statement evolved to include a sense of well- being while driving. Like the Civic family well-being can be enjoyed differently by purchasing variations on the main theme.  Recently, the Accord's mature expression of a driving enthusiast's model could be found in the two-door coupe with the V6 engine. This was a great example of Honda's engine bravado and design grace. The fondly remembered coupe, although not a top seller, represents a fine book end to the evolving development of the Accord.  Honda has moved forward and delivered on the Accord customers' core expectations of affordability, spaciousness, safety and comfort while injecting just the right amount of style and performance.  This is the promise of the 2018 Accord.
One prevailing thought concerning sedans is that they have lost a lot of ground to the mid-sized SUV. There is no doubt that the CRV is selling like hotcakes. I see more and more 2018 CRV's on Toronto roads every month. They are an attractive, practical, rational choice just like the sedan used to be.  The present CRV and Civic athletic body designs demanded that the 2018 Accord prioritize its design style and driving dynamism to appeal to consumers shopping for a family vehicle that looked like a mature sports sedan, tranquil and composed when you want it to be but ready and willing to play when asked.
The fast back roofline, used successfully in the Civic Hatchback made in Swindon, is again used in the new Accord to establish the sports car look.  The pronounced crease on the side of the car just below the belt-line gives the car a sinewy athletic stance. The wheelbase on the Civic platform has been stretched out two inches, thereby enhancing the impression of an elegant touring car. Being slightly wider and lower in height adds to the performance characteristics. The front hood has been tapered downward to provide greater visibility and this design feature complements the back swoop of the roofline.  Fifty five percent of the body is made with light strength steel. Depending on the trim level the new Accord is 110 to 176 lbs. lighter than outgoing models while thirty two percent stiffer in terms of torsional rigidity.  With such an emphasis on appearances one might expect some functional sacrifices to be expected but this is where Honda's engineering packaging know how comes into play. The fast back roof line has reduced head room in the rear seats by only 0.2 inches thanks to a scooped out headliner and a lower seating position that allows for plenty of headroom. The trunk space has increased to 16.7 cubic feet, the biggest trunk in this market class. Due to the elongated wheelbase the rear passengers have two more inches of luxurious legroom. Crossing your legs on a long trip will be a casual doable experience. Passenger space and comfort is a priority.
The high level of interior quality alone has made such a massive leap forward from the outgoing Accord. Sound dampening insulation, soft touch plastic mouldings on the dash and doors, quality dash instrumentation, controls and storage areas and comfortably bolstered seats all set impressive benchmarks. Maybe more importantly all trim levels will include adaptive cruise control, forward collision warning with auto braking, lane departure warning, lane keep assist and the rear view camera. The Honda sensing suite has become the foundation technology no model can be without. 
The new high-quality MacPherson strut front suspension and a more compact multi link rear suspension are common components that are used throughout the six different Accord trim lines.  The suspension is designed to be taut. It can handle sharp cornering, hard acceleration and severe braking forces yet it is dampened enough to make wheel
impact absorption fluid and non-jarring. This balance provides the everyday driver a smooth comfortable ride and the more demanding driver the capacity to push the Accord to its handling limits.
Honda created a sports sedan that has the dual personality, even in the base trim. The introduction of the peppy and efficient 1.5-liter turbo engine last year in the CRV has been fitted to the Accord with a CVT transmission. This 192 HP engine is more than up to the task of moving the Accord with enthusiasm. The CVT transmission has also been
upgraded to better apply the power to the front wheel drive.  At this point Honda encourages consumers to ask themselves how much enthusiasm are you willing to experience. The engine and suspension offerings become even more exciting as you move into the Sports badge.
Except for the Mazda 6 all of the Accord's competitor's have dropped their clutch pedals in recent years. Honda is leaning into the enthusiasts' desires by offering a six speed manual transmission for the 1.5 and the 2.0-liter engines. A family car you say with a stick shift…nicely done Honda! Both Sport variations have similar driving characteristics although the larger engine's turbo power keeps pulling hard until the 6800 rpm redline. Driving is bliss when you can run through the gears while your back is pinned to the bolstered seat! This 252 HP engine has a substantial 273 lb-ft torque but none of it is translated into the dreaded torque steer on a fast start.  This is the Civic-R engine with less
performance parts. It has a smaller turbo with less boost and it is tuned to run on regular gas. The Accord 2.0 Sport also has a great profile with the larger rims. I especially like how they have blacked-out all the chrome on the front grill. Super-sharp.
Of course the Accord Touring model has all the cabin comforts and tech available, including the heads up display (HUD) but this trim level offers something more that really sets the 2018 Accord Touring, I believe, into the Gran Turismo category of cars. It is arguably the best value for money front wheel drive GT on the market! Honda engineers went over the top and developed a brand new ten-speed transmission and coupled it with the 2.0-litre turbo. Paddle shifting if you wish and a choice to set the adaptive suspension into Sport mode. It's luxurious, smooth and fast. This refined ride, the luxury features, the great ergonomics of the cabin, the levels of technology for safety, information and entertainment makes you question, what is Acura doing? The 2018 Accord Touring is the cat's meow and it can be purchased very soon at Midland Honda!
The 2018 Honda Accord...a fantastically well-rounded sedan that does a great job of sprinkling some happiness into the mundanity of daily travel!
Until next time
Macky
Midland Honda's 2018 Red Hot Tent Event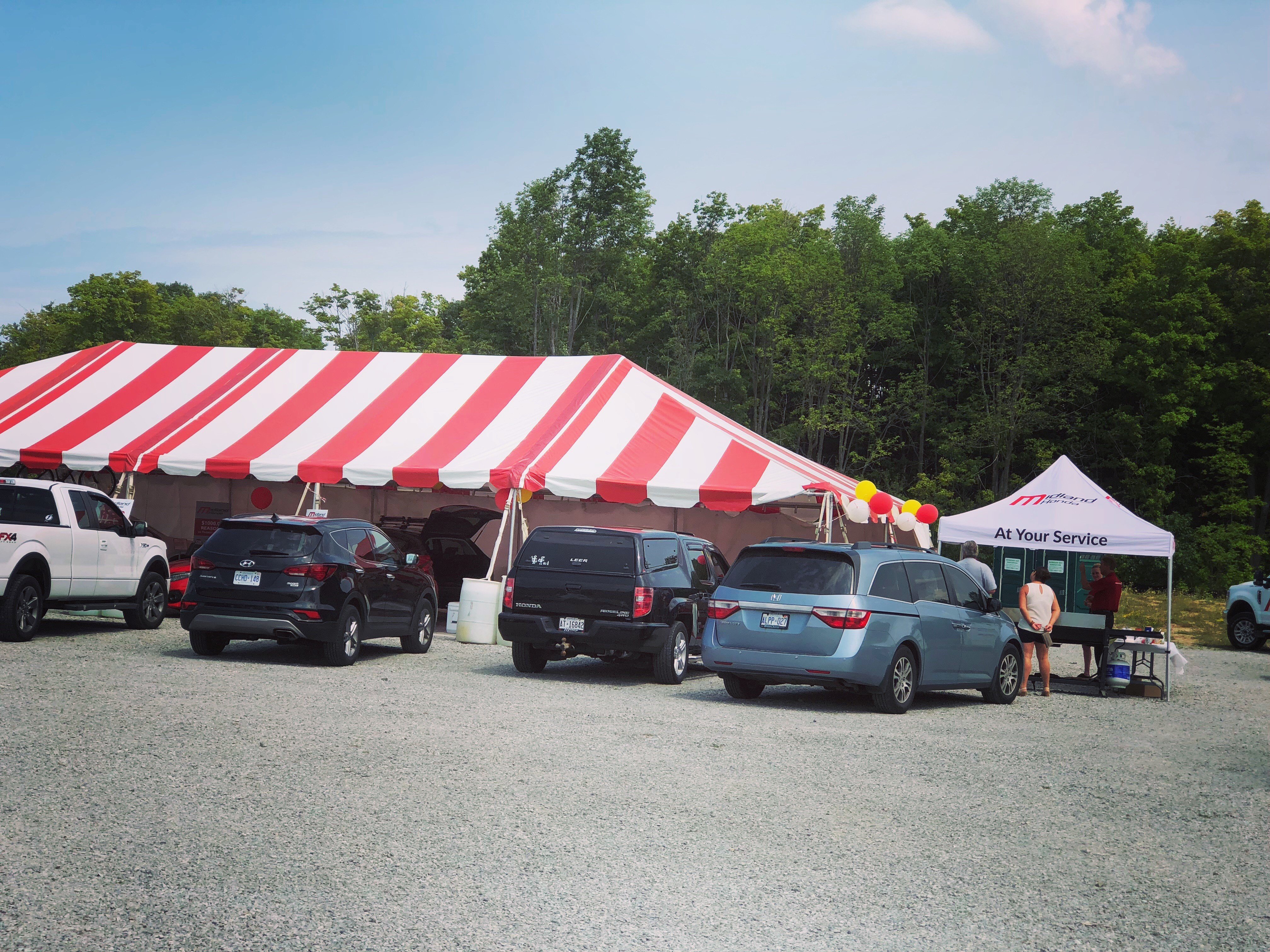 The corner of Highway 12 and Jones Road was busier than normal the week of August 7th - 14th, largely because Midland Honda began showing and selling Honda cars and used vehicles at their new building location during the 'Red Hot Tent Event'. In the peak of the summer heat, a 30ft by 60ft festive red and white striped circus tent was erected. This signaled to the curious and customers alike, that a different and fun experience was about to happen. It was a new place to meet the Midland Honda team and become more familiar with the great line-up of Honda vehicles. This event served to illustrate the spirit of an innovative dealership that is on the move! It was a momentous occasion that allowed Richard Davies, Peter Brenzel, Nick Gagliardi, Rick Iwanchuk and the sales staff, an opportunity to paint a picture of what the future dealership store will be like in a most relaxing atmosphere.
If the large perimeter Midland Honda signage and the colourful balloon clusters didn't stop you in your tracks as you drove by this prominent knoll of land, then possibly the inviting aroma of a barbeque drew you inside the big top to see what was going on. People anticipate that a tent sale event is out of the ordinary, special and is something different than the showroom sales experience. Midland Honda didn't disappoint those who decided to drop in and have a complementary coffee, donut or later in the day a juicy burger. Red Hot Tent sales incentives included interest rates as low as 0.99% on new cars, a spin to win wheel with prizes up to $1000.00 in finance office cash for new and used cars and rebates up to $750.00 on new cars. For some people walking around the lot checking out the cool wheels with a fresh bag of popcorn was positively casual and stimulating!
The impressive Red Hot Tent Event was a total Midland Honda team effort in a somewhat challenging rustic environment. Hats off to the drivers who positioned a large part of the Midland Honda inventory to the new store site and also made sure the Midland Honda's service personnel were able to enjoy a burger and mingle with customers at the tent location. The hardest part for the sales staff working off site, was writing the deals up on laptops with somewhat tricky hotspot Internet connections…multiple staff cell phones had to be utilized to get the job done.
By all accounts the Red Hot Tent Event was very successful and Midland Honda appreciates everyone who came to the roadside attraction. This was the start of something special at the new location! Midland Honda will continue to amaze their customers and the local community as they build towards opening day in 2020!
Until next time,
Macky
The Millennial Effect
I bet everyone has noticed that all new cars require a dizzying variety of steering wheel inputs and infotainment screen swipes and taps that test a driver's ability to cope while driving. The vehicle's dashboard is far from being just a passive gauge of how fast the car is travelling. Gone are the days when you could just check the rear view mirror, your speedometer, the side mirrors and then the fuel gauge or the engine temp in three seconds. Now you really need a fighter pilot's HUD (Head's Up Display) to help you manage all the car's sensory cues while driving. Even after you push the start engine button you wonder, do I need to do a S.O.P. (standard operating procedure) check list before proceeding to the first intersection? Sure, your seat might slide into place thanks to an auto setting, but fidgeting with an electric braking system, the desired traction system, the multi-layered infotainment/phone system can be overwhelming, for my generation, without HANA at your side (Honda Automated Network Assistant). Integrated voice command and control is not keeping pace with car tech advancements; yet, every year the vehicle controls becomes more layered and complicated to use. What is going on? Well, in part the tap hungry 18-35 demographic has pushed car manufactures into offering technology that millennials have come to expect. This elusive cohort of vehicle purchasers not only needs to be persuaded that a brand is worthwhile but manufacturers need to coax them into buying period. The push is on to attract this group to the showroom or maybe the virtual showroom.
All age groups are not uniform but they do show trend lines that have been influenced by the general economy and contemporary culture. Car manufacturers have shown that they are willing to spark this generation's car buying interest through technology. This hyper-connected diverse group, with complicated views about cars, represents a growing market that will shift its focus from usage and ownership delayed to ownership as it transitions into the necessities of family life.
Here are some bullet points that characterize the millennial car-buying group.
· Market group is mainly urban
· Owning a car is no longer a status symbol
· Buying is less aspirational and more utilitarian
· Environmentally conscious
· Student debt and cost of housing curb plans to buy
· Rather spend money on experiences than material goods
· Drive less than previous generations
· Belief that Skyping a friend is cheaper than visiting a friend by car
· Missed experiencing cheap gas
· Question the reliability and capability of electric cars
· Engaged in ride sharing programs, like Uber, Car2Go or public transportation
· Hold belief that ownership and vehicle maintenance is a hassle
· Value smartphones and laptops over cars
Despite these challenging attributes to the leading edge of the millennial group they have represented a larger part of the car buying public since 2010. 28% of the market in 2013 and by 2020 their market numbers will swell to 40%. One reason for the jump in sales can be attributed to the rise in the cost of larger family housing in urban centres. The ongoing population move from big city condo dwellings to the edge communities that surround megacities, like the GTA, insures that owning a car will be a necessity for shuttling the family and buying the groceries.
Media savvy millennials do more of their pre-buying investigative work online than making a move to kick tires in car showrooms. For some, the notion of brand loyalty or brand appreciation doesn't register initially because it is their first car or they feel that all manufactures supply relatively the same hardware. The young consumer wants to be motivated by an x-factor. They can see online what high tech is offered by the OEMs (Original Equipment Manufacturers) but are keen for an out of the showroom experience. For instance, some male buyers might prefer setting up a new car test drive near their home after experiencing an online dealer sponsored virtual reality session with a particular model. This could be what the super connected customer needs to make a commitment to lease or buy. Honda is quite close to offering the VR experience. Although the following CivicR video is not a true VR experience it suggests that Honda is prepared to apply the latest image capturing tech to reach its customer base.
https://www.youtube.com/watch?v=v2DPAnkOPkA&feature=youtu.be
In the meantime I will be waiting for Midland Honda to ask me whether I want my new car to have HANA programmed with the voice of William Shatner. Now I can get behind that!
Until next time
Macky
Midland Honda and Ontario's Best Butter Tart Festival 2018
When do strangers stand around downtown Midland to have heated discussions about the nature of the perfect butter tart recipe? Usually June 9th and apparently this happening has become a treasured annual event. Bakers and would-be tart connoisseurs now ritually exchange recipes and sometimes not so polite opinions about this memorable desert offering in public, no less. Midland can be proud that Barb Rowlandson, Midland's influential authority on butter tarts, conceived the festival in co-operation with the Midland Chamber of Commerce in 2013.
Barb had been selling her homemade tarts at her family's appliance shop in 2013 and couldn't get over the number of people who had great stories to tell her about butter tarts sold at their church bazaars, bake sales or tarts found in country stores near their cottages. It became clear to her that Ontarians carried fond memories of this humble confection and it would be wonderful if everyone from bakers to consumers could join hands in Midland to celebrate, have fun and enjoy this desert in pleasant surroundings. The first Butter Tart Festival was an unexpected success with ten thousand curious hungry patrons tasting their way down King St. Today more than fifty thousand seasoned butter tart aficionados parade up and down the main drag.
This year the ever-increasing crowds were able to funnel out into an expanded event space near David Onley Park. Patrons could enjoy a waterfront display of art and music and most importantly visit Midland Honda's butter tart booth, which was set up in partnership with Big Brothers and Big Sisters of North Simcoe. The day began with the local Pipe and Drum corps connecting all the participants with a formal opening march from the top of King St down to Bayshore Drive. Midland Honda was pleased to have been able to offer the public this year's ceremonial butter tart showcased in the 'March of the Tart'.
You would have thought that a sleek Ridgeline and a prominent CRV in front of a large Midland truck and trailer would have drawn people immediately to the Honda - Big Brothers/Sisters anchor position on the waterfront, but the initial crowd action was concentrated up town, as usual. The Midland Honda Tart Team comprising of Richard Davies, Michelle Allan, Kristin Smith, Hilary Smith, Dawn Downer and Dave Owen huddled up quickly and decided to get the free sample tray in action. In no time, word of mouth had spread the news that the Honda Heritage tarts were A-1 and that all proceeds from the sale of tarts, popcorn and water would be donated to the Big Brothers and Sisters Organization of Simcoe. The rush to buy was on and the booth was so busy that they were sold out by the end of day. 3000 plain, walnut and raisin tarts evaporated into the crowd raising $2000.00 for the BBBS organization. It was an exceptionally good day for butter tart lovers and a fantastic day for the Midland community. Midland Honda thanks everyone who visited the Midland Honda/BBBS tents and contributed to a very successful event!
Until next time,
Macky
Beyond the Yellow Tiled Road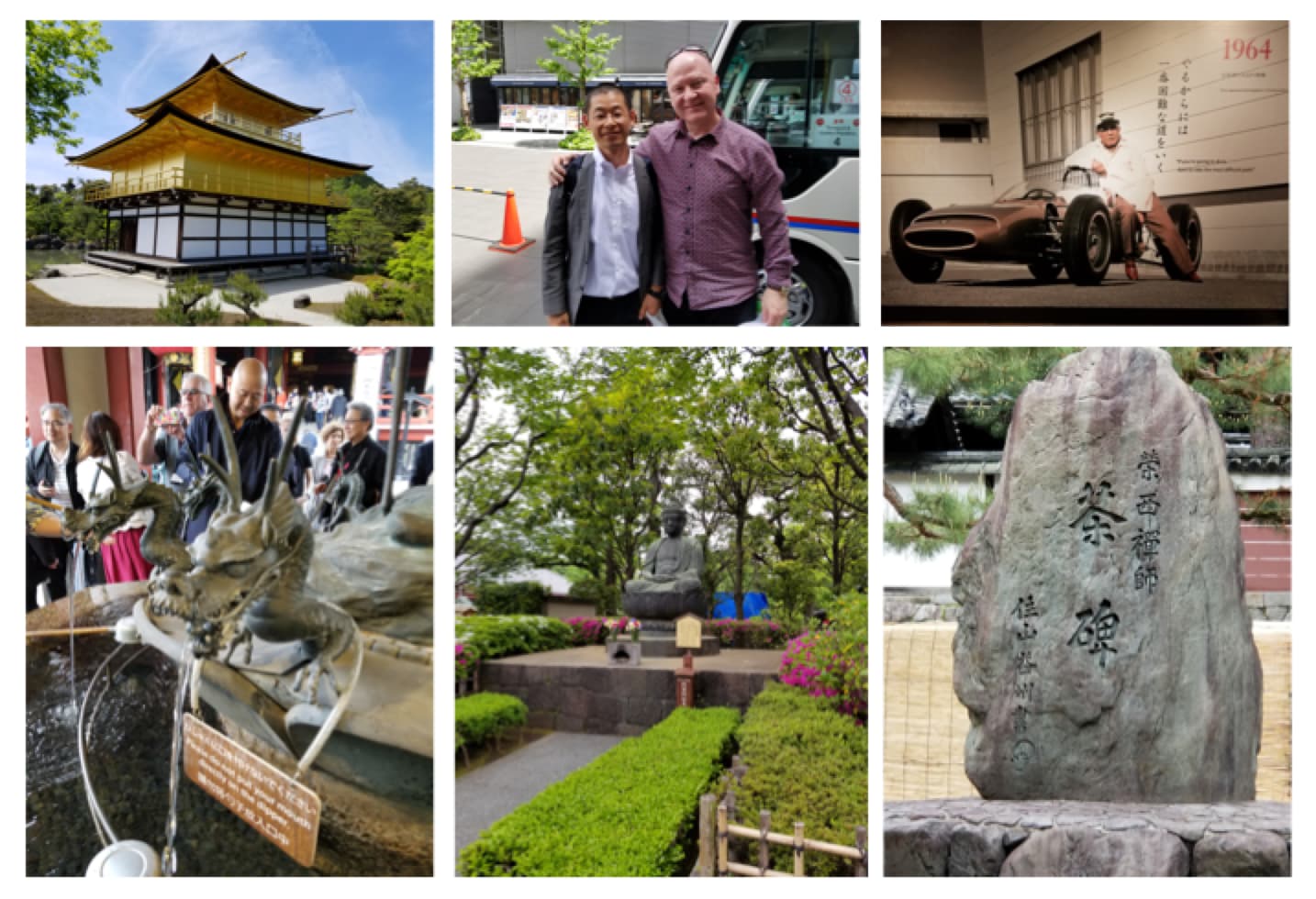 Honda Canada recently recognized Midland Honda's 2017 business success by sending Peter and Richard to Japan for an infusion of Japanese culture. It was a great opportunity for both of them to check out the bustling cities, the quiet gardens and the Honda show case car museum. The places, the food and the bullet train travel all served to instil more understanding of why and how Honda creates success and how the Japanese manage to get along in a densely populated geography. When I spoke with Richard about the trip he was impressed with the overall mindfulness of the Japanese culture.
Their culture is ancient and it has developed core beliefs that are maintained through the appreciation of ceremonial actions and the creation of contemplative places. Central to the nation's psyche is harmony, respect, purity and tranquility. These traits permeate the life-blood of Japanese society and they can be found in how people interact with government and how businesses succeed at home and abroad. Honda's success has a direct lineage to a philosophy that has been practiced over many centuries. One facet of how the Japanese maintain their mindfulness is found in their attempts to perfect the somewhat secretive traditional tea ceremony.
Buddhist monks introduced tea from China into their daily routine during the 9th century. The tea ceremony became a structured ritual that would wake people up both physically and spiritually. It is a complementary process that works to bring a deep inner peace and tranquility to those involved by bringing mind and body together. Both hemispheres of the brain are stimulated equally in order to deliver a chance for insight to the practitioner. The outer form of the ceremony happens in a somewhat unadorned room with a central fire that heats a large pot that contains the tea. The tea pouring and serving is done in a manner that accentuates a person's inner life - simplicity and naturalness. The perception of articles in the room such as weathered, aged materials or objects emphasizes the outer portion of the ceremony, the material life. By understanding the inevitability of impermanence (sabi) and the simplicity of the inner being (wabi) one can grow towards a state of consciousness in this life. This is an art form like samurai swordsmanship or ink painting and the Japanese eagerly join clubs and devote themselves fully to become a tea master.
The Japanese devotion to becoming well balanced, artistically inclined and thoughtful spills over into the streetscape as well. Richard remarked that he didn't understand why a policeman was waving at him and motioning him to watch where he was standing on the sidewalk near a particular yellow tiled line that split the walkway. He found out soon enough that the line was comprised of tactile walking surface indicators. A system of textured ground markers placed on footpaths, stairs and train stations to assist pedestrians who are visually impaired. Serichi Mizake developed the original tactile paving system in 1965. First introduced in Okazama city in 1967 it gradually spread through Japan and now it is a mainstay for the visually impaired throughout the world. Straight bands of yellow tiles mark a safe walking path without obstacles. Beaded surfaces warn of intersections, obstructions, doors or the end of train platforms. A society that goes to the trouble of taking care of everyone is harmonious. Although Richard was surprised to see the yellow tiled walkway it was just one of many Japanese experiences that exceeded his expectations. Sounds familiar doesn't it?
Mr. Honda lived, thrived and promoted this feeling first in Japan then as his businesses grew worldwide he developed his own philosophy of the three joys. Exceeding the needs and expectations of each customer fosters the Joys of Buying, Selling and Creating. These joys are founded on mutual trust and pride in representing Honda products to the client. Honda's goal, to maintain the joyful experience, is achieved by the company's dedication in supplying products of the highest quality, at a reasonable price, for worldwide customer satisfaction.

The ancient Japanese tea ceremony and the Honda way have more than one thing in common. It is all about becoming perfect not being perfect. This will take more than a lifetime of work.
Until next time
Macky
Driving Through Horrendous April Weather

I was on a mission, April 14, to travel from Toronto to Bracebridge for lunch with my father In-Law then zip up to Huntsville by 3pm to get his taxes done. Afterwards it was to be a straight trip down Highway 11 to the 400 Highway back to Toronto. I say mission because some friends thought we were crazy to drive last Saturday due to the winter storm forecast that was to bring various forms of ice-rain and snow to south and central Ontario roadways. It wasn't as if I was on an Allied bombing run from London to Berlin but to some it may have seemed so. My safety was assured in part by the Michelin Latitude X-ice snow tires that were still on my CRV. I had not succumbed to the popular notion that one should complete the winter tire swap just after the first week of warmer April weather snaps us out of the winter doldrums. My run up north would have been more stressful and dangerous if my all season tires had been carrying the load.
The need to swap too quickly could be caused by the easing of season affected disorder (SAD) for some, practicality for others and finally pride of ownership for people who need a visual change. Just after mid-March many of us need to shed that sluggish feeling. As the days get longer and warmer, we spend more time thinking about gardening, cycling and hiking and we desire more natural sunlight. Prolonged optimism can lead to increased energy and an upbeat, high mood, but it can fool us into believing that sunny warm days are here to stay. Romans believed that the Ides of March was the deadline for settling your debts. We should consider the Ides of April, April 15th, as the time to be wary of winter's passing. Let us wait until the end of April and the beginning of May to arrange for the spring transition to all season tires.
The saying goes we wait too long to put the snow tires on and we take them off too soon. The safety argument for having a softer tire compound on a colder, slicker road is well known and the media experts have also drummed into our psyche that we should not run our winter tires above ten degrees Celsius. Tire wear will increase dramatically. The softer compound just can't take the heat! I think this is an oversell on the modern winter tire's lack of durability and it contributes to headlong rush to change over when we have had 10-15 degree weather for a couple of weeks. Good winter tires will not degrade, shred or become unsafe when you decide to run them in warmer weather until the early May swap.
I'm tired of looking at the steel rims on my CRV and I would hazard a guess that most people this time of year are looking forward to having their sporty aluminum rims once again showing on their Honda Civic, CRV, Accord or Fit. This time of year I find myself looking around at other cars and saying to myself, am I the only guy left with steel rims. The mental pressure to change up and follow the pack is real, especially in Toronto where more people don't change their rims or tires during the winter. You just want to get your car looking the best as soon as possible. I get that feeling but I know its best to just tamp that impulse down for a couple of weeks until we get consistently good weather.
It wasn't a bad decision to drive up north on that foul Saturday because I was confident that my Michelin snow tires would provide the CRV excellent grip on snow covered roads, greater turning ability on wet or slushy pavement and improved stopping ability. I had faith in my machine and in my ability to vary my speed according to the road conditions. We saw four accidents on our trip and I noticed that two separate cars in the ditch were running all season tires, now that's just crazy!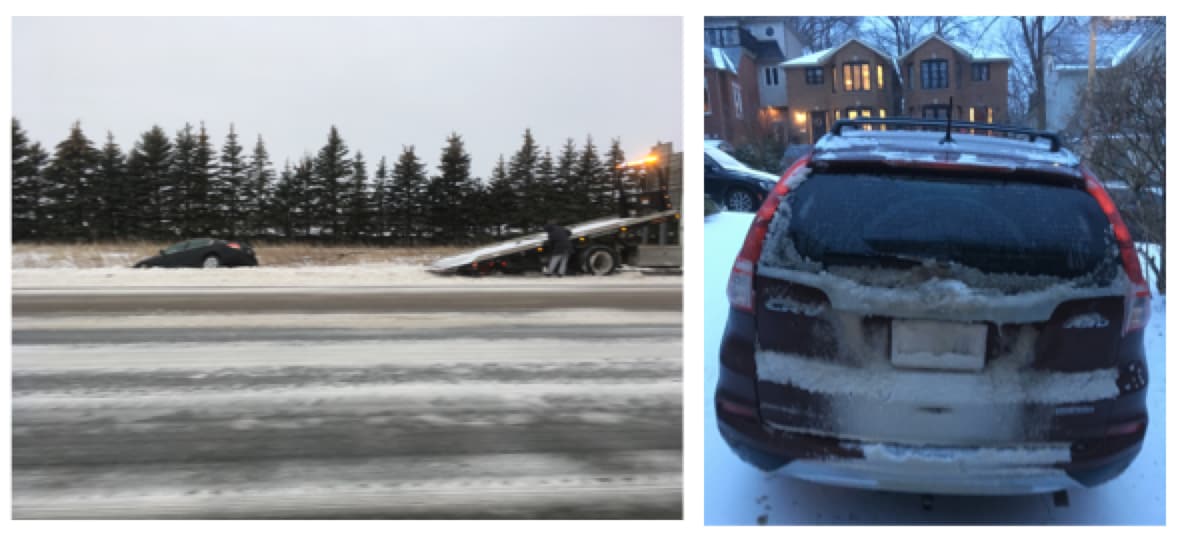 Photos by my wife/co-pilot Lynn McIntyre
Until Next Time!
Macky
Canadian International Auto show: The New Movement? Well, only for some.
Bob Redinger, President of the 2018 Canadian International Auto show, welcomes the over 350,000 attendees with the following upbeat message in the CIAS official program. "Welcome to THE NEW MOVEMENT. This is the big one. The movement that sets the standard for how all of these (technological) innovations combine to work communicate and share data with each other. It's the movement that has turned the automobile into an infotainment center, a WI-FI hotspot, a navigation hub, a link to emergency services and has arguably now made your car an essential personal assistant, making everything in your life work smoother…Cars are now customized on many levels to our lifestyle and have become seamless partners in our everyday lives. Evolution. Convergence. A paradigm shift. Whatever you may call it-this is The New Movement." Bob's energetic and optimistic statement is in keeping with such an event and the Toronto car/transportation & lifestyle show does deliver on showing many of these futuristic promises; however, I did not see one car model with a built in toaster or a food replicator for that matter. CIAS 2025 perhaps?
There is no doubt the Ontarians love the auto show at the Toronto Convention Centre. I usually make an annual pilgrimage, shuffle into the familiar street level line up area along with the hundreds of others, get my ticket scanned, have my hand stamped then ascend the escalator into auto heaven. Everyone is there and I'm not just speaking about the manufacturers. My wife seems to think this event is still a guy thing. Not entirely. There was a rich mixed bag of potential buyers, tire kickers, families, women and young men looking for their dream machines. I arrived on family day around 11:00 am and by 12:30 you could barely walk around a display car without saying, "Sorry, sorry for bumping into you". CIAS should really do the moving sidewalks for next year. It works for Ripley's Aquarium down the street!
Exiting the escalator I turned and started walking towards the main floor display and was drawn immediately to the huge Honda Power of Dreams floor display. Chrysler had their displays snugged up to Honda on the right side and it occurred to me right then that here was Honda, a representative of the New Movement sharing space with a Chrysler/Dodge/Fiat/Jeep a manufacturer of Old Movement ideas that by and large depended on showcasing sixties inspired muscle cars. On an elevated podium was placed the Dodge Demon, an insane 800hp, straight-line racer that just reeked of high-octane gas and burning rubber. Two Dodge Hellcats, sat across the aisle waiting for customers that could only stomach 500 HP. Are muscle car concepts long in the tooth and backward thinking? Maybe these last of breed models will die off when high octane gas hits $2.50 per litre in the next five years. The worldlier Honda contrasted the visual impression of Chrysler North America neatly. I felt Honda exuded the New Movement ethos of light, fuel efficiency, high-tech and community engagement. Chrysler screamed the Old Movement ideology of being wasteful, heavy, brutish and solitary. Not a very promising world-view in my estimation. Even the Jeep brand was content to show an overblown gas powered Grand Cherokee instead of some new hybrid version. Honda was lucky to have such a lug head organization beside them. The differences between manufacturers were plain to see.
Honda's Power of Dreams sign was big and bright and beside it on the wall was another more subtle sign that celebrated The Honda Canada Foundation. Its aim is to support people and organizations that focus on four pillars: Family, Environment, Engineering and Education. This allows Honda to make a positive contribution to Canadians everywhere. Now that's a great complementary message to the product offerings on the showroom floor!
There was plenty to see on the Honda floor. I was drawn immediately to the 1978 Blue Civic celebrating Honda Civic as Canada's top selling car for the past twenty years. This Civic was tiny, smaller than the present day BMW Mini clubman. It probably had 78 ponies under the hood!
I was really interested in Honda's hybrid cars on display. The Clarity, an electric plug hybrid will receive about $14,000.00 in Ontario government rebates. Even though it has the gas engine for additional range the electric engine is primary and the separation between the two allows this car to receive the government grants. The new, gorgeous 2018 Honda Accord Hybrid was on display for the first time in Canada. It doesn't have the plug in capability so therefore it will not receive the electric discounts. No word from the brand reps on whether we will be seeing a CRV hybrid any time soon. Here's hoping that they make the jump from Europe to Canada soon! One, in the know Honda customer, mentioned to me that Honda is not fully engaged yet with Hybrids or all electric yet because of their west coast commitment to hydrogen fuel cell technology.
One little electric that I saw and liked was the GM Bolt. It can travel 383 Km on one charge. No range anxiety here. Passed one on the QEW just the other day. Looked great and it is a hatch just like the Honda Fit. Let's go Honda. Electrify the Fit and compete head to head with the Bolt!
The CIAS is always a busy fun blast of sensory overload. Gathering all the manufactures together for a face off is great for the consumer. I encourage everyone to make the trip to the Toronto Convention Centre even for a couple of hours. You're bound to experience something new and be moved to a greater level of understanding.
Until next time
Macky.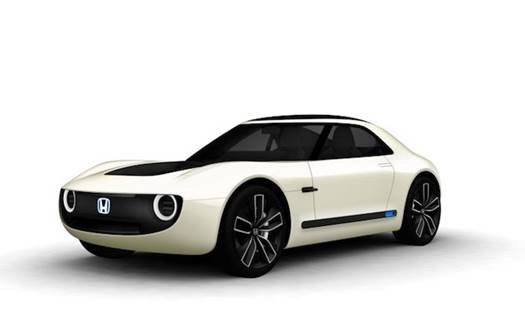 The Myth of Automation
Last
January I wrote about new advances in car automation and Ai at CES 2017. This
year it is worth revisiting the topic with a focus on whether the
implementation of this technology in society has been fully thought out. It can
be argued that vehicle manufacturers are in a competitive uncoordinated rush to
unleash sophisticated technology on the road without fully appreciating the
consequences to the whole driving and pedestrian community. The end game is Level
5 automation but is the ongoing hype to this end realistic and is the path to
this driving nirvana safe and worthwhile?
We
can identify the big bang of vehicle automation as the 2004 DARPA Grand
Challenge held in the Mojave Desert. The U.S. Defence Advance Research Project Agency
offered a monetary prize to the first private sector company or educational
institution to have an autonomously driven car negotiate a rally course.  The first timed race was a failure, no car
finished but the die was cast and subsequent races proved to the world that
driverless car technology could and would be adapted for commercial use. The
achievement was also an engineering team success.  Today, the concept of the team approach, a
driver utilizing driverless tech has been obscured by the car industry's
promotion of a romantic and unwise use of the word autonomous. The consumer is
being conditioned to anticipate the day when you can release the wheel to let
your attention drift off to more important things like business briefing notes
or YouTube videos. 
The
word autonomy is a combination of two Greek terms signifying self (auto) and
governance (nomos). There are two popular meanings in everyday usage. One,
self-sufficiency, the ability to take care of oneself or itself and two,
self-directedness, the freedom from outside control.  The truth is there could be nothing worse for
the public than relying on a fully autonomous driving technology.  The problem with strong silent automation is
that it fails to communicate effectively those things that would allow humans
to work interdependently with it.  In
this scenario no signals are offered that allow the operators to predict or
control what the vehicle is or will be doing.
It's the smart machine that can't tell you what it's doing, why it is
doing something or when it will be finished.
What would be more frustrating or fearful than an operating system that
is incapable of responding to human direction or common sense when something
goes wrong in the driving environment. This concept of self-directedness and
self-sufficiency is being measured on the single ordering scale of increasing
levels of driverless autonomy. We have now entered level three where drivers
shifts safety critical functions to vehicle under certain traffic or environmental
conditions and are told to expect level five shortly where a fully auto system
is equal to that of a diver in every driving situation.  There needs to be a more wholesome view about
autonomy where effective teamwork involves task distribution and where AI
systems support and enhance each member's performance. A good autonomous
driverless system is not autonomous.  No
entity or person is capable enough to be able to perform competently in every
task and situation. Car manufacturers should review how they are selling their
belief in the linear progression of technology and complexity as it applies to
the five levels of driverless automation. Technology has unintended
consequences. Sometimes they are large and it is worth trying to figure them
out ahead of time.
Roy
Amara, U.S. scientist and futurist, penned the adage, "People tend to
overestimate the effect of a technology in the short run and underestimate the
effect in the long run." There is a peak of inflated expectations followed by a
trough of disillusionment.
The
car industry tends to overestimate how quickly Level 5 autonomy will come and
how widespread Level 4 autonomy will become in the near future. Despite their frothy
predictions of imminent road infrastructure adjustments and car computer
improvements helping move massive change to an autonomous driving tipping point
the public shouldn't regarded these prognostications as inevitable. The
marketers see only the technical possibilities not the resistance that will
come when the autonomous agents inhabit more human spaces and encroach on the
civility between drivers and pedestrians. Societal friction between the haves,
the Level 4 drivers in the HOV lanes, and the have-nots driving level 0-1
vehicles in the other lanes may well occur as alienation and resentment between
differing groups of drivers ramp up in the transition to  self-driving cars.
Can
levels of government and the public get behind the grand plan to have multi-standardized
autonomous driving and Ai technology competing on our roadways? Major cities
have not been able to fully automate mass transit systems without accident yet
now we are asked to have faith in individual consumers who might have the
training and competency to operate self-driving cars safely in a mixed car environment?
It hardly seems possible.
What
further stretches our imagination is whether drivers will be willing to
relinquish control of the vehicle to Ai in circumstances where a 'right'
ethical decision needs to be made. We are potential entering into a moral
quagmire by relying heavily on engineered decision making.  Take the example of a fully autonomous car
that needs to adjust the car's position to avoid hitting a pedestrian. How does
the car decide to do less or more harm to the pedestrian or the driver. Who
sets up the ethical parameters of the outcome, the car manufacturer or you? How
do you program such a decision into an algorithm? What data could the Ai access
to process such a decision? If there was a fatality who should be criminally
punished, the driver, the pedestrian or the programmer? Industry pundits will
argue that we should give control to the machines because they are much better
at the task of driving vehicles with out killing people. The distracted, the
incompetent and the impaired drivers will kill many more than Ai in autonomous
cars. This may be a fair counter argument to any moral conundrums concerning
self-driving cars.  Humans use common
sense and reasoning powers that we apply and most of the time we do the right
thing. Computers are lacking in common sense and can't anticipate everything
that can happen on the road.  Can
manufacturers successfully develop the driver/Ai partnership or 'team effort approach'
for the operation of autonomous vehicles on our roadways? Honda believes that
supportive, learning Ai, like we might see in Honda's automated network assistant,
HANA will be part of the foundation for the collaborative driving experiment
that will taking place in the public square soon. I don't think I'm alone about
being concerned about the car type blend on the roads during the up coming
transition period. One hopes that manufacturers, consumers and the various
levels of government complete the right amount testing before granting Level 4
and 5 self-driving vehicles the right to travel on our roadways.
Until
next time
Macky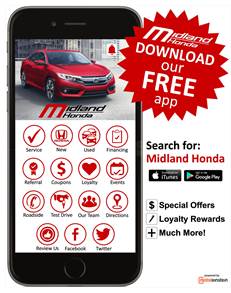 Midland Honda's New Phone App
I just downloaded Midland Honda's new phone app from Apple to my iPhone and I feel that I'm truly part of the Midland Honda family and can now start calling Richard Davies, Uncle Rich. One more step in the process of bringing all Honda owners together and providing every customer a fuller more satisfying experience.
During the past seven years the smart phone has increasingly opened the technological door for convenient comparative shopping and investigation. Digital grazing has become the focus of customer interaction with online business organizations.  The challenge for Midland Honda is to capture and integrate more of these cell phone interactions into a coherent consumer decision journey where these micro moments, which are represented by many interactive experiences, can be harnessed by the car dealership. The Midland Honda app will hopefully offer both the consumer and the dealership a mutually beneficial experience over the lifetime of their journey together. It will change the way we shop for vehicles, service our vehicles and consult with staff. Consider the present version of the Midland Honda app as the first great step in having a Midland Honda info blanket right at your fingertips. Moving forward you will see changes that reflect technological innovations that will allow consumers to have a more immersive experience with an application that will cross over to many other customer devices. Today you need to earn the customers' consideration or action moment by moment. A brand app must make it easier for a smart phone user to find answers quickly and accurately. The Honda Midland app has been designed to achieve these goals.
The average car purchaser makes just two visits to the dealership before purchasing a new or used vehicle. Before setting foot in the showroom customers have formed opinions due to their research online. They are now relying on micro moments to help select the perfect vehicle for their needs. Consumers are heavily influenced by YouTube videos from OEMs, traditional expert industry reviewers and homegrown viewpoints. Individual showcase reels or comparative head to head showdowns leave both subtle and striking impressions in the minds of the consumer. Depending on the source they can be accurate, false or misleading. A successful branded dealer app should offer links to support and reinforce accurate online product representations and shed light on inaccurate reporting.  An app can assist in the decision to become a customer or remain a customer. There are presently four basic things that an app must do for the consumer. The app must 'Be There' with info, model descriptions with text, stills and video for new and used inventory. The app must 'Be useful' to make service appointments, value a trade in and make the mobile experience as easy as the desktop experience.  The App should strive to 'Be experiential', link with social media and develop virtual or augmented reality experiences for the consumer. The app should 'Be quick', navigation should be fast and friction-less linking to valid content.
The new generation of vehicle buyers expects to do business with dealerships online seamlessly. In today's mobile-driven world dealerships must not only adapt to mobile technology but continue to enable the sales and service departments to respond to the expectations of this growing percentage of their customer base. A dealership app can improve the business/customer relationship, drive future sales growth and foster customer retention. These goals can be leveraged through CRM, customer relationship management.
CRM is a term that refers to practices, strategies and technologies used by a business to manage all the company's relationships and interactions with customers and potential customers throughout the customer lifecycle. A CRM car dealership system is designed to compile customer emails, phone calls, vehicle work flow tasks and social media interactions that are archived then organized in order to create a more complete customer profile. I will hazard a guess and say that the ultimate goal of Midland Honda's future third generation app will be to help create a 360 degree view of a customer in as close to real time as possible.
The app works because it becomes the social agent, the direct pipeline to the needs and desires of the customer. Midland Honda's app can and will increasingly improve on the following functions.
Social publishing: Pushing new apps, social media to client. Will allow for calendaring of shared events, encourages content sharing and management
Social engagement: Monitoring and listening ability to respond to social network users, maintenance of single view of customer, customer service.
Social analytics apps: use of data mining, natural language processing and text analytics to gain insight into what is being said between customer and
dealership
Social networking selling opportunities: Call to customer action, purchase, service activity.
Product/Service advocacy: Identify and grow relationships with product advocates and discounts.
The next big challenge for Honda is to integrate cell phone generated interactions with multiple technology platforms. There will be a move away from just silo based information gathering and sharing into the full integration of dealership apps with text messaging and consumer devices such as laptops, tablets, watches, glasses and of course Honda vehicles. Honda will integrate apps with the Internet of things and they will successfully manage the customer relationship across all device channels simultaneously.  I'm hopeful that in ten years time Peter and Richard will become Honda's northern gateway for personal robotic assistants, by then my wife and I could be living with a valued member of the Midland Honda family!
Merry Christmas and Happy Hannukkah everyone!
Until Next time
Macky
P.S.  info gathered from: 1.) CRM: The Foundation
of Contemporary Marketing Strategy by Robert J. Galka & Roger j. Baran 2016
Routledge
2.)
Micro-Moments Your Guide to Winning the Shift to Mobile by Google

Midland Honda 2nd Annual Customer Appreciation Movie Night!
The word was out last year. Families had so much fun at the first Midland Honda customer
appreciation night they were pleased to be reminded this year that Peter,
Richard and the Midland Honda team were ready to do it again with a little more
pizzazz! If the dealership's giant posters didn't pique your interest in the
event then the personal invitations surely got all the new and returning
customers excited about making the short journey to the edge of town for some
old fashion fun on a super late summer's evening.
How nice it was to have clear warm weather for the 6pm start
of the festivities. This year Midland Honda staff greeted cars and trucks with
tickets for popcorn and drinks as well as a ticket to be entered into a draw to
win a Platinum Detailing Package valued at $300.00. With approximately 115 cars
showing up by 9pm the odds were good to win a complete refresh for your
vehicle.  
I noticed last year the kids loved to play under the big
screen before the first movie. Just tossing a ball or Frisbee to one another
was a joy to watch. It must have been quite a nice surprise for them this year
when out popped three Minions to mingle and dance with them on the lot. Let's
not forget Mable Moon, the face painter, who added the comical minions and
other designs to their faces. The giant soccer ball game certainly did help burn
off lots of youthful energy. In short, everyone was happy and having a blast
while waiting for dusk to come along.
Anticipation in the popcorn line was evenly balanced between
thinking about receiving the heavenly popped buttered corn along with the soda
fountain drink and making it back to the car before Despicable Me 3 started.
Patience, patience you say. It is a hard virtue to swallow when you're an eight
year old in the middle of the line. Well, most patrons made it back to the
comfort of their Hondas by 9pm just as the animated hijinks began on the big
screen.  The kids will always remember
these good times just like I did so many years ago. Making good memories that
will be carried through life might well be the new motto for Midland Honda.
By 10:30 pm the first movie was coming to a close and I bet
some of the youngsters were yawning or already in La La Land.  As the intermission commenced the parents were
a little more alert, probably searching for their winning platinum detail
ticket that had somehow got wedged between the front seat and the center
storage bin.  A bit of anticipation for
the parents as well.  The radio announced
the winning number but not everyone heard it of course because they were busy
in line for another round of popcorn and cold pop. Others were still in the
dark and curious about who got lucky that night, I mean who had the winning
number.  Finally, one customer came up to
Midland Honda's brand ambassador, Michelle Allan, and said she had missed the
announcement, her mother said, "you'd better go over there and check it out".  So she did and to her amazement her number
matched wonderfully to the winning ticket.  Excellent car care will now be only an appointment
away.
The Wonder Woman saga was a fitting movie then to end the
evening's entertainment. Thank you for expressing your positive feedback and
appreciation to Peter, Richard, Michelle and the Midland Honda staff.  Midland Honda was very happy to celebrate
another successful evening with our customers at the Midland Drive In Theatre!
Until next time, Macky.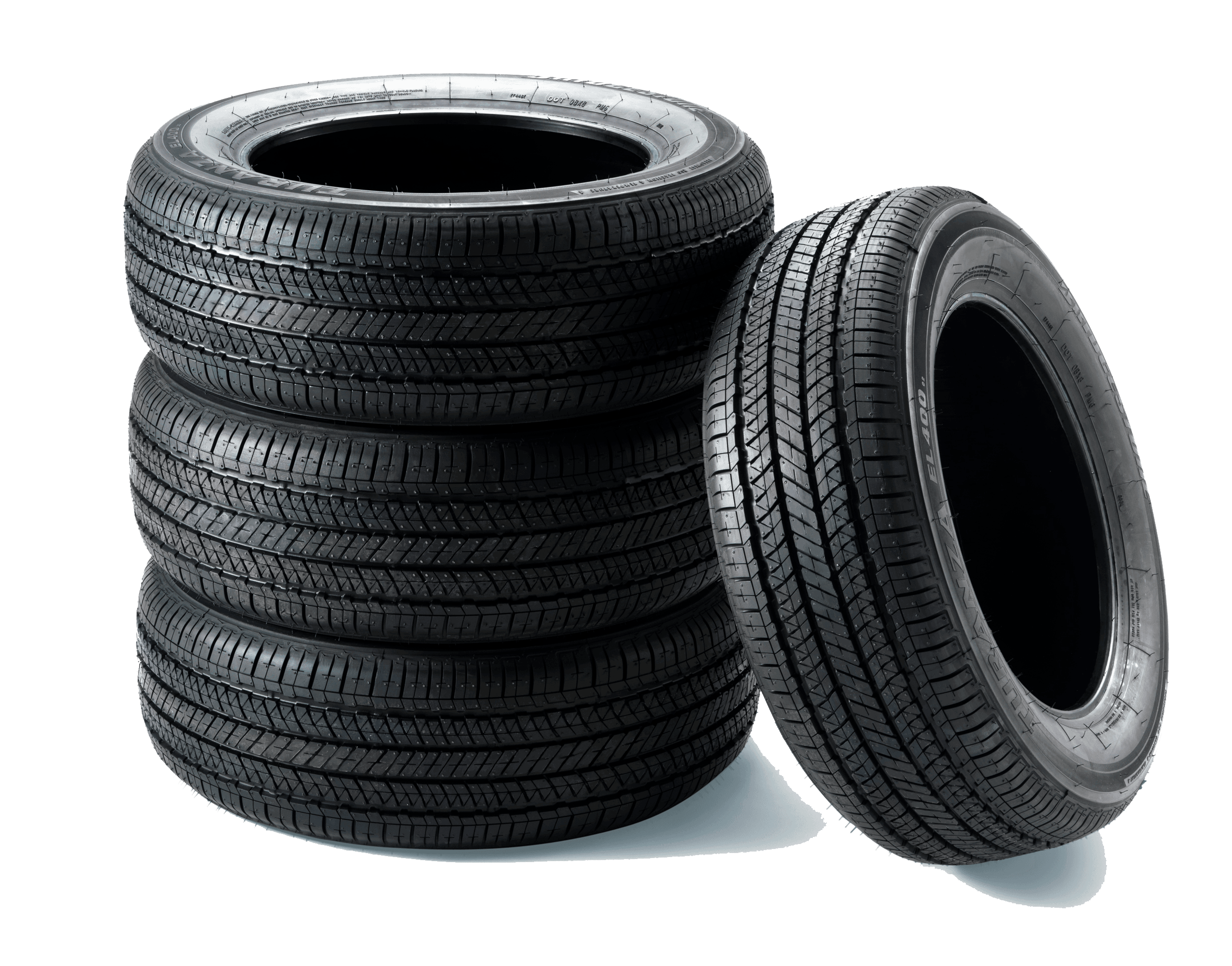 Is it time to purchase new tires from Midland Honda?
Spring is just around the corner and so is your Midland Honda appointment for the winter tire swap. It's a nice seasonal ritual that transitions the car and driver into the better weather and more comfortable driving conditions. It may also be time for some of you to consider replacing your older all season tires with a new set from Midland Honda.
Tires should be considered as one of the most important stability control systems on a vehicle because they transfer braking and driving from the vehicle to the pavement. Modern tires last longer and offer superior fuel efficiency; however, even with improvements in their long-term durability tires do have a set life span. Problems caused by the breakdown of rubber components starting between the fifth and sixth year of the tire will create safety issues when the tires are asked to perform at highway speeds or with heavy workloads.
Tire degradation depends on many factors. The type of driving you do, under or over inflation of the tires, car or truck load, climate, road hazards, improper maintenance (not completed at Midland Honda), structural defects in the tire and tread wear. The driving public is well aware of these pitfalls to the health and longevity of the tire, but there is one less noticeable factor that debilitates tires from the inside out. Oxidation is the enemy of rubber and despite the fact that you're not racking up many kilometres, you drive with a light foot and your monthly visual walk around inspection shows no wear and tear your ageing tires will still become a road hazard at the six year mark.
Joanne Will, car columnist for the Globe & Mail, I think says it best, "Unlike port or a fine single malt whisky, tires don't improve with age. Whether they're attached to a vehicle or stored in the cellar tires do degrade over time"
Tires age from the inside out and when the rubber on the inside of your tires becomes hard and non-flexible it starts to crack. The cracking makes the inner rubber layers of the tire delaminate from the steel belts. The most common consequence of these changes is a blown tire, a damaged wheel and a crashed vehicle. These inevitable changes can be hastened by the quality of the inner butyl rubber liner, which helps slow down the rate of oxidation. A cheaper tire may skimp on the quality of the liner and allow for greater oxidation when the tires are heavily loaded or when the tires become hotter with increased speed.
Each tire sidewall is date stamped at the end of the Tire Identification Number (TIN). After the string of letters and numbers you will see the last four digits. The first two digits represent the week of manufacture and the last two numbers represent the year the tire was made. When you do buy new tires check this code. Tires that have been sitting on the rack unsold for two years should not be sold to you, they should be sent back to the manufacturer. Stale new tires will become hazardous in less time than you think.
There is nothing stale about Midland Honda's tire inventory. Please discuss the health of your tires with the knowledgeable service staff at the store so that you can complete the winter tire swap with a little more peace of mind!
Until next time
Macky.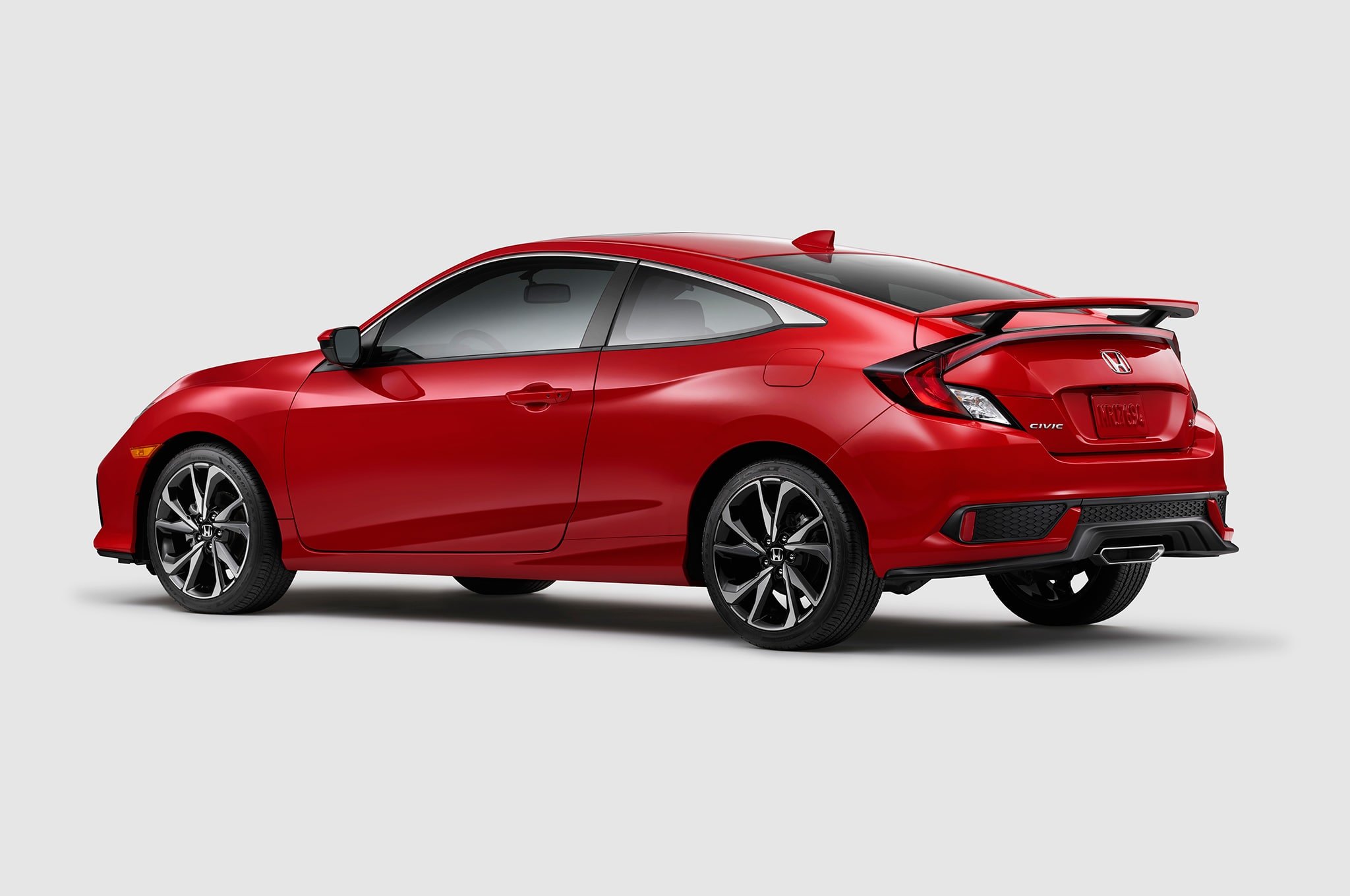 2017 Honda Civic Si
Racing has been a core part of Honda's DNA for over sixty years and this year Honda has gone to great lengths to offer different shades of that racing heritage in their Civic line-up. The heart of a racecar is evident in the U.K. produced Civic Hatch Sport the awesome Civic Type R and in the North American designed Civic Si. If you are a person who loves cars than one of these Civics will sharpen your senses and improve your driving skills.
The unveiling of the 10th generation Civic Si has kicked off a vigorous debate amongst Civic Si fans about whether this new version of Honda's affordable racer is indeed an improvement over previous models and more importantly does the 2017 Si match up to the competition. There seems to be a great deal of concern expressed on blogs, like CivicX.com, about the lack of performance which is based on the less than sizzling horse power "HP" figures announced in Honda's roll out of the car. The HP and torque numbers were not that surprising for the Si fan base who may have been dreaming of a de-tuned 2.0 litre Turbo Type R engine for the Si. The Civic Type R definitely raised the bar of expectations for Si fans and this has led to some disappointment and confusion on where the Si model is going even before the cars become available for sale. Not only was 205 HP and 192 lb. ft. of torque less than awe inspiring, the adoption of turbo technology has been seen, by some die hard Si aficionados, as blasphemous. They believe that Turbo technologies shouldn't be part of the Si bloodline. Hey now… these are of course the super-enthusiasts!
When cars had carburetors the novelty of fuel injection was worth marketing and Honda played up the association of Sports cars and engine tech in the mantra 'Si' or Sports Injected. This term became synonymous with Honda's high revving VTEC engines that symbolized the strength of the brand. Si owners enjoyed the scream of the engine as peak power output was achieved at high RPMs. Car tuning magazines and after market products helped support the notion that Si culture was primarily about high rpms at top speed. The introduction of the 1.5 Liter turbo engine into the Si world then has been a shock to the prevailing belief system. The old engine scream has been replaced by the new sound of the turbo spool up and the engine output is now achieved at a lower RPM. Those shaking their heads at this change complain that the new Si will not be able to compete with the likes of the 220 HP VW GTI, the 252 HP Ford Focus ST or the 268 HP Subaru WRX. Well, maybe not in a straight drag race, but the new Si was not designed and powered to be a straight-line street racer. I'm sure that the 'fast and the furious' contingent of the Si owners group will use after market parts on the 2017 Si to achieve higher HP outputs and in the end will be satisfied with their modifications, or maybe they will consider moving up to the 300 HP Civic Type R. The upgrade would be more money up front but that said you would be able to achieve dependable extreme grunt off the line without worrying about paying for non-factory engine modifications.
Honda has made a conscious effort to make the 2017 Civic Si a great every day performance car. Fun doesn't have to be expensive. There are many features in the 2017 Si that make it a more balanced road handling car than its competitors with more HP. Honda engineers have been focused on creating a Civic Si engine that has a very favourable power to weight ratio in order to optimize driver engagement and chassis dynamics. Having a smaller 1.5-liter engine helps keep the curb weight down to under 2,900 lbs. This is very good in comparison to other manufacturers in this market segment. A lighter car that is not nose heavy is more balanced going into and out of corners. The Si has a different flavour of performance, it is meant to feel more nimble and precise. The adaptive dampers work in conjunction with 30% more rigid stabilizing bars up front and 60% more rigid bars in the back. The Civic Si has solid front and rear compliance bushings and ultra-rigid front upper control arms that it shares with the Civic Type R. The suspension in the normal or default driving mode initiates a ride that is more comfort oriented yet well controlled while in the Sports mode the suspension damping characteristics plus steering and throttle response are adjusted for a more taut and direct driving experience.
Engage Sport mode when you feel like hunting for the perfect corner apex. As you enter that apex the large, 12.3 inch front disc brakes will have finished setting up your turn… you quickly downshift, then turbo your Civic Si around and out of the corner in the mid range of your power band. Peak horsepower arrives 1300 rpm lower in rev range than the previous Si engine and the increased peak torque is produced at 2300 rpm earlier and this is sustained over 70% of the rev range. A driver's smile is guaranteed after negotiating your favourite corner with the short throw six-speed gearbox!
Any accurate cornering would cause G-forces that could only be subdued by the impressive Si badged bolstered driver and passenger seats. The sport seat with the red stitching locks the driver comfortably into a good driving position. Feeling great while driving makes the experience memorable. Looking great in a Civic with a little zing is also good for the soul. Honda has injected sports car cues inside the cabin to set this Civic in the race zone. The red sports stich carries through on the doors, the steering wheel and leather shift boot. The shift knob is aluminum and so are the driver's pedals. Dry metal Carbon trim is used to accent dash and door areas. The list of car operating features is comparable to Honda's touring trim level but two things stuck out as being new for the Si, remote engine start and walk away door locking. I'm puzzled about the remote start with a manual transmission. I will always remember starting a sporty manual four banger in gear without depressing the clutch, whoa! Lurching the car forward is an embarrassing surprise. Honda must have a secret way.
The whole line-up of 2017 Civics appears to me to have been sport injected. You can see the low slung aggressive stance with sleek lines both in the coupe or Sedan. The pinched in side panel under the door centerline just makes the Civic look like it going to pounce its way down the thoroughfare. The Civic Si brings more sportiness to the table with a front aero package that brings the car closer to the ground. The 18 inch two tone alloy wheels, with lower profile tires really enhance the race feel for the side profile. LED headlights and taillights will make the Civic Si a real head turner on the highway.
Choosing either the Civic Si sedan or coupe could be the toughest decision one makes if you are in the market for this hot Civic. You may feel like that James Hinchcliffe looking actor in the Honda ad with his wife in the passenger seat. Your dreaming I want this to be a monster green two-door coupe that I can eventually drive at Mosport. What traction, what acceleration, what fun…and then you realize that you also need to make room for a couple of kids, so you decide in favour of the black four door sedan and get a little more practicality without losing any of the performance or handling! Both the Honda Civic Si Sedan and Coupe have the heart of a racecar!
I'm looking forward to test driving the 2017 Civic Si from Midland Honda. Soon after I will probably mention to Richard Davies, "I just had a phenomenal drive!"
Until next time
Macky

When was the last time you saw a silver hubcap lying in the brown grass near the side of the road. Back in the day I suppose you would have seen many and if you were very lucky you would have seen a full sized maroon Mercury Marquis lose one while careening around a corner. That was always amusing to watch. The cap flying off, rolling and teetering to a unknown resting place. Sadly today this sort of humor has left the byways of our great province primarily because most car manufactures wrap their tires around aluminum wheels instead of steel wheels.
Now let it be said that steel wheels are still offered on lower trim models and most people who have winter tires put them on steel rims. A heavier rim creates more un-sprung weight and this helps the rubber bite the snow harder. Having a car with dampened acceleration and agility and a lower centre of gravity helps promote the sense of control and certainty while driving in poor winter conditions.
We are now ready to cast off the steel rims that have helped us through the winter months in favour of the most appealing, light and sporty aluminum wheels that Midland Honda has stored away for you. Time to pump the tires with nitrogen and get back some of the agility and acceleration that your Civic Si or touring Accord was designed to show.
Some people have shoe fetishes while others have rim obsessions. I can relate to those drivers who find that hot wheels make and finish the look of a sedan, an SUV, a truck or a hatchback. Even a Honda Odyssey looks better in a sporty set of wheels! All manufacturers have been improving the look of their wheels for many years. It is now a common practice for companies to create rad wheel design patterns thereby upping the ante in the war to attract customers. Its a given that if the rim looks fast and sporty then the wheels on that Honda Fit could help break the Nurburgring's sub-compact car lap record! It is a visual tease, but I like it. The thing is, Honda doesn't design and make these important visual components for their cars. Just like many other parts, like electric harnesses or air bags, wheels are made by OEMs (Original Equipment Manufactures). Honda contracts the wheel manufacturing to companies such as Enkei and BBS. Valued OEM partners that help shape the success of each Honda model.
OEMs rely on their ability to drive down the cost of production through economies of scale. Using an OEM allows Honda to obtain needed components or products without owning and operating a factory. Unlike the American big three - GM, Ford and Chrysler, where suppliers continually battle the manufacturer on price, design, quality and delivery, Honda has a supplier relationship based on 'Keiretsu'. Close knit networks of vendors that continuously learn, improve and prosper along with the parent company. This model, born in the culture and society of Japan, has been successfully replicated in the Honda supplier webs in North America. Consequently, Honda enjoys some of the best supplier relations in the N.A. auto industry, maintaining the fastest product development processes, reduced costs and improved quality year after year. The new Honda CRV's greatness is due in part because Keiretsu creates innovation and cost effectiveness that is passed on to the consumer. In other words Honda provides the customer more than what is expected for the vehicle's price.
Enkei produces a lot of wheels for Honda and they also make wheels for the after-market buyer. Their relationship with Honda engineers and designers is shrouded in mystery. It is difficult to discover who or what team of people is in charge of this important design challenge. I have learned that Honda and Toyota engineers give their tire suppliers vague specifications for new tires. Honda doesn't spell out the level of resistance it expects from a tire, it will only say that the tire has to have the right feel and that it will be adjusted as the vehicle is designed. Toyota's engineers have developed special words to describe the effect of tires on passengers. They use gotsu gotsu to refer to the low-frequency, high impact motions tires transmit to passengers' lower backs and buru buru to describe the high-frequency, low-impact vibrations they feel in their belly. Each company expects suppliers to understand and translate their terminology to identify design solutions.*
I can imagine Honda asking an Enkei engineer, we need a light-weight, stiff, aluminum alloy wheel that says Hayaku Hayaku (fast faster) to the consumer. Enkei, using their Durville Die Casting and MAT process would turn out a daring design that would have the technical OEM specs suitable for the Civic R. The engineering and design process between Honda, the tire OEM and Enkie would be an interesting video for Honda to share with its customer base. Let's hope Honda World starts producing some entertaining and informative vignettes for their web site.
Until next time …Macky
*Harvard Business Review: Building deep supplier relationships, Jeffrey Liker, Thomas Y. Choi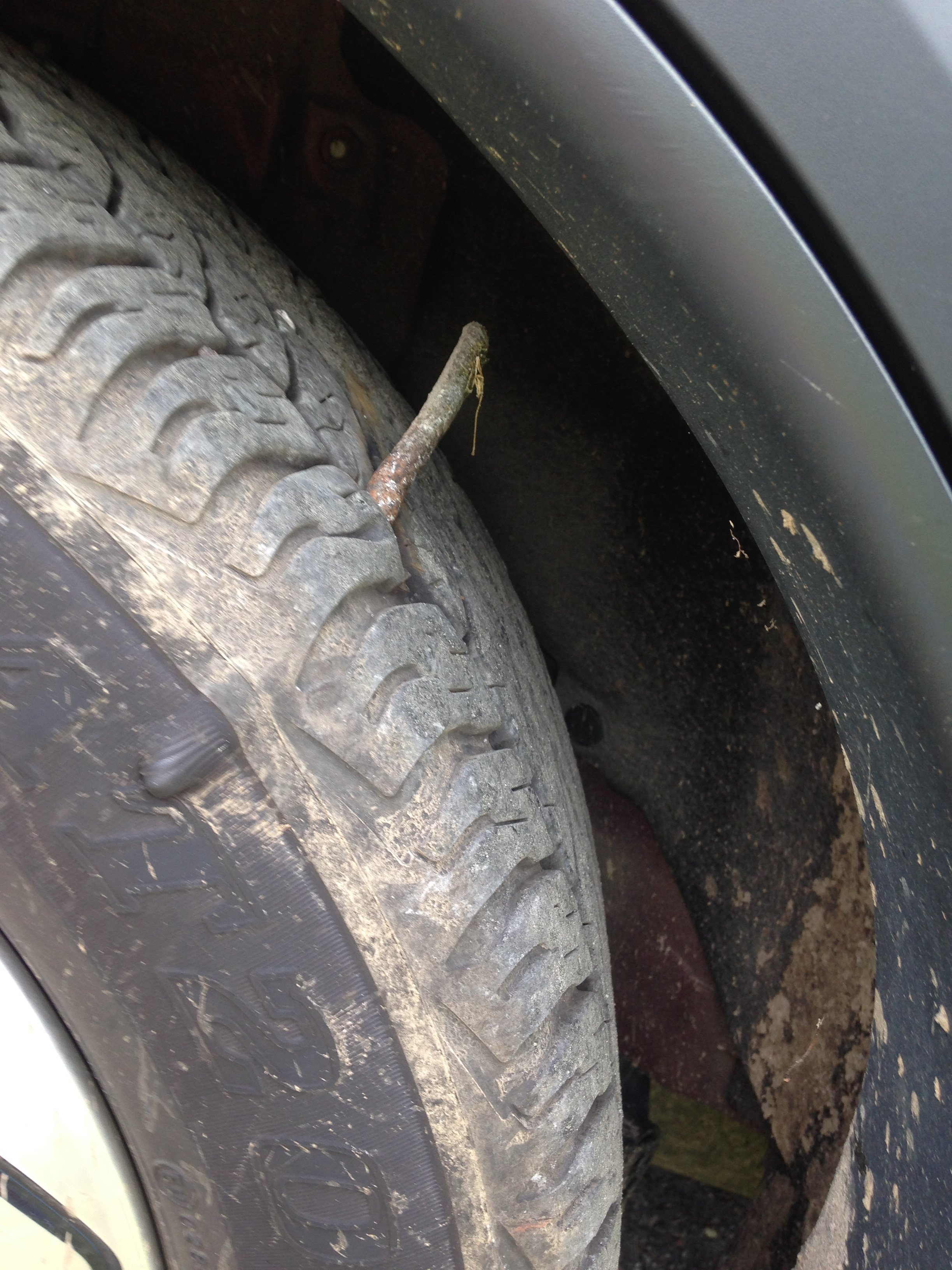 Counting on Honda's Service
The cottage life experience can be more than warm lake water, barbecues, games and bug bites. Lynn and I found out how much more the other weekend when we were heading home from our friend's cottage on Lake Shawanaga near Parry Sound. The cottage is at the end of Running Bear road. A twisty, up and down dirt track that was pockmarked by water, rocks and sticks, about one and a half cars wide. We were taking it easy, following our host in his Nissan SUV, stopping occasionally to close road gates. The end of the 5Km was almost reached when we heard, "Thump, Thump, Thump", from the rear of the car. Stop we did and I hopped out to check the source of the wheel-well noise. Wow, a very large steel spike had punctured the middle of the tire and one end of the spike was almost through the tire's sidewall. Hmm, what to do? Yanking on it didn't seem to help and it was just as well that I didn't pursue this line of investigation. Needed the tire to remain inflated for a little while yet. We proceeded, driving gingerly on the last of the dirt road to Lorimer Rd to a point just across from the Tim Horton's Memorial Camp. Our friend suggested a towing company in Parry Sound that we could call and I replied that from this point onwards we would be relying on Honda Road side assistance to get our car safely on the road again!
Checking my Midland Honda key fob I found the 1-800 roadside assistance number and then dialed them up. A pleasant woman from Quebec took my call and asked first if I was O.K. then what the problem was. Soon she began to zero in on where I was parked. Honda can find your location by your cell phone co-ordinates, but we relied on Google maps, the road name and the Tim Horton's camp location. The operator dispatched a towing company from Parry Sound and guaranteed that they would be fixing my car in 55 minutes. Presto, the gears were in motion to fix the tire. All I really had to do was remember to complete the Honda satisfaction survey that was to be emailed to me in a couple of days. That was easy.
Well, it was a nice afternoon so I decided to take the cooler out of the back and start preparing the spare for the service guy. I unraveled the tools and placed the car jack under the jack lift point just forward of the bad tire. I looked at the small 'J'tire iron and thought I should have packed my iron cross. It's more substantial and it would allow for more leverage for the removal of the wheel lugs. A passing thought for a driver who probably could have changed the wheel on a nice summer day but decided to take the easy way out. I'm glad I did.
Jonah from Constable Towing and Recovery arrived fifty minutes later. He immediately brought over a professional garage jack, an electric air pump, a cordless impact driver and a professional torque wrench for the lug nuts. Jonah topped up the pressure on the skinny spare then proceeded to swap the tires. While tightening the nuts back on the car he explained that if you do use the supplied car jack you need to block the front tires to prevent the car from rolling. He also mentioned the lug nut tightening procedure with the wheel off the ground and on the ground. Most importantly he did remind me that I should only travel around 80Km per hour and when on the 400 use my emergency flashers to warn trucks they were approaching a slow vehicle. Some good tips from the young dude who finished the job in twenty minutes. We were on our way back to Midland Honda for a tire replacement at an uncomfortably slow speed.
I was travelling between 80-90 km per hour in the slow lane and constantly looking in my rear view mirror for faster traffic. This was a challenge on the 400 series highway and I found myself wide-eyed at some lug heads that made the decision to change lanes just before clipping my rear bumper. I think the big rigs appreciated the hazard light heads up. Well, we made it and rolled into Midland Honda on a Monday afternoon and the store was super-busy as usual.
Being busy has never stood in the way of Midland Honda's service desk working with you quickly to solve your car issue. Steve House had my tire rolled over to the parts desk where Mike Safko and a repair technician shook their heads at the nasty spike. My Dunlop tire was unfortunately not in stock and a replacement tire couldn't be ordered for delivery until the following day. This was a problem for us because we were heading back to Toronto. Mike started diligently working the phone and the computer checking other dealerships between Midland and Toronto and found that Bolton Honda had my tire. With contact info in hand we left in a dash to get to Bolton before closing time. Mike's Honda networking was more than just finding out where I could find a tire at a dealership. His conversation with Cameron Lynch, the service advisor, at Bolton Honda guaranteed that a valued Midland Honda client would be taken care of before their closing time.
Did I say 80 km max speed; well let's just say the spare performed beautifully at 95Km per hour. Cameron kept a technician past 5:15 pm and we were able to have our new tire replaced and the car washed by 6:30. It was a great client hand off between two Honda dealerships. Looking back on the day the Honda experience was a seamless series of successful handoffs from the first contact with Madame Roadside assistant to the moment I shook Cameron's hand and said thank you for your service. The Honda/ Client touch points were definitely enhanced because we had the tire and rim repair and replacement insurance on the CRV. This coverage reduced my repair costs considerably. You tend to forget about the tire and rim coverage but when accidents do happen you remember and say to yourself, no problem.
Let me review the costs without protection. My new Dunlop tire retails at about $245.00 plus tax. Installation would have been around $20.00. Total cost - $265.00 plus tax. With my plan I paid Bolton Honda $69.00 plus tax as a result of the damaged tire's depreciated value caused by tire wear. There would have been no cost to me at all if the tire had been fairly new. Consider this scenario. Let's say that I had picked up that spike on the 400 and shredded the tire at speed causing rim damage. A new touring CVR rim is $400.00 and so the cost keeps climbing to $750.00 tax in. Hard to believe a fifty-cent spike can have that much impact on your bank account.
I paid $400.00 for my 48-month tire and rim repair and replace insurance package. The plan keeps working throughout the term, even if you have multiple tire or rim failures. Car rental and accommodation expenses are also available if necessary. Purchasing my tire and rim insurance was the right decision for me when I leased Furyossa from Midland Honda. Yes, that's right, my copper coloured CRV is named Furyossa. Now, after our summer driving adventure, my little beasty is lookin' good, driving well and ready for more country miles near cottage country. Next stop, Bark Lake for a fishing excursion with some friends.
I hope everyone has good driving experiences this summer but if you do have a car problem away from home feel confident that you can rely on the Honda roadside service network and Midland Honda to help get you and your family where they need to go.
Until next time….Macky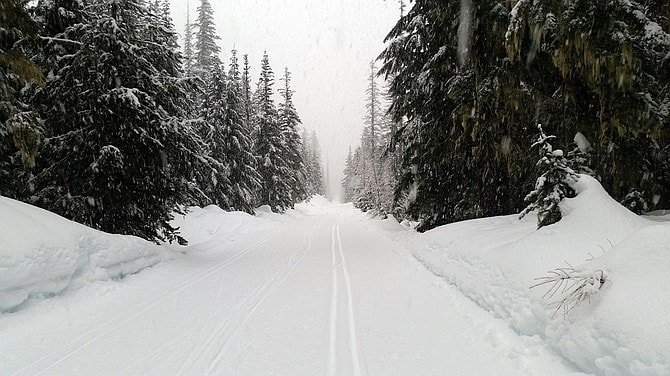 Midland Weather Alert
Snow squalls expected to develop. Roads partly ice covered with bare and wet conditions with an increased likelihood that roads will be snow covered by dawn! Yikes…its back even before you have raked up all of the fallen leaves and finished your last pumpkin spiced latte.
For me this transitional time of year is marked by daylight savings, Remembrance Day and varied weather and road conditions. Remembering our fallen warriors on November 11th is the most important event this time of year and the time we take to pause and reflect on their sacrifice is the least we can do.
The mindset moving into the winter could be summed up as remembering not only our civic obligations but also remembering how to keep our families safe and comfortable while travelling during the winter months. I can't stress enough how important it is to your vehicle winterized by the qualified service staff at Midland Honda before experiencing another snow belt winter in the Midland area.
Get your vehicle winter-ready with a maintenance check-up. Don't wait for winter to have your tires, battery, belts, hoses, radiator, oil, lights, brakes, exhaust system, heater/defroster, wipers and ignition system checked. Make sure that your vehicle is mechanically ready for winter conditions. Keep your fuel tank sufficiently full - at least half a tank is recommended. Always be sure you have sufficient windshield washer fluid in the reservoir. You may wish to keep an extra jug in the vehicle.
Have your tires checked before winter begins. Remember to check tire air pressure frequently, as it decreases in cold weather. Also, double-check the tightness of each tire's wheel nuts to ensure your tires have not come loose; this is especially important for those who seasonally change their winter and all-season tires. The condition of your vehicle's tires is important. Worn or damaged tires can affect your ability to drive safely. It is best to replace tires before the tread depth reaches the regulatory minimum of 1.5 mm. Studies indicate that a 3 mm deep tread can stop a vehicle on wet pavement in a 25% shorter distance than a tire with a 1.5 mm deep tread. Drivers should check the manufacturer's wear indicator mark on tires to see if they need replacing. All tires have tread wear indicators, which are small bars of rubber found between the tread blocks of a tire. When the tread is worn flush with the tread wear indicators, the tire has reached its wear limit and must be replaced as it no longer provides sufficient traction in the rain or snow. Regular or all-season tires, including wide and high-performance tires, may be adequate in some areas, but may not be suitable for driving in the Midland Snow Belt region. If you live and drive in this area, consider using winter tires. They provide better traction, braking and handling during frost, snow, slush, and particularly under icy conditions. Installing four winter tires provides greater control and stability. Never mix tires of different tread, size and construction. Also, consider traction and stability control options when selecting your next Honda vehicle.
You may think you don't need winter tires because your car has all-seasons, but truthfully, if you live somewhere that actually has all the seasons, you need winter tires.
All-season tires braking on snow pack take on average five feet more road to stop than winter tires. Five feet may mean the difference between a fender bender and an accident-free winter. Braking distances on snow may be the best reason to fit a set of winter tires on your car.
Many balk at the cost associated with winter tires; not just the rubber but the fitting or the second set of wheels. The fact that winter-tire use extends the life of summer tires is often overlooked. Yes, soft winter compounds wear faster than summer or all-season tires, but the benefits of safe handling and accident prevention are well worth the investment, no matter which winter tires you purchase. Additionally, some insurers offer a 5% discount on your auto policy if you use winter tires. This time of year Midland Honda is offering economical tire and rim packages that will work within your budget.
To remember is a choice to keep remembering is a commitment!
Till next time
Macky
Honda Civic-R Design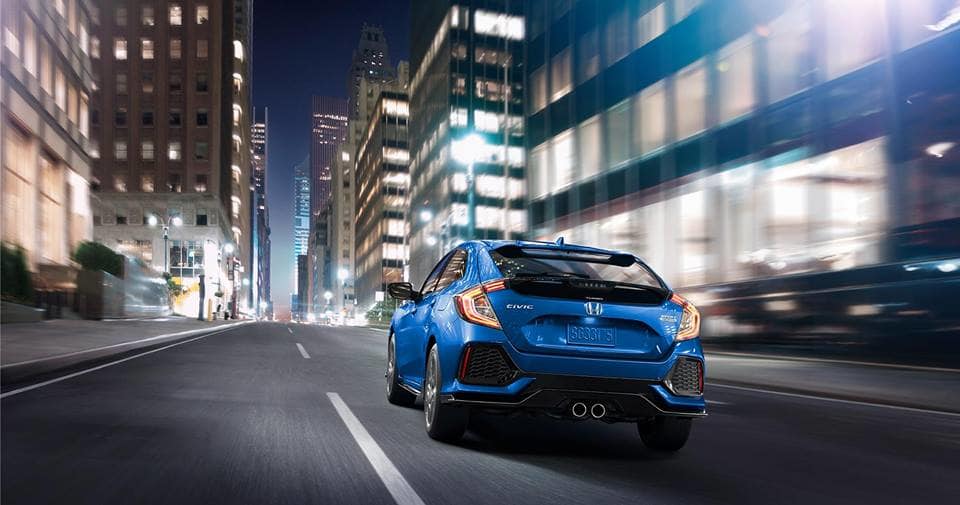 30 years ago I don't think many people would have said Honda builds excitement. Even though Honda was always successful with auto and motorcycle racing their racing heritage was never fully realized in a passenger car until the debut of the 2017 Honda Civic-R. I would humbly say that this is the hottest looking hatch back on the market right now. Sure, the Civic-R exterior design is on steroids, but this forward leaning design shows that Honda is more than ready to be the industry leader in car design. Consider the Civic-R as the flag bearer for all other Honda models that are being refined or newly designed for 2017. I believe that Honda's current design vision is to create cars that are exciting to view and fun to experience. A design philosophy established by Soichiro Honda and currently expressed by Daisuke Tsutamori, the lead exterior designer for the Civic R.
Mr. Honda had some requirements for good design*. Universality: basic body forms remain even after yearly versions. Innovation: be ahead of the design curve, design should always be fresh. Service Orientation: design must align with the trends in human society and of the era. The design must be a symphony appreciated visually that incorporates shapes, lines and colours that create a personality that is the most amazing at present. Although balance and harmony should be highly regarded, one should not be pre-occupied with a design unity in order to please everybody. True design should elevate the appeal and beauty of any dissonant parts while also having them completely satisfy the requirements for practicality. Soichiro also believed that design is about understanding what it takes to be loved, in other words how can a designer please people and make them fall in love with your product.
Mr. Tsutamori's design for the Civic-R elevate defines the notion that form and function are one. The efficient design reflects a car developed to perform at speed. A purposeful stance and a focus on aerodynamics ensure high speed stability and high down force. Every feature of the external design has a meaning, and all of the features are functional. The improved driving performance requires a wider front with trapezoidal lower air intakes for aerodynamic control and brake cooling. The front splitter attached to the bumper helps reduce lift and directs air across the flat bottom to the rear aero diffuser. A striking rear airfoil has been wind tunnel designed to optimize down force without a significant increase in drag at higher speeds. The rear wing is functional and dazzling and it serves another secondary purpose. Mr. Tsutamori comments, "from a non-functional, non-designer perspective - it looks pretty bad ass", and that my friends, is one reason why some car enthusiasts will fall in love with this vehicle.
Today, the sporty and dynamic Civic and Civic-R designs embody the lessons of the past and incorporate new remarkable, innovative and distinctive design features that provide the customer a 'Honda experience' that will surely enrich their life's story.
Until next time
Macky
*Shin'ya Nagasawa, Wasenda Business & Economic Studies, Design Management Seen at Honda, Permeating a Design Mindset, 2013
The Power of Dreams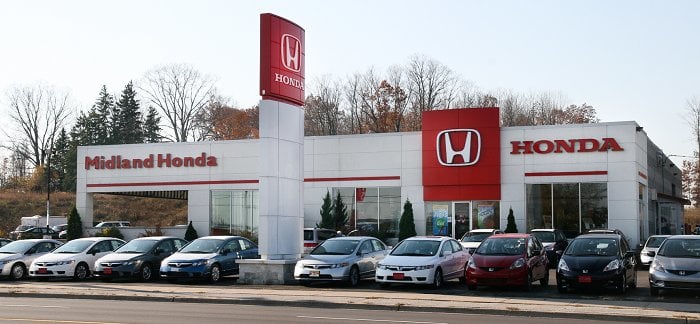 Honda Canada and Midland Honda are poised to harness the power of dreams to realize and fulfill distinct goals in 2017 and it all starts with the 'Honda Way'. The Joy of creating quality products that have a positive impact on all our lives is the Honda Way.
Midland Honda has just announced that the new Honda dealership store will be located at the corner of Jones Rd and Highway 12! Right across from the new LCBO. Plans are now underway to build a store that will be beautiful and energy efficient. The premium design will create a modern environment that will engage clients, providing them with a high level of service that is convenient and trusted. The Midland Honda staff will be working together to make this dream a reality by 2020!
The CR-V is celebrating its 20th anniversary and the dream of the fifth generation model becoming #1 in sales and customer appreciation is very reasonable when you consider that the 2017 CR-V is a brand new vehicle from top to bottom. Honda has pulled out all the stops to retain its leadership position in this market segment.
The 2015 CR-V won Motor Trend's Golden Caliper award for the best SUV. Honda's achievements were based on a careful reworking of the best seller, executed with typical Honda thoughtfulness. It was a winner that showed that the economical family car with a good dose of fun factor could maintain its market leadership. During 2016, the competition in this SUV segment was substantial. Toyota's Rav4, Nissan Rogue and the Ford Escape, to name a few, were all looking to be named best of breed. For 2017 Honda rightly decided to retire the 2015 repackaging strategy in favour of a plan that defined class above benchmarks. The commitment to re-define this SUV and raise the bar for consumers meant that the new CR-V components were created for the Civic platform.
The new CR-V's wheelbase is 4 cm longer and it is 3.5 cm taller and wider. This creates the feeling that the car has a larger exterior presence. Coupling this visual weight with sharper body lines and slightly flared wheel arches creates an overall impression of aggressive sportiness. The larger overall size yields improvements in the interior space - improved passenger seating legroom and a larger cargo area. The 60/40 back seats now fold flat to the rear cargo floor, which also can be raised or lowered to accommodate goods that need to be stacked in the back…a great new storage feature for 2017.
The body structure is stronger yet lighter. Overall car weight has dropped 26 kg. The C-RV, which utilizes the Civic chassis has been revised to provide less body roll and greater noise reduction. The multi-link rear suspension has a floating sub-frame that better isolates and reduces road noise. Fluid filled bushings also reduce road noise and harshness. Other car handling improvements include: a more powerful braking system and a quicker variable electric steering rack that requires less steering wheel rotation from lock to lock position - this means more precise steering at lower speeds.
Honda is offering the upper trim models the new 1.5 L turbo charged engine that outputs 190 hp and 179 lb feet of torque. Power is coupled to a newly designed CVT transmission that mimics traditional stepped-gear transmissions. I think this could be more of a psychological enhancement for the driver. The new CR-V power train has more get up and go and better handling at speed. Wheel slip caused by varying road and weather conditions is virtually eliminated by a newly designed AWD system. More power can now be sent to the back wheels when necessary. I always wondered how the power was being distributed to the wheels in my 2016 CR-V. Well wonder no more folks, Honda has added an instrument panel monitor that graphically shows the torque spread to all wheels. A fun digital gauge that CR-V drivers can observe while driving on a back country road.
Digital is now the operative word when describing the rest of the dash instrumentation on the upper trim CR-V models. Clean, bright and modern. Honda's sensing suite of safety features that help avoid on coming objects and lane departures now include driver monitoring. If the car notices that you are ready to have a micro sleep while driving a dash alarm lights up. A steaming cup of coffee is the symbol used to inform you of your tiredness. I predict that the 2018 CR-V will infuse the cabin air with the scent of freshly brewed coffee if you start to nod off. That was easy, now I'm awake.
A lot of new car reviewers are praising Honda for listening to their customers' complaints about radio volume control on the 2015-16 CR-V radio. This year the 2017 CR-V has added a volume knob to the new 8-inch infotainment screen. I'm just glad they have up-graded the navigation system to Garmin.
The list of new features goes on: Apple Car Play and Android Audio for the Entertainment system, more comfortable electric seats, even the co-pilot can have one now, better centre armrest storage area, 2 USB power jacks for passengers in the back row, low speed adaptive cruise control for stop and go situations, remote engine start, electric parking brake - three cheers for Honda, for removing the mechanical cumbersome brake by your left foot, heated steering wheel and heated back seats! This is just incredible. The CR-V is way out in front of the competition for 2017. Honda has definitely set a new benchmark for the mid-sized SUV. The dream has become a reality.
The Midland Honda Dream of a new home is just off the ground. Peter, Richard and the rest of the Midland Honda staff will be sharing more information about what will take shape on Jones Road in the months to come. Exciting times for Honda customers are about to commence.
Happy Holidays everyone!
Macky
Honda Civic-R design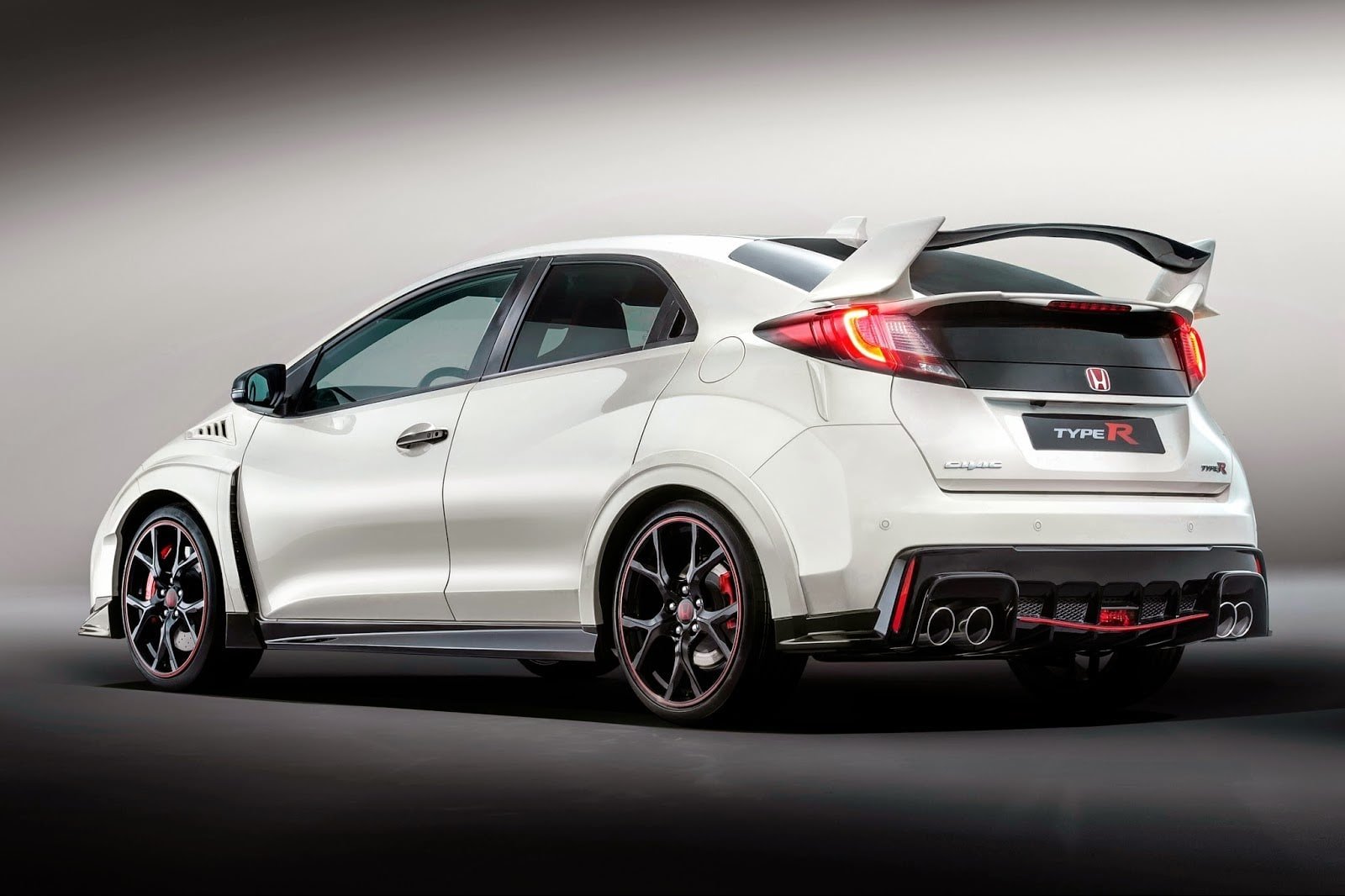 30 years ago I don't think many people would have said Honda builds excitement. Even though Honda was always successful with auto and motorcycle racing their racing heritage was never fully realized in a passenger car until the debut of the 2017 Honda Civic-R. I would humbly say that this is the hottest looking hatch back on the market right now. Sure, the Civic-R exterior design is on steroids, but this forward leaning design shows that Honda is more than ready to be the industry leader in car design. Consider the Civic-R as the flag bearer for all other Honda models that are being refined or newly designed for 2017. I believe that Honda's current design vision is to create cars that are exciting to view and fun to experience. A design philosophy established by Soichiro Honda and currently expressed by Daisuke Tsutamori, the lead exterior designer for the Civic R.
Mr. Honda had some requirements for good design*. Universality: basic body forms remain even after yearly versions. Innovation: be ahead of the design curve, design should always be fresh. Service Orientation: design must align with the trends in human society and of the era. The design must be a symphony appreciated visually that incorporates shapes, lines and colours that create a personality that is the most amazing at present. Although balance and harmony should be highly regarded, one should not be pre-occupied with a design unity in order to please everybody. True design should elevate the appeal and beauty of any dissonant parts while also having them completely satisfy the requirements for practicality. Soichiro also believed that design is about understanding what it takes to be loved, in other words how can a designer please people and make them fall in love with your product.
Mr. Tsutamori's design for the Civic-R elevate defines the notion that form and function are one. The efficient design reflects a car developed to perform at speed. A purposeful stance and a focus on aerodynamics ensure high speed stability and high down force. Every feature of the external design has a meaning, and all of the features are functional. The improved driving performance requires a wider front with trapezoidal lower air intakes for aerodynamic control and brake cooling. The front splitter attached to the bumper helps reduce lift and directs air across the flat bottom to the rear aero diffuser. A striking rear airfoil has been wind tunnel designed to optimize down force without a significant increase in drag at higher speeds. The rear wing is functional and dazzling and it serves another secondary purpose. Mr. Tsutamori comments, "from a non-functional, non-designer perspective - it looks pretty bad ass", and that my friends, is one reason why some car enthusiasts will fall in love with this vehicle.
Today, the sporty and dynamic Civic and Civic-R designs embody the lessons of the past and incorporate new remarkable, innovative and distinctive design features that provide the customer a 'Honda experience' that will surely enrich their life's story.
Until next time
Macky
*Shin'ya Nagasawa, Wasenda Business & Economic Studies, Design Management Seen at Honda, Permeating a Design Mindset, 2013
Midland Drive-In Customer Appreciation Night
Friday September 9th
There is something special about driving to the outskirts of your town or city to find and enjoy a Drive-In theatre. My last venture to the outdoor movies was to the 5 Drive-In near the Ford Plant in Oakville, and that was fun and nostalgic. The modern twist there was having the car radio produce the audio not the big old silver metal box that would hang from the driver's side window. The 5 Drive-in still had the film projection system that showed the goofy film trailers that encouraged you to enjoy a hotdog and pop before the movie started. Beneath the large screen there was a space for the kids to play. My young daughter was able to burn off some energy before the show started. So it was with some satisfaction that I was able to experience the simple pleasures of a drive-in theatre again thanks to Peter & Richard at Midland Honda.
A nice display of Honda vehicles greeted all that made their way through the gates of the Midland Drive-In. The ramp up bump for the car park is always a choice that tests your viewing preferences. Many Midland Honda owners were there in attendance lining up their grills like they were on parade. I had the opportunity to speak with a couple that came to the event in a new Honda Fit. Harry and Tracey Patterson moved to Midland not so long ago and they are happy to be living in a community that is safe and close to the beautiful countryside. Not only were they great boosters for growth and prosperity in Midland, Harry and Tracey are life-time fans of Honda cars. Harry has been driving Hondas for 45 years. He owned one of the first Civic cars that came ashore that was sold in Saskatchewan. That lasted until he picked up an Accord sedan with a stick shift that he used as a first responder on the province's rural roads. The Honda took a lickin' but as the saying goes, it kept r ight on tickin'! Harry and Tracey tried another brand of vehicle but quickly realized the value of owning a Honda. They were pleased to show me the spacious interior of the new Fit. It was a pleasure meeting them both at the Drive-In.
I also had the pleasure of meeting the staff of the Midland Drive-In just before the crowd really started to roll in. Darren, the manager, had a great crew working for the Honda event. Alyssia, Amber, Taylor and Cathy did their very best to make the event a success. The girls must have popped at least 100lbs of corn kernels for the patrons in the line. Taylor showed me the drive-in's new digital projector, which certainly made that big screen come alive. No more reels of film with scratchy prints. Today's films are all stored on hard drives that are plugged into the projector. The Secret Life of Pets and Jason Bourne looked fantastic on the big screen.
Settled in my 2016 CRV with popcorn in hand, we watched the kids in pjs and their families play Frisbee beneath the big screen as the daylight faded into the summer night. The show was about to start, the radio was tuned, the dash lights turned low, soon the out-door movie event would begin. A moment of pure Canadianna brought to us all by the Midland Honda team.
Midland Drive-In Customer Appreciation Night Friday September 9th
There is something special about driving to the outskirts of your town or city to find and enjoy a Drive-In theatre. My last venture to the outdoor movies was to the 5 Drive-In near the Ford Plant in Oakville, and that was fun and nostalgic. The modern twist there was having the car radio produce the audio not the big old silver metal box that would hang from the driver's side window. The 5 Drive-in still had the film projection system that showed the goofy film trailers that encouraged you to enjoy a hotdog and pop before the movie started. Beneath the large screen there was a space for the kids to play. My young daughter was able to burn off some energy before the show started. So it was with some satisfaction that I was able to experience the simple pleasures of a drive-in theatre again thanks to Peter & Richard at Midland Honda.
A nice display of Honda vehicles greeted all that made their way through the gates of the Midland Drive-In. The ramp up bump for the car park is always a choice that tests your viewing preferences. Many Midland Honda owners were there in attendance lining up their grills like they were on parade. I had the opportunity to speak with a couple that came to the event in a new Honda Fit. Harry and Tracey Patterson moved to Midland not so long ago and they are happy to be living in a community that is safe and close to the beautiful countryside. Not only were they great boosters for growth and prosperity in Midland, Harry and Tracey are life-time fans of Honda cars. Harry has been driving Hondas for 45 years. He owned one of the first Civic cars that came ashore that was sold in Saskatchewan. That lasted until he picked up an Accord sedan with a stick shift that he used as a first responder on the province's rural roads. The Honda took a lickin' but as the saying goes, it kept right on tickin'! Harry and Tracey tried another brand of vehicle but quickly realized the value of owning a Honda. They were pleased to show me the spacious interior of the new Fit. It was a pleasure meeting them both at the Drive-In.
I also had the pleasure of meeting the staff of the Midland Drive-In just before the crowd really started to roll in. Darren, the manager, had a great crew working for the Honda event. Alyssia, Amber, Taylor and Cathy did their very best to make the event a success. The girls must have popped at least 100lbs of corn kernels for the patrons in the line. Taylor showed me the drive-in's new digital projector, which certainly made that big screen come alive. No more reels of film with scratchy prints. Today's films are all stored on hard drives that are plugged into the projector. The Secret Life of Pets and Jason Bourne looked fantastic on the big screen.
Settled in my 2016 CRV with popcorn in hand, we watched the kids in pjs and their families play Frisbee beneath the big screen as the daylight faded into the summer night. The show was about to start, the radio was tuned, the dash lights turned low, soon the out-door movie event would begin. A moment of pure Canadianna brought to us all by the Midland Honda team.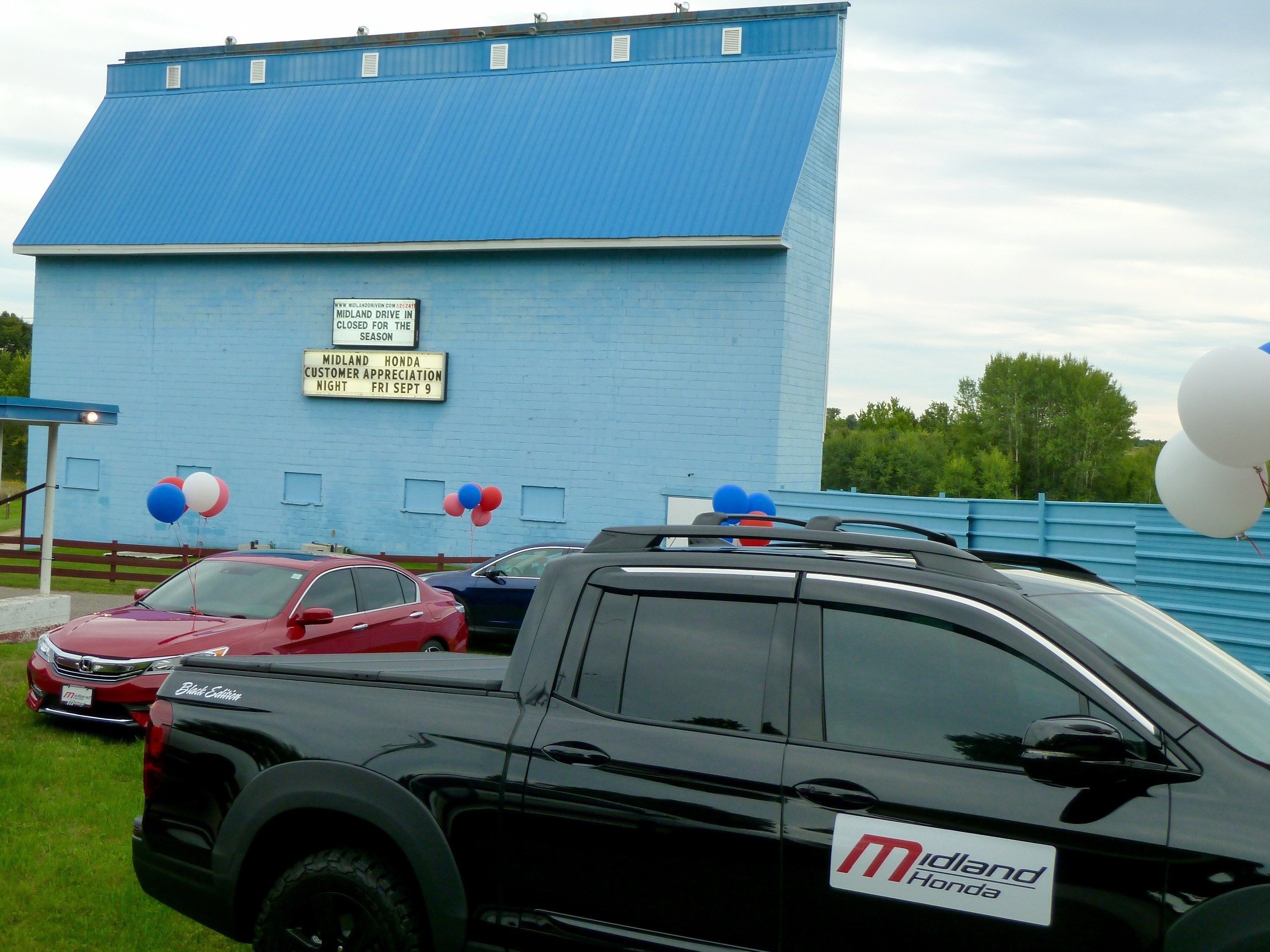 The 2017 Honda Ridgeline
This might well be the right pickup truck for you.
Ridgeline fans have said it before and they're saying it again! It's more than a midsized truck; it's a Honda, after all. This means that first you're getting a precision built uni-body vehicle that offers a ride compliance that is a marvel of engineering. If you're looking for a truck with a rough, back jarring ride then don't pick the Ridgeline, pick a competitor with a solid, fixed axil. If you're looking for a truck that has a complicated four wheel drive system then choose another brand. The 2017 Ridgeline's traction control system is easy to use and dependable through snow, mud and sand conditions.
Truck enthusiasts will enjoy the ease of operation and they will also appreciate the Ridgeline's lifestyle features that set it apart from the pack. A two way open tail gate, a deep storage well with water drain and let's not forget about the speaker system integrated into the bed of the truck. I could easily see myself relaxing in the back of a Ridgeline at a Midland summer event, chilling with a cold beverage from the ice filled well while listening to my favourite tunes. Now that's progress!
Now, Bro-country music fans may feel that the 2017 Ridgeline is too smooth. A soft car in trucks clothing and a little too much Accord for its own good. It is true that the 2017 Ridgeline has an independent suspension but it has been upgraded and stiffened to take on the secondary roads with a heavy load and it also provides a highway drive that is unmatchable by any other mid sized truck. Comfort, utility and enough traction control options to manage challenging off road situations. Look at the Ridgeline. Honda has blended technology, practicality and fun into a winning truck package. Tim McGraw might even say - 'Truck Yeah'.
2017 NSX
Ferrari LA Ferrari, Porsche 918 and McLaren P1 are the names of hyper-cars that will shock you with their performance and generate a sense of awe that will surely leave you wondering why car companies invest extreme amounts of money in order to create such a limited run of vehicles for their customers. It is astounding that there are car enthusiasts that will put down one million dollars to own one of these machines. Whether they know it or not, Arab princes, Italian moguls and Chinese businessmen, are part of an international race to find the most efficient way to transport the average person and cargo around the block, through the city and across the country.
Honda is part of this global race and like Ferrari, Porsche and McLaren they are developing hybrid engine technology to create highly efficient performance ratings for their racing and sports cars. This cutting edge technology will trickle down to the Accord, the Civic and the Pilot sooner than you think. Honda's chief executive, Takahiro Hachigo, announced recently that by 2030 two-thirds of all Honda vehicles sold will have electric or hybrid engines. Honda is confident they can achieve this lofty goal, in part because they have already started refining their hybrid engine technology at Honda's Marysville Ohio Performance Manufacturing Centre. It truly is a showcase for engineering knowledge.
Honda's super-car, the 2017 Acura NSX, is built at the Marysville plant. Their motto is, "Precision Crafted Performance". The production of each NSX car is really a marriage between robotics and fourteen highly trained members of the assembly crew. On the one hand you have eight MIG weld robots that surgically complete 900 welds as the car's space frame rotates a full 360 to achieve superior weld accuracy. On the other hand in the Anna engine plant two master mechanics hand assemble each internal combustion engine, testing and breaking in each engine before it is installed.
The NSX is designed with three electric motors. Two for the front wheels and one situated with the gas engine. What's really cool about the two up front is that the car's management system can apply power in varying degrees separately to each wheel, which makes for greater steering agility in varying driving conditions. This is just one example of how Honda tests and implements high tech solutions for greater performance, safety and driving satisfaction. Lucky, are those owners of the 2017 NSX. They get to experience the ultimate expression of Honda's Hybrid vision right now! Please take a look at Honda's Performance Manufacturing Centre.