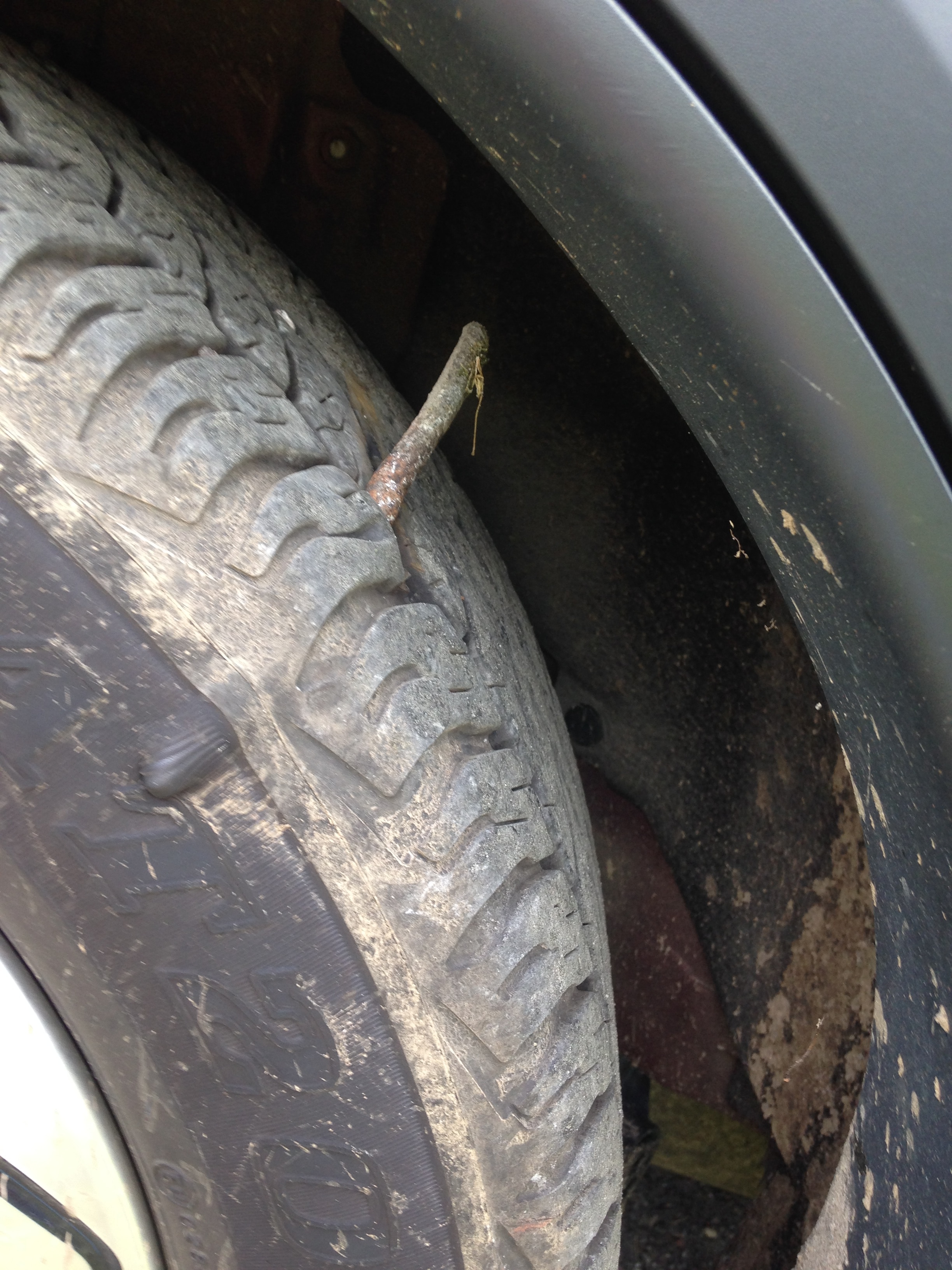 Counting on Honda's Service 
Network
 The cottage life experience can be more than warm lake water, barbecues, games and bug bites. Lynn and I found out how much more the other weekend when we were heading home from our friend's cottage on Lake Shawanaga near Parry Sound. The cottage is at the end of Running Bear road. A twisty, up and down dirt track that was pockmarked by water, rocks and sticks, about one and a half cars wide. We were taking it easy, following our host in his Nissan SUV, stopping occasionally to close road gates. The end of the 5Km was almost reached when we heard, "Thump, Thump, Thump", from the rear of the car. Stop we did and I hopped out to check the source of the wheel-well noise. Wow, a very large steel spike had punctured the middle of the tire and one end of the spike was almost through the tire's sidewall. Hmm, what to do? Yanking on it didn't seem to help and it was just as well that I didn't pursue this line of investigation. Needed the tire to remain inflated for a little while yet. We proceeded, driving gingerly on the last of the dirt road to Lorimer Rd to a point just across from the Tim Horton's Memorial Camp. Our friend suggested a towing company in Parry Sound that we could call and I replied that from this point onwards we would be relying on Honda Road side assistance to get our car safely on the road again!
Checking my Midland Honda key fob I found the 1-800 roadside assistance number and then dialed them up. A pleasant woman from Quebec took my call and asked first if I was O.K. then what the problem was. Soon she began to zero in on where I was parked. Honda can find your location by your cell phone co-ordinates, but we relied on Google maps, the road name and the Tim Horton's camp location. The operator dispatched a towing company from Parry Sound and guaranteed that they would be fixing my car in 55 minutes. Presto, the gears were in motion to fix the tire. All I really had to do was remember to complete the Honda satisfaction survey that was to be emailed to me in a couple of days. That was easy.
Well, it was a nice afternoon so I decided to take the cooler out of the back and start preparing the spare for the service guy. I unraveled the tools and placed the car jack under the jack lift point just forward of the bad tire. I looked at the small 'J'tire iron and thought I should have packed my iron cross. It's more substantial and it would allow for more leverage for the removal of the wheel lugs. A passing thought for a driver who probably could have changed the wheel on a nice summer day but decided to take the easy way out. I'm glad I did.
Jonah from Constable Towing and Recovery arrived fifty minutes later. He immediately brought over a professional garage jack, an electric air pump, a cordless impact driver and a professional torque wrench for the lug nuts.  Jonah topped up the pressure on the skinny spare then proceeded to swap the tires. While tightening the nuts back on the car he explained that if you do use the supplied car jack you need to block the front tires to prevent the car from rolling. He also mentioned the lug nut tightening procedure with the wheel off the ground and on the ground. Most importantly he did remind me that I should only travel around 80Km per hour and when on the 400 use my emergency flashers to warn trucks they were approaching a slow vehicle. Some good tips from the young dude who finished the job in twenty minutes. We were on our way back to Midland Honda for a tire replacement at an uncomfortably slow speed.
I was travelling between 80-90 km per hour in the slow lane and constantly looking in my rear view mirror for faster traffic. This was a challenge on the 400 series highway and I found myself wide-eyed at some lug heads that made the decision to change lanes just before clipping my rear bumper. I think the big rigs appreciated the hazard light heads up. Well, we made it and rolled into Midland Honda on a Monday afternoon and the store was super-busy as usual.
Being busy has never stood in the way of Midland Honda's service desk working with you quickly to solve your car issue. Steve House had my tire rolled over to the parts desk where Mike Safko and a repair technician shook their heads at the nasty spike. My Dunlop tire was unfortunately not in stock and a replacement tire couldn't be ordered for delivery until the following day. This was a problem for us because we were heading back to Toronto.  Mike started diligently working the phone and the computer checking other dealerships between Midland and Toronto and found that Bolton Honda had my tire. With contact info in hand we left in a dash to get to Bolton before closing time. Mike's Honda networking was more than just finding out where I could find a tire at a dealership. His conversation with Cameron Lynch, the service advisor, at Bolton Honda guaranteed that a valued Midland Honda client would be taken care of before their closing time.
Did I say 80 km max speed; well let's just say the spare performed beautifully at 95Km per hour. Cameron kept a technician past 5:15 pm and we were able to have our new tire replaced and the car washed by 6:30. It was a great client hand off between two Honda dealerships. Looking back on the day the Honda experience was a seamless series of successful handoffs from the first contact with Madame Roadside assistant to the moment I shook Cameron's hand and said thank you for your service. The Honda/ Client touch points were definitely enhanced because we had the tire and rim repair and replacement insurance on the CRV. This coverage reduced my repair costs considerably. You tend to forget about the tire and rim coverage but when accidents do happen you remember and say to yourself, no problem.
Let me review the costs without protection. My new Dunlop tire retails at about $245.00 plus tax. Installation would have been around $20.00. Total cost - $265.00 plus tax. With my plan I paid Bolton Honda $69.00 plus tax as a result of the damaged tire's depreciated value caused by tire wear. There would have been no cost to me at all if the tire had been fairly new. Consider this scenario. Let's say that I had picked up that spike on the 400 and shredded the tire at speed causing rim damage. A new touring CVR rim is $400.00 and so the cost keeps climbing to $750.00 tax in. Hard to believe a fifty-cent spike can have that much impact on your bank account.
I paid $400.00 for my 48-month tire and rim repair and replace insurance package. The plan keeps working throughout the term, even if you have multiple tire or rim failures. Car rental and accommodation expenses are also available if necessary. Purchasing my tire and rim insurance was the right decision for me when I leased Furyossa from Midland Honda. Yes, that's right, my copper coloured CRV is named Furyossa. Now, after our summer driving adventure, my little beasty is lookin' good, driving well and ready for more country miles near cottage country. Next stop, Bark Lake for a fishing excursion with some friends. 
I hope everyone has good driving experiences this summer but if you do have a car problem away from home feel confident that you can rely on the Honda roadside service network and Midland Honda to help get you and your family where they need to go.
Until next time….Macky